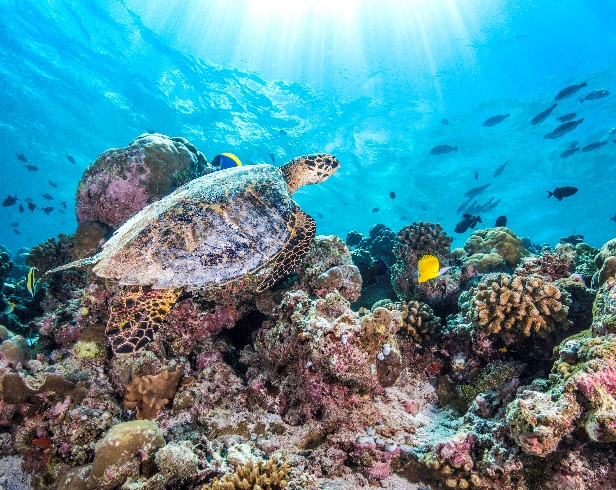 Jumeirah Vittaveli celebrates renewed Green Globe Certification
Jumeirah Vittaveli resort has received Green Globe certification for the second consecutive year.
This year, the resort once again met the requirements set by Green Globe, and achieved an exceptional compliance score of 85 per cent.
Green Globe is the global certification for sustainable tourism. Membership is reserved for companies and organisations that are committed to making positive contributions to people and planet. The Green Globe Standard includes 44 core criteria supported by over 380 compliance indicators.
"Jumeirah Vittaveli is not just a resort; it is home to our guests, colleagues and also the flora and fauna of the island and surrounding seas. We are extremely honoured to have achieved Green Globe Certification for a second year, and are proud to say that our efforts have made a positive impact on the environment," said Amit Majumder, General Manager.
"We aim to further increase our compliance score and achieve the next level of recognition – to become a Green Globe Gold Member – by the year 2020. Our team is fully committed to implement any measures necessary to achieve this goal."
According to Jumeirah Vittaveli, the resort has placed the utmost importance on implementing sustainable procedures into its operations.
"Successful initiatives this year include a programme to remove 'ghost nets,' (often left or lost by fishermen) which can harm marine life. The resort teamed up with the Olive Ridley Project, a charity registered in the UK which was founded in the Maldives, to actively remove ghost nets in the Indian Ocean.
"The organisation's founder, Martin Stelfox, visited the resort in July 2016 to educate colleagues and guests on the threats 'ghost gear' poses to marine creatures such as sea turtles. He also gave advice on how to rescue injured turtles and report any ghost nets found," the resort said in a press statement."
Environmentally friendly features at the resort include a mineral enrichment water bottling plant that converts seawater into drinking water by reverse osmosis. This is available still or sparkling in reusable glass bottles.
In addition, water at the resort is heated by heat recovery from the generator operations. Electric buggies are offered to transport guests around the island and bicycles are available to explore the resort.
Other regular Corporate Social Responsibility initiatives include: weekly marine biology talks by Best Dives, the dive school at Jumeirah Vittaveli. Topics include presentations on the fragile coral reef environment, the adverse effects of the 2016 El Niňo and efforts to reverse these consequences through a Coral Regeneration Programme. The staff also visits surrounding islands to donate essential equipment to schools and other institutions.
The Olive Ridley Project was founded in 2013 by Biologist Martin Stelfox and Marine Biologist David Balson in response to the large amounts of entangled Olive Ridley sea turtles they encountered in the Maldives: They wanted to understand the phenomenon of Olive Ridley sea turtles drifting into the Maldives entangled in ghost nets and identify where the ghost nets originate from.
In its first year, Olive Ridley Project volunteers removed 107 ghost nets and recorded 66 trapped turtles; 61 of the turtles were Olive Ridley turtles, 4 were Hawksbill turtles and 1 was a Green turtle.
Visit www.jumeirah.com for more information.