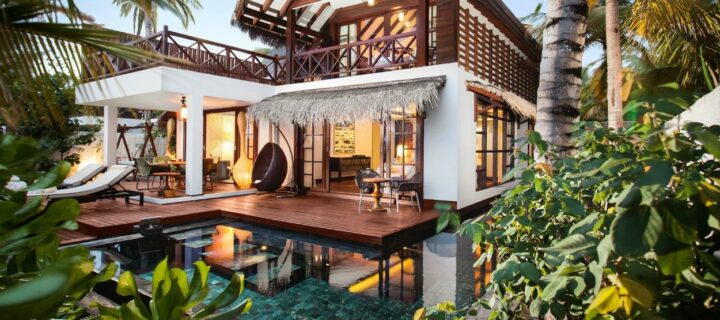 Jumeirah Vittaveli to unveil the Royal Residence
Jumeirah Vittaveli is setting up to unveil its newest line of suites; the Royal Residence, on the 30th of March. According to the resort, the Royal Residence is designed for families and groups of friends looking for the ultimate beach front retreat. This stunning residence boasts five bedrooms and extends across several individual villas over 3,500 square metres.
Hidden away on the island, comprising an entirely private beach, two pools, and its own jetty, service is provided by a dedicated team including the Chef Butler, Private Chef, and Wellness Consultant with their brigade of discreet helpers.
Facilities feature a fully stocked professional kitchen with wine cellar. The restaurant is exclusive for residents and offers the freshest of ingredients together with astonishing displays of showmanship when meals are prepared on the flaming hotplate in theatrical style.
The Royal Residence experience will enable guests to host friends and family in their own lavish island home. Sophisticated Soirées can be held in the sprawling outdoor spaces, or relaxed family dinners in the restaurant with live kitchen over the water. The full sized private pool invites guests for dreamy afternoons in the sun, while the private luxury yachts available for charter can take guests on more adventurous journeys, to explore sunken ship wrecks or observe the rare whale shark in its natural habitat.
The host is accommodated in the 530 square metre Sanctuary which comes with its own wellness and fitness space, while guests will find their island home in one of the one-bedroom Guest Villas or in the two-storey Guest House that includes a Master Bedroom and a twin bedroom.
A dedicated team is on call to take care of any guest desires, from pre-arrival arrangements such as providing the scents and amenities of choice for the guests, to flying in a Disc Jockey or preferred artiste for a spontaneous sandbank party. The Private Chef will create tantalizing cuisine, in a combination of sustainable local ingredients with the finest spices, seafood, and meats from all around the globe.