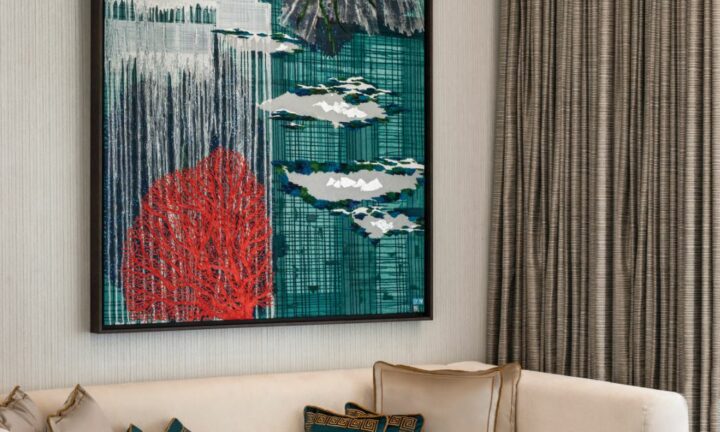 Jumeirah Vittaveli unveils art collection at Royal Residence
Jumeirah Vittaveli has commissioned Maha al Mazrouei, a gifted Emirati artist, to design four pieces of bespoke art to celebrate the newly launched five-bedroom Royal Residence. Specialising in cubism and abstract styles, Maha has reimagined the Maldivian islands using oil based paints of blue and white hues, to match to the chic interiors and furnishings of the Royal Residence, says Jumeirah Vittaveli.
"I always feel a sense of calm when visiting the Maldivian islands – it's heaven on Earth," says Maha al Mazrouei.
"I am so fascinated by god's creation and all the components that you see when exploring the island, I wanted to create an art collection exclusive to Jumeirah Vittaveli to reflect this unique experience."
A twin painting now flanks the grand entrance to the Royal Residence and sets the mood for a tranquil island escape. A more daring and colourful piece decorates the private spa pavilion – this painting was inspired by the colourful gardens of the island.
In the living area of the Sanctuary – the accommodation reserved for the host of any Royal Residence stay – hangs Maha's breath-taking depiction of over and underwater beauty in the Maldives. Infusing style and culture, Maha will host an intimate art exhibition at Jumeirah Vittaveli later this year.
Maha has been active in the creative world since 1993 when she co-founded the Tebra Art Group together with other female Emirati artists. With Tebra, Maha took part in various exhibitions and installations such as a mural for Dubai's Shopping Festival in 1996.
One of Maha's abstract paintings was also chosen as a stamp for the UAE postal authorities in 1996. In recent years, Maha has been producing an eclectic selection of solo art including a collection of murals featured at Jumeirah's world renowned Burj Al Arab property and paintings inside the VIP Majlis at Dubai International Airport.
According to Jumeirah Vittaveli, Maha's colourful modern artworks showcased at the Royal Residence have been inspired by the Maldivian islands and add the final decorative touch to the property.
The Royal Residence at Jumeirah Vittaveli is the ultimate beachfront retreat. Designed for families and groups of friends looking for the ultimate in luxury, this stunning residence offers five bedrooms extending across 3,500 square meters of pure tranquillity.
Cocooned in a Maldivian hideaway, the Royal Residence is a resort all of its own. Home to two private swimming pools overlooking the private residence beach, a dedicated island grill restaurant offers live cooking and Teppanyaki style cuisine set atop a Dhoni shaped deck.
Guests can also dine in the opulent dining room or relax in the sunken lounge which is surrounded by a fragrant lily pond and has its own overwater bar and sundeck. Please read more about the Royal Residence at jumeirah.com.