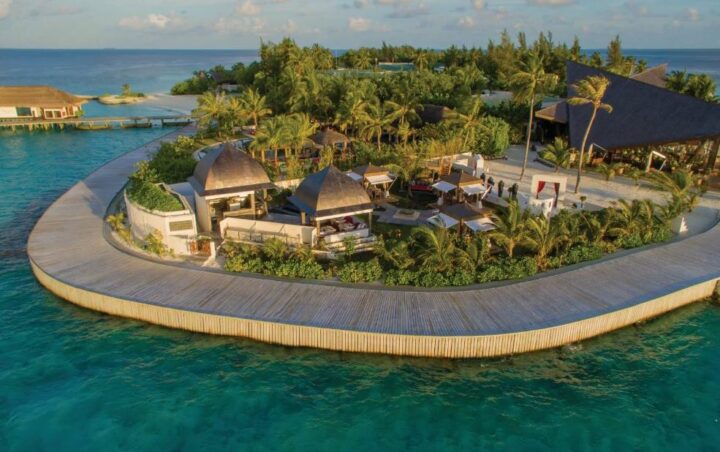 Jumeirah Vittaveli awarded with World Luxury Restaurants and Spa Awards
Jumeirah Vittaveli has been awarded with four trophies at the recent World Luxury Restaurants and Spa Awards Gala in Hanoi, Vietnam. Fenesse Restaurant received two accolades, while Swarna Restaurant and Talise Spa were each recognised with one award.
"This is an excellent recognition of the service provided by our teams at each venue," says Amit Majumder, General Manager of Jumeirah Vittaveli.
"We focus on improving our facilities and offerings from year to year, but our team is the core of everything we do and I am honoured to see our efforts recognised on a global stage. We live our values on a daily basis and take pride in succeeding in our aims – to ensure our guests create everlasting memories at Jumeirah Vittaveli."
Setting the basis for service industry standards around the globe, the World Luxury Spa Awards and World Luxury Restaurant Awards pride themselves on providing true recognition to luxury spas and restaurants in their relevant categories during its annual voting phase. Votes are garnered through various marketing channels from guests, showcasing yet again the true value of service excellence. This year's gala was held in Hanoi, welcoming over 180 guests from more than 50 countries.
Jumeirah Vittaveli repeated its success from last year's awards with a renewed win for "Best Indian Cuisine" Continent Winner for Swarna. According to the resort, Swarna translates to 'gold' in Sanskrit, reflecting royalty and the rich heritage of Indian cuisine. The gold standard at Jumeirah Vittaveli, this impressive restaurant delights guests with creative flavours, complemented by an impressive arrangement of dishes. The restaurant comprises three open-air dining cabanas, one Chef's table, and a swing for after-dinner relaxation, all dotted throughout a Maharaja Style garden venue.
The scenic overwater venue Fenesse won two awards – for "Best French Cuisine" Continent Winner and for "Best Ambience/Romantic Atmosphere" Indian Ocean Region Winner. Fenesse tantalises guests' palate in an elegant yet warm setting. Featuring contemporary and classic cuisine inspired by the culinary regions of France, the dedicated team of professional chefs use only the freshest ingredients to prepare their outstanding dining menus, according to the resort.
Talise Spa at Vittaveli received the coveted title of "Best Luxury Wellness Spa" Continent Winner. The spa is inspired by the meaning of the word 'Vittaveli' – vastness of space and eternal light – connecting the elements of light and space with the purity and vibration of its ingredients, says the resort. These ingredients are hand-harvested by local communities using traditional farming methods to ensure healing life energy held in all living things will be honoured and handed down to guests through the unique products and treatments available at Talise Spa at Vittaveli. The spa also recently introduced Aerial Yoga and offers complimentary wellness and fitness sessions every day.
Jumeirah Vittaveli offers romantic escapes as well as a host of land- and water-based activities, including a PADI Dive base, water sports centre, four restaurants and two bars. With its focus on cultural connection and organic experiences in a luxurious setting, Jumeirah Vittaveli offers guests a true Maldivian island experience. The newly opened Royal Residence was recently recognised as 'Indian Ocean's Leading Luxury Hotel Villa' at the World Travel Awards, only 3 months after opening its doors to guests.