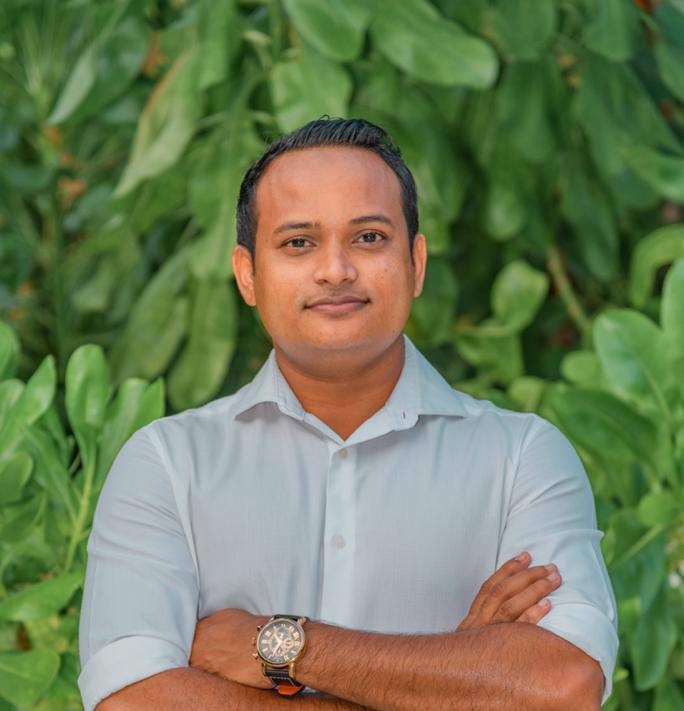 Junaid Ahmed, Front Office Manager, Grand Park Kodhipparu
Located in North Male' Atoll, a 20-minute launch ride from the Velana International Airport, Grand Park Kodhipparu is a place where time flows at a slow pace, where guests can soak in the hypnotic views, the white sand beaches, a magnificent crystal clear lagoon and astoundingly mesmerizing sunsets.
Grand Park Kodhipparu is also known for its prompt and high quality service, that is present in each and every department. With that being said, the Front Office team at Grand Park Kodhipparu has been exemplary in their duties. Granted with the task of having the first interaction with the incoming guests, allowing the team to set the standard at this luxurious property. It is also their beaming smiles and cheerfulness that drive guests to come again.
Leading the team is Junaid Ahmed, the front office manager at the resort. Junaid is a diligent and experienced hotelier whose career in this industry began in 2004, as an excursion guide. He has worked in the Front Office department at positions ranging from receptionist, airport representative, butler, front office supervisor, working his way to being a duty manager, assistant front office manager and finally, the front office manager at an incredible resort. Grand Park Kodhipparu is the fifth property Junaid has worked at and this journey began in April 2019 as assistant front office manager.
At his current position, Junaid manages the Front Office Operations consisting of daily arrivals as well as departures and meeting guests. He was pleased about being able to interact with the guests as the close relations formed among the front office team and the guests stick for a long time. Junaid also mentioned that his position opens doors to not only meet many more colleagues in the hospitality industry that have different ideas and backgrounds, but also the opportunity to learn from them and grow.
Aside from completing secondary schooling at G. Dh. A. E. C as well as attending Hotel Management at Maldives National University, Junaid has also attended Skills Development Internal Trainings held at resorts, Butler Trainings and Leaderships Trainings; an example being Train the Trainer. Junaid on being asked to describe his career and position in the hospitality industry, believes that it is a successful career. Moreover, that being able to build a team and manage a department like Front Office at a 5-star standard property, is an incredible achievement. He is also looking forward to further grow in the field.
Upon being asked about how a usual day at work looks like for him, he described that it begins with the Head of Department (HOD)'s briefing and then prioritising the guests along with ensuring that the sections he is responsible are functioning well as well as having his daily briefing with his team. Junaid also emphasises on making sure that his team feels appreciated for the work and effort they put.
As a motivational coach and an individual who has been specialising in people management throughout his career, Junaid states that in order to have a successful operation, as the manager, he is responsible for setting the standard in his work areas as well as looking after his team and ensuring that there are proper systems in place that helps his team. Junaid deeply believes that it is not possible to achieve anything successfully without having a proper team effort, especially in resort operations and more so at a department like the Front Office. Junaid informed us that his team can approach him at any time and he assures that he is always available if ever his team needed assistance.
Prior to the pandemic, he was able to visit his family of three at-least three times a week, even though working at a resort is very different to working within the city, and consists of sacrificing a lot of your personal and family life. However, as a result of the pandemic, Junaid aside from being away from his work for about nine months, now video calls his family as regularly as he can as he believes that it is important to provide emotional support and have strong connections with his family despite working at a resort. However, despite the hardships, Junaid firmly believes that the sacrifices he is making in his life will be beneficial for his family and would allow them to enjoy a little more than an ordinary life.
With the interview coming to an end, Junaid expressed that having integrity, commitment, dedication and a positive attitude will go a long way in the hospitality industry. Additionally, Junaid believes that working on self-development and having a goal and working towards achieving it at work, is essential in achieving success within the industry. Junaid mentioned that while not every day might be a good day at work, to always keep moving forward as well as to keep learning and growing.