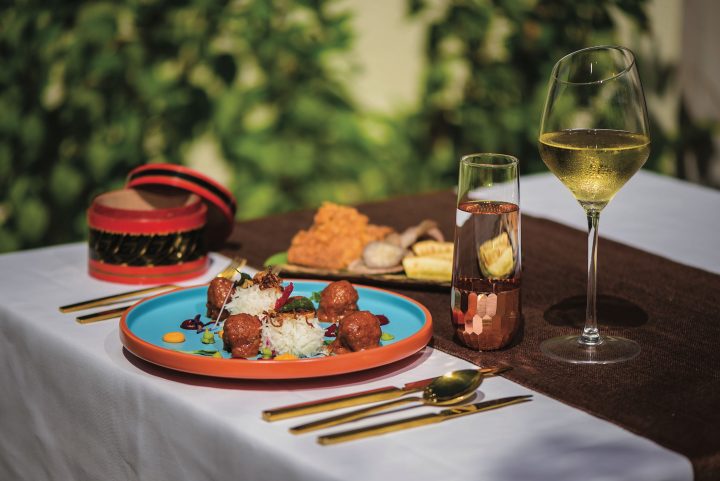 Kaage: Award-winning epicurean escapade at VARU By Atmosphere Maldives
As you bask in the warm embrace of the sun-kissed waves on the pristine shores of the Maldives, a culinary oasis awaits at Kaagé, the specialty restaurant at Varu By Atmosphere. Nestled amidst turquoise waters and lush greenery, this cosmopolitan property offers you an unrivalled gastronomic experience that will tantalise your taste buds and nourish your soul.
In Dhivehi, the Maldivian dialect, Kaagé refers to a traditional dining house. During the days of yore, these dining houses served as a large shared dining hall where multiple families would gather for meals and socialise. This tradition is artfully recreated at the hotel. Upon arrival, guests are welcomed with traditional drinks and treated to a short, captivating film on the history of Maldivian cuisine, setting the stage for the culinary journey that lies ahead.
The Maldivian architecture of the restaurant is absolutely breathtaking, with wooden and floral tones that perfectly capture the essence of a historic Maldivian house. The welcoming hospitality only adds to the overall atmosphere, making it an ideal destination to relish its exquisite culinary masterpieces.
The restaurant's culinary team boasts remarkable expertise in unleashing creativity and curating culinary surprises from the depths of Maldivian cuisine. Their artful combination of traditional flavours with modern presentations elevates each dish to an unparalleled level of sophistication, ensuring that every bite takes you on a journey through the storied history of the Maldives.
These dishes are a perfect blend of traditional recipes and contemporary twists, beautifully prepared to capture your attention. The extensive menu involves culinary delicacy from the heritage of Maldivian cuisine with signature dishes such as Gulha, a deep-fried pastry ball filled with smoked Tuna or vegetables and flavoured with finely chopped onion, grated coconut, and chilli, and Kandu Kukhulu, the renowned Maldivian Tuna Curry, a masterpiece of rich flavours, leaves a lasting impression on every taste palate, surpassing culinary dreams.