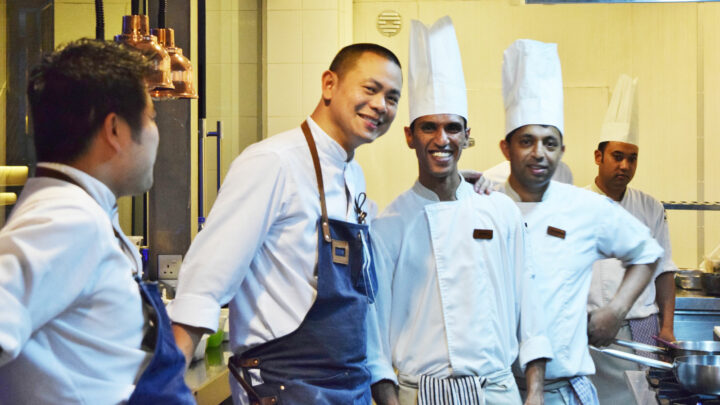 André's Octaphilosophy at Kurumba Maldives resort
"Have you ever tried charcoal?" Chef André Chiang asks the captivated audience of his cooking demonstration at Kurumba Maldives.
The Taiwanese-born chef, whose eponymous restaurant is among the top 50 in the world, is in the Maldives as part of his globetrotting culinary tour.
"I have a surprise for you guys," André promises the group of us gathered at Kurumba's Hamakaze restaurant.
"It was inspired by Basque country, France. I'm intrigued by Basque country flavours. They use a lot of charcoal grilled seafood, smoked paprika, chilies, red pepper, garlic and fresh herbs," he explains.
"I wanted to put a twist on that. What if we just eat the charcoal? What would be the ultimate way to enjoy it?"
He places plates of charcoal and bowls of smoked piquillo puree and amaebi carpaccio in front of us. A pile of real charcoal is neatly arranged with one piece of André's 'charcoal'.
"Make sure you pick the right one. Don't worry, I have toothbrushes for you," André says with a laugh.
Guessing correctly, we pick out the hot piece and dip it in the fresh prawn and smoked pepper purée. It tastes like how you imagine charcoal would, except it's good and doesn't turn your teeth black.
André's charcoal' is charcoal-smoked bread that's black on the outside and soft on the inside. In characteristic style, he has taken Basque flavours and barbeque concepts and presented it with an idiosyncratic twist.
Octaphilosophy
Chef André was in the Maldives from 14 to 16 August as part of his World Octaphilosophy Tour.
The Octaphilosophy concept is a multi-course dinner with no starters or main courses. All dishes are considered equally important.
The home of Octaphilosophy, Restaurant André, has been among Singapore's best every year since its opening. In 2016, it was named in the world's Best 50 list.
Restaurant André's artistry is described as reinterpreted French nouvelle cuisine. In keeping with his French background, André's signature dish is a warm foie gras jelly with black truffle coulis.
"It's my first creation. I created it back in France in 1997. It's like an artist's first sketch. First one to call your own," he says.
"It's called 'memory' and every time I prepare that dish it reminds me where I came from. And how it all started."
Memory is a key element in André's Octaphilosophy, which is centered on eight elements of gastronomy that inspires him: salt, texture, memory, pure, terroir, south, artisan and unique.
"I'm not trying to be abstract here. It's eight principles that I go back to when I'm making a dish. It's like a brand identity. One course for each element," he explains.
"For example, for the pure course, there's no cooking or seasoning. We might make an all-red dish of strawberry, watermelon, tuna and tomato together and it will season itself."
Restaurant André doesn't have a menu or a wine list. Patrons sit down and have multi-course meals served to them.
"When you go to your friend's house, you don't ask for the menu, you go sit down, have a meal," André says.
Every morning, André and his team get together and decide on what to cook based on the available fresh ingredients.
The process is completely spontaneous, he says.
"It's like a performance. It will be different every day. And we might serve something different for each table. Because we want everyone to taste something different."
Life and career
At his cooking demo, André tells us that his charcoal dish is inspired by the seafood barbequed with charcoal that's popular in the south of France.
André's family moved to France when he was a teenager.
"When people ask me André, where are you from, I say Montpellier. At the beginning I always said Taiwan. And people would ask me what's Taiwan like, what's Taiwanese cuisine like and I didn't know how to answer and I felt horrible. I left when I was 15. But I know everything about Montpellier."
Coming from a family of artists, André says that he draws inspiration from his surroundings.
"I guess that's how we were brought up; to appreciate the beautiful things in life. Whether it's a piece of music or painting or my brother's performances or my sister's designs," he says.
"My mum was a chef. My father is a Chinese calligrapher, my brother is an actor, and my sister is a clothing designer. And I was into pottery and stuff when I was younger."André decided his talent lay in the culinary arts and began his career in France, where he worked at several Michelin-starred restaurants, training under Pierre Gagnaire, Joël Robuchon and Alain Ducasse. He went on to work in Shanghai, the Seychelles and Japan.
"On my thirtieth birthday, my one wish was to open my own restaurant," André recalls.
In 2010, he moved to Singapore in pursuit of his dream and opened the Restaurant André. He has since opened three more in Singapore as well as two in Taipei and Paris.
The original Restaurant André is a three-storey white house from the colonial era in China Town. The building is all white with a blue door.
"It's a 100-year old private house. The restaurant is designed to look like a house, the dining room and kitchen on the first floor, living room on the second, and the third floor has a bedroom and a library," he says.
"I place guests in different corners of the house. It's a more intimate experience. More like you're coming to André's house."
André emphasizes the importance of flawless execution and teamwork at his restaurant.
"I have a solid team that has worked with me for a very long time, Me and my team we work close together. My head chef Johnny has been with me for 13 years and my sous chef for eight," he says.
"I'm not like the chefs you see on TV or in the movies who yell in the kitchen and throws plates and pans. I don't do that. I have a very good team."
André also makes sure that he's at the restaurant every day.
"It's very important for a successful restaurant. If you ever come to my restaurant, you are sure to see me in the kitchen and my wife on the floor," he says.
"After I finished dinner service, we flew here and did two dinners here, and today after finishing this, I'm flying back to Singapore. So I'll be at the restaurant before dinner starts."
Back at the food tasting
Continuing his demo, André whips up an umami dish with dry-aged scallop.
"It's wrapped in a special Japanese paper that takes out all the moisture, and the flavour is more intense. It's to get the fresh umami taste, raw and without any seasoning," he explains.
He then wraps it in king oyster mushrooms floss, brushes it with walnut oil, tops it with more mushroom torches it, leaving it crispy on the outside and soft and warm inside.
It is served on seaweed-crushed ice with kombucha granita and a vegetable demi-glace, topped with shaved tofu powder.
Next up is a wild mushroom fricassee. "It's white truffle mushroom risotto, but without risotto or white truffle," he laughs.
It's a mixed mushroom risoni 'risotto' with a raw egg yolk placed in the center, topped with shaved dried shitake and macadamia nuts and finished with off with a sprinkling of 'white truffle' cheese and a buckwheat wafer.
"Take a spoonful of everything together," he suggests.
But the dish looks almost too pretty to eat.
The mushroom fricassee is like a carbonara but light and creamy. The finishing touches taking it to gastronomy heaven.
For dessert, he serves us a white peach parfait and red fruit ceviche with wild honey ice cream topped with raspberry ice, raspberries and grapes.
"It's really hot today so I made something refreshing for dessert. I want you to eat the grape first," he says.
There's a burst of refreshing fizziness with the first bite, like taking a sip of soda.
"It's a carbonated grape. That's the surprise element. Soda is light and refreshing."
Globetrotting
André published his book Octaphilosophy last April, a monograph of 365 days at Restaurant André in which he explained his eight elements of Octaphilosophy and the origins of his recipes.
What does the future hold in store for the celebrated chef, who recently turned 40?
"On my fortieth birthday last April one of my wishes was to cook with 21 friends in 21 cities," he recalls, explaining how he came to be in the Maldives.
"We started in May, and we will finish in November. I will travel around the world and cook with my friends. They all have restaurants, whether in San Francisco, New York, Amsterdam, Copenhagen, London, Paris Tokyo, Manila, so we are on the road to finish the world tour."
Surprisingly for a world-renowned chef, André does not cook at home.
"When you're cooking twelve hours a day, you don't want to go home and cook. My wife cooks."