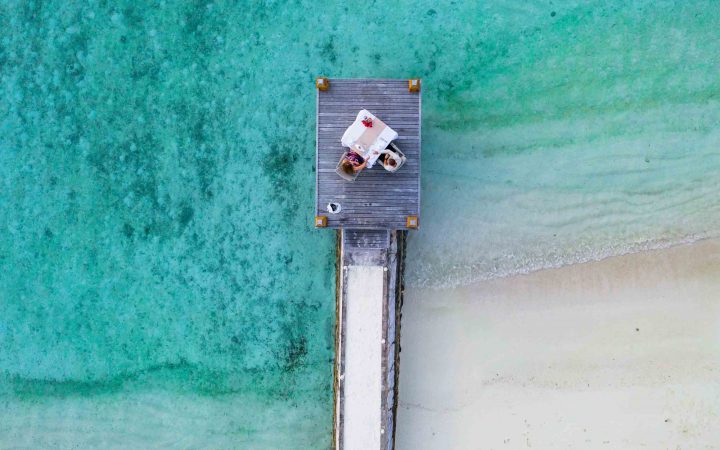 Kandooma Maldives Celebrates a 'Month of Love' in February 2023
Kandooma Maldives launches a new 100-Candle Dinner as part of their 'Month of Love'. The island resort reimagines Valentine's Day by making the entire month of February about celebrating love with a focus on shared experiences, exquisite dining, and creating memories.
"As a one island, one resort experience here in the Maldives, we are the epitome of romance. Often when Valentine's Day falls mid-week, many people simply cannot do something special to mark the occasion due to family and work commitments. We thought why not make the entire month all about couples, romance, and togetherness," says Mark Eletr, General Manager at Kandooma Maldives.
The new 100-Candle Dinner in a secret location on the island includes a six-course set menu that is thoughtfully curated to delight guests. According to Mark Eletr, the resort will offer collaborations with guests to create romantic surprises including marriage proposals. Trips to a private sandbank for an intimate dinner or picnic and Champagne Catamaran sunset cruises are some special ways to celebrate love at Kandooma Maldives.
"We've arranged everything from the 'Will you marry me?' sign board underwater for a scuba diving proposal to writing the words in the sand on the beach so it can be seen from a tandem Parasail or in candles for a moonlight beach walk. If you can dream it up, we will do our best to make it happen," explains Mark.
Couples can also indulge in pampering with various spa treatments at the Kandooma Spa. The spa villa has its own private pool, oversized tub and treatment zones. Luxury treatments including 'Stay Romantic Couples' treatment and 'Couples Massage Workshop' are popular among couples at Kandooma Maldives.
"Kandooma Spa by COMO Shambhala is in high demand with our guests, particularly couples. I would recommend anyone who is keen to pre-book when they make their reservation and take advantage of the couples' villa facilities and perhaps consider taking a Couples Massage class so you can take your new skill home."