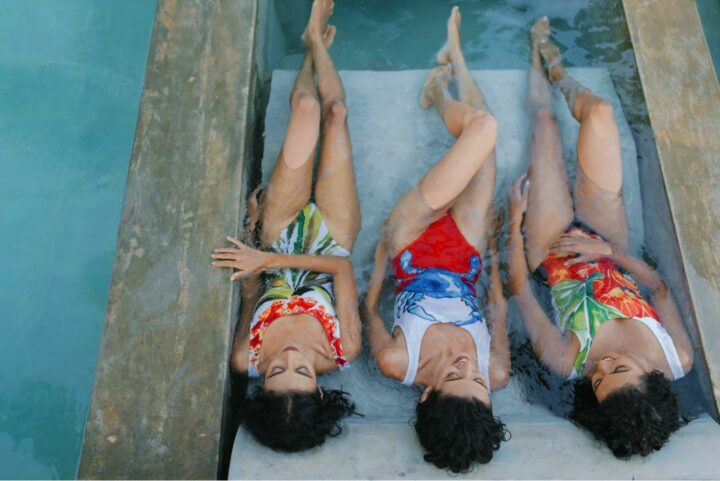 Kandumathi: Authenticity at its finest
Kandumathi is a swimsuit apparel brand formed by Yasra Jaleel and her brother Yusree Jaleel that first entered the market in 2015. The following year, they registered their company in the UK and immediately started trading overseas.
"Our first collection was a collaboration with a designer from the Maldives, with the designs based on watercolour paintings of the Maldives. We wanted to remain authentic and use local artists in our products," says Yasra.
Kandumathi takes inspiration from the stunning natural backdrops and the one-of-a-kind culture encasing it. Incorporating these aesthetics with the help of local artists and designers produce their unique look. Their debut collection was based on watercolour paintings that were painted by local artist Nadee Rachey and designed into swimwear by Ahmed Fauzan and Yasra. The designs are from various flora and fauna seen on the islands, as well as from the vast majority of marine life that surrounds it.
Kandumathi purchases the rights to Nadee's paintings and designs them into swimwear which is then digitally printed on to the fabric. Their first collection features Kashikeyo (screwpine), Kakuni (crab) and Dhiggaamaa (sea hibiscus), of which three are swimsuits and three are bikinis and come in four sizes; small, medium, large and extra-large.
The budding entrepreneurs insist that they are focused solely on swimwear for the moment, as they are a very young company that has just established themselves as an up and coming brand in the market.  They also reiterate that there is a vast amount of knowledge they have yet to learn about running such a business, as well as creating and experimenting with apparel and fabrics that are eco-friendly.
In the process of designing their first collection they learnt that they needed to really understand the female body and what suits different body shapes. They found it a challenge to work across different time zones in a market that they knew very little about. The brand came about as something new and fun for the siblings to do, and they could not have anticipated the success it has had so far.
With a background in film production, Yasra naturally gravitated to collaborating with different artists, building strong connections with friends who are equally as talented and successful. Her love for her home that sees over a million tourists visiting each year, a country that is famed for its beaches and the sea drove her to hone in on the local talent to birth a franchise that had a niche market perfect for their combined expertise.
"We have been very lucky. Big shout out to Fathimath 'Koki' Salah and Hassan 'Tom' Rameez from Island Bazaar. They helped us out a lot by being the first retailers to have our stock in their shop. And we are also very lucky to have our products in over 20 resorts in the Maldives. One of our biggest highlights was being able to showcase our swimwear at an exhibit during the London Fashion Week 2018," says Yasra.
She is excited to report that they are preparing for the launch of their second collection, where they will be using the seashells that coat the beaches of Maldives as an inspiration. Local artist Nadee brings about her own artistic flair to the designing of the patterns of the shells which are sure to be a knockout—just as exceptional as their first.Kandumathi is a wholesale business where anyone can order their swimwear products by contacting them through their website or Instagram. They currently deliver to the Maldives, Europe and the US. Their products are also available at Island Bazaar in Malé. To check out their collection, visit kandumathi.com.