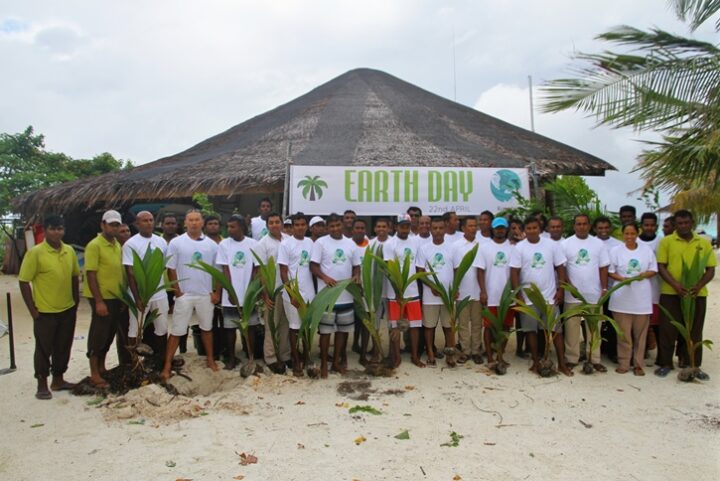 Kurumba Maldives celebrates Earth Day
Kurumba Maldives resort hosted a series of activities for guests and employees to mark Earth Day (April 22).
To commemorate the day, the resort's team members carried out a reef and lagoon cleaning session and planted trees around the island. The resort's Recreation Team conducted a special 'Green & Back of House Tour'. A recycled Arts & Crafts session was meanwhile held at the Majaa Recreation centre for younger guests at the resort.
For Earth Day, the resort's Thila restaurant came up with a unique 'Low Carbon Foot Print Menu', available for three evenings. The products used were locally sourced: all seafood from local fishermen, hand-caught tuna, locally grown pandan and copy leaves and herbs from the Chefs' Garden. Instead of plates, food was served on banana leaves, local handcrafted wood and on coconuts grown on the island. Most courses were served raw and produced without the use of electricity and gas to minimise the environmental impact.
Over the last few years, Kurumba has taken major steps toward reducing their energy consumption and ecological footprint. These include investing in more efficient air conditioning and refrigeration, solar water heating systems, heat exchangers from the generators to create hot water for the kitchen, the use of LED lighting in higher consumption areas like the kitchen, laundry and staff areas, purchasing more energy efficient water pumps for the desalination plant, and the installation of a computerised generator management system to assist with managing energy loads.
Extensive measures have also been taken to minimise the quantity of refuse. Kurumba boasts one of the most effective and comprehensive recycling centers of any resort in the Maldives called Kurect. Glass, recyclable plastics, cardboard, metals are ground and sent to recycling companies. The green wastes from the kitchen are reused in the garden with the help of a mulcher. Kuruct also has a super composter that composts kitchen waste within 3 hours and are used within the resort gardens and distributed to other islands.
For more information about upcoming events in Kurumba Maldives, please check Kurumba's event calendar.