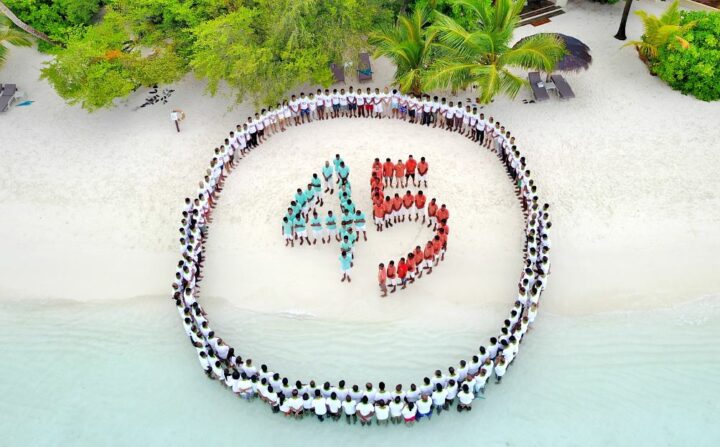 Another dazzling milestone, Kurumba Maldives is 45
Kurumba Maldives, the country's first private island resort, is celebrating its 45th anniversary. Dotted with coconut trees that are Kurumba Maldives' namesake, the resort held special events on October 3 to commemorate its anniversary—which is the cause for a grand celebration everyone involved in bringing this spectacular dream to life.
The main part of the celebration commenced with a complimentary sunset cocktail and wine tasting at Athiri Bar. The Street Food Festival organised by the Kurumba Staff Committee were entertained by guests and staff members which featured culinary delicacies from the globe and a music show. National dishes from Maldives, Russia, South Asia and North Africa prepared by our Chefs and Staff Members were brought together to whip up the Street Food Festival.
Opened by four young Maldivians on an uninhabited coconut plantation island in October 1972, Kurumba marked the beginning of the tourist industry in the country. At the time, the Maldives was isolated with no contact with the outside world except by ham radio, no telephones, mains electricity or water, few vehicles and no paved roads, and only a small airstrip built by volunteers.
Kurumba began with 30 huts built of coral and thatched with coconut leaves; the first guests were barefoot backpackers in search of sand, sea and sun. The Maldivian hosts prepared meals informally. Today the resort is still Maldivian owned and managed.
About 1,000 tourists visited the island in 1972; in 2016 1.4 million tourists stayed in over 117 resorts through the Maldives. Conveniently situated in North Malé Atoll – just 10 minutes by speedboat from Velana International Airport – Kurumba Maldives draws on its proud history, charismatic personality and heartfelt service, to offer compelling and diverse experiences amidst a stunning island setting.
The resort offers an array of eight styles of accommodation, ranging from comfortable Superior rooms to the spacious Royal Residence, spread amongst the island's lush tropical gardens with easy access to the beach. It also offers eight different restaurants and four bars to choose from; of which the latest to be rebranded was its 'East' restaurant to Khing Thai – offering a unique culinary escapade to Thailand.
They also wear the title of being the first five-star resort in the Maldives and has been proudly reinventing themselves since 1972. Kurumba Maldives charms guests with its unparalleled choice of dining experiences and a wide range of recreation activities and entertainment; all while maintaining idyllic spaces of relaxation to create the perfect balance for a holiday in paradise, perfect for honeymooners and family alike.
45 years since inception, Kurumba Maldives continues to keep up with an ever-changing pace of the tourism industry, and showcase "Maldives in full colours." To learn more about the property and what's on offer, please visit kurumba.com.