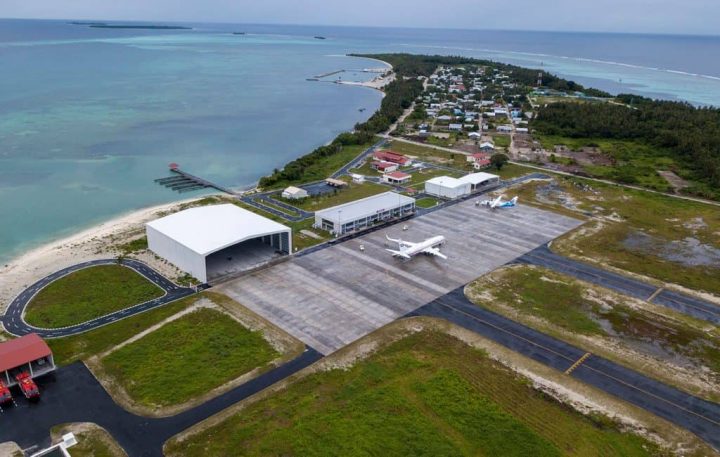 Maafaru airport expansion will establish Noonu economic hub, says pres
President Ibrahim Mohamed Solih disclosed on Monday that the development of N. Maafaru International Airport is well underway, propelled by a company linked to the royal family of the United Arab Emirates (UAE). The project's completion will pave the way for the Noonu atoll region to emerge as a pivotal economic center, solidifying the area's transformation.
Originally established with funding from the Abu Dhabi Fund, Maafaru Airport, situated in the Noonu atoll, has swiftly risen to prominence, emerging as one of the busiest airports in the Maldives, second only to the main Velana International Airport.
Addressing a rally in Maafaru as part of his re-election campaign for the September 9 election, President Solih outlined the future trajectory of the project. He revealed that a company associated with the UAE royal family has put forth a proposal to not only expand the airport but also initiate supplementary developmental efforts within the region.
Acknowledging the company's representatives who have already presented their plans, President Solih shared that the expansion work is already in progress. The development will be marked by the creation of the longest runway in the Maldives, thereby enabling the landing of larger aircraft, including the Boeing 777.
President Solih also shared insights into the ongoing discussions:
Plans for direct flights from Europe are on the horizon
Tourism expansion is a key focus, with certain islands having been allocated to the UAE-linked company in exchange
Talks are in progress regarding the establishment of a new airline
He expressed confidence in the capabilities of the UAE royal family's connections, stating, "It's linked to the royal family of Abu Dhabi, UAE. I am very confident that they will do it."
Notably, the project aligns with the larger goal of expanding the airport's infrastructure and capabilities. The Maafaru airport expansion plan, awarded to the Maldives Transport and Contracting Company (MTCC) in December, encompasses a comprehensive overhaul:
Expanding the runway by 650 meters to accommodate Boeing 777 aircraft through land reclamation
Widening the taxiway
Upgrading the Airport Ground Lighting (AGL) system
Enhancing the power system infrastructure
Once the project reaches completion, N. Maafaru International Airport is poised to significantly amplify the economic vibrancy of the Noonu atoll region, ushering in a new era of growth and development for the area.