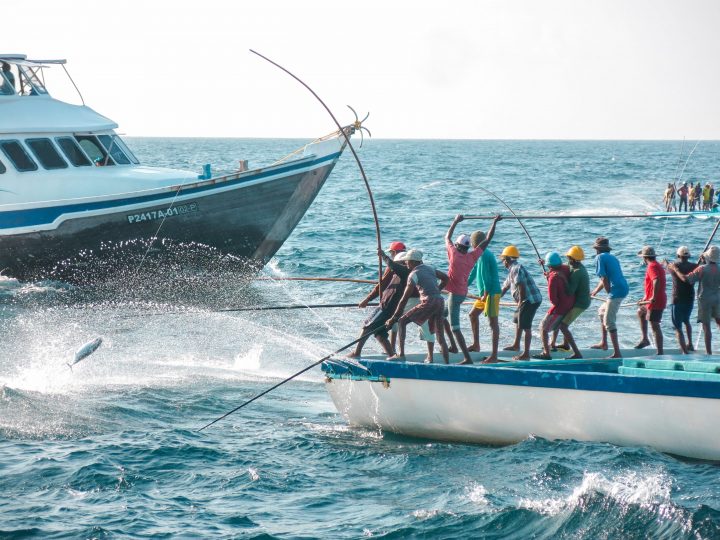 Making the Connection! Responsible Tourism and Traditional Maldivian One-by-One Tuna Fisheries
Sustainably caught Tuna – Yes, we have heard of it, some of us even search it out in the sea of canned tuna choices in the supermarket aquarium, but how many actually know what makes it sustainable, or what pole-and-line fishing actually is?
One-by-one fishing is a centuries old technique for catching tuna that is thought to have originated in the Maldives. It is catching tuna one by one using a hook and handline or with a barbless hook and a pole. This method is highly selective, has low environmental impact, and is therefore, about as sustainable as tuna fishing gets! Catching one by one avoids the mass massacre of sharks, turtles and other sea creatures that netting causes, and avoids removing too many young fish which contributes to the depletion of fish stock.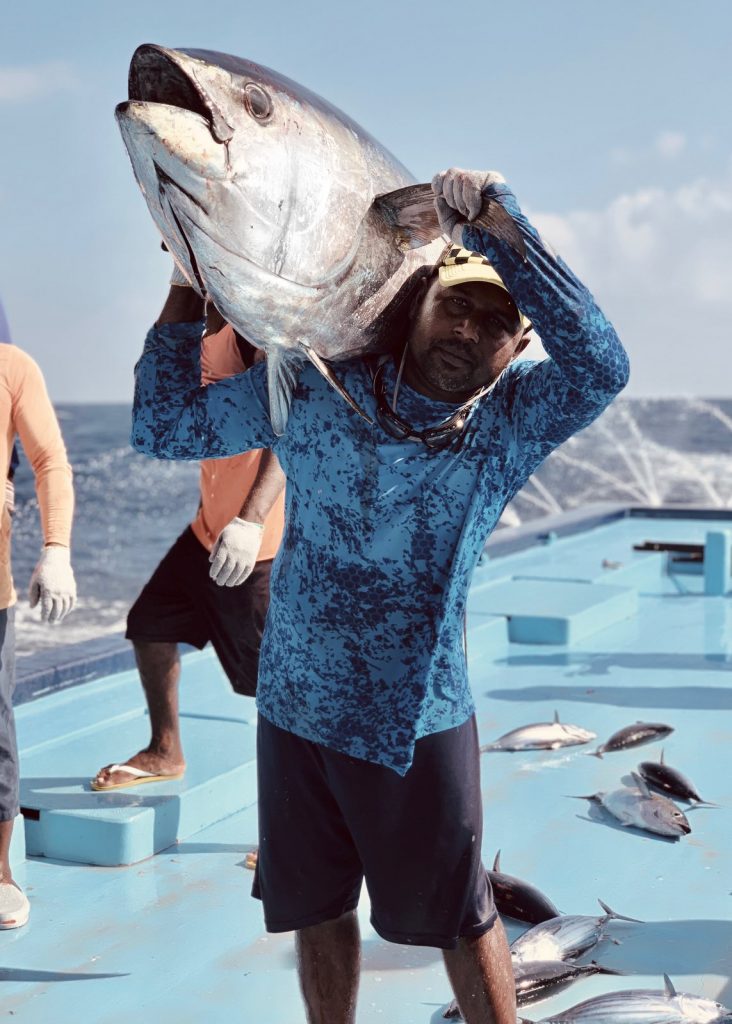 Fishing and the Maldives are inseparable, the island nation is 99% water making it heavily dependent upon the vast ocean that surrounds it, so fishing is in the blood – the core of the very fabric of its society. The art of a pole-and-line fishing has been handed down from generation to generation, vessels are owned by family units, thereby providing livelihood and income opportunities, especially in the outer island communities where tourism has made less of an impact.  It is labour intensive and arduous but plays an important part in the economy and life in general, with an estimated 30 to 35% of the domestic workforce engaged in fishing related activities.
Fishermen use sight, not sound to locate their prey. Seabirds are sought out as homing beacons, their circling giving away the secret to what lies beneath the serene blue ocean glistening under their wings.
Bait fish are used to lure the unsuspecting tuna to the surface, turning the once calm water into a boiling pot of hungry mouths, whipped up into such a feeding frenzy that they will bite at any shiny object in the water, whether it be dinner, or a barbless hook that has been tantalisingly added to the fray.
A quick tug on the pole and the tuna fly in a graceful arc over the shoulders of the fishermen to land on the deck behind them, where a flick of the wrist frees the hook to send the tuna slithering into a vat of ice to preserve its freshness. The speed and dexterity of the catch are a sight to behold with fisherman standing shoulder to shoulder on the stern of the boat and a seemingly endless supply of fish rain down with unerring precision on the deck in a mesmerising blur of fishing line that never seems to snag or entangle – showcasing the true skill of the fisherman.
Fishing is an integral part of the Maldivian way of life, and often a truly family affair. The men go out and catch the fish. Trips now are short, only lasting about 2 days, however, the men are often away for weeks at a time, with a new trip starting as soon as the catch is sold and offloaded. Historically, a lot of the cooking and smoking was done by the women and children, to make the traditional dried fish exported primarily to Sri Lanka. Nowadays, the vast majority goes directly to local processors and exporters. Some 40% or more is still retained for domestic use and the traditional fare of garudhiya, curry, and rihaakuru. These days processing for domestic consumption is done by small businesses and commercial processors, creating important opportunities in which women play a pivotal industry role.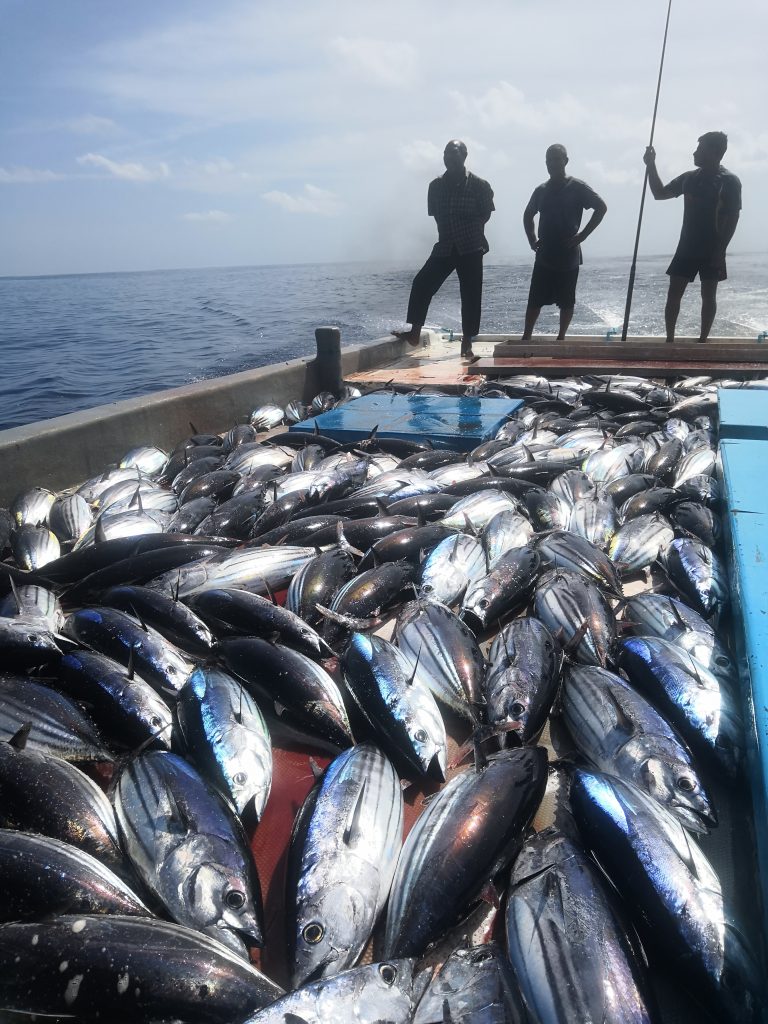 Over the past decades the pole-and line-fishing method has evolved to become a licensed and protected traditional practice elevating the Maldivian model to global recognition. The International Pole and Line Foundation (IPNLF) is a global charity that works internationally developing supply to meet the growing consumer demand for environmentally sustainable and socially responsible tuna. One-by-one tuna fisheries are now widely recognized as having low environmental impacts with a clear social benefit, that stimulate coastal economies, sustains local employment opportunities, and contributes to food security. The Maldives as a nation has perhaps the highest per capita fish consumption in the world, with an average 142 kg eaten by each Maldivian in 2016!
IPNLF have been working in the Maldives since its inception in 2012, to develop and promote the fishery in the developed markets of the U.K., EU, USA, Australia, and South Africa (SA). IPNLF members around the world have a core aim of ensuring a sustainable source of tuna, whilst protecting the livelihood of the local population. Well known international retailers and brands such as Marks & Spencer's, Migros, Sainsbury's, Whole Foods, EDEKA, Woolworths (SA), American Tuna, Fish Tales and Sirena are part of this initiative, supported by key local companies MIFCO, Horizon and Ensis.
Fisheries and tourism are the two driving industries of the Maldivian economy, however instead of being intrinsically linked to benefit each other they go their separate ways.
Sustainable Tourism, Responsible Tourism and Eco Friendly are the new buzzwords in travel with 87% of global travellers saying that they want to travel more sustainably (Luggage Hero 2020).
Sustainably caught Tuna is something the Maldives has in abundance, yet the vast majority of tourism providers fail to capitalise on this amazing feature, nor offer their guests a chance to learn more about the culture behind it. Instead, they promote their sustainable policies of no single use plastic, solar power, home grown herbs, fruits and vegetables, and culinary experiences, but without a mention of the most sustainable item on their doorstep – the humble tuna! This truly is a conundrum, and one that IPNLF are keen to find a solution for. After all, tuna is the life blood of the picturesque, idyllic setting where these tourism providers are based.
IPNLF has a responsible tourism initiative to escalate awareness of sustainably caught Tuna throughout the tourism industry. Their aim is to:
Deliver a unique education programme to facilitate the sharing of local stories and memorable moments to raise awareness and understanding of one-by-one fishing.
Provide an experience where guests can connect with the local environment, so they can make responsible seafood choices.
Encourage sustainable sourcing to increase procurement from local fisheries to support the growing recognition of responsible one-by-one tuna fisheries.
To this end IPNLF supported the Fishermen's Community & Training Centre (FCTC) opened on Gan Island in Laamu Atoll, managed by the Maldives Fishermen's Association.  The FCTC provides support, invaluable fisheries training, and education. FCTC also provides a potential fishery zone (PFZ) information service where fishermen would call to the Centre for locations of best fishing grounds of the day.
IPNLF envisions a future where these two industries work closely together to further strengthen the sustainability of their activities for the benefit of their businesses, the environment, and local people.
Resorts can engage with IPNLF and take advantage of promoting the low impact one-by-one fishing aspect of the Maldives in their restaurants. IPNLF can help develop and implement responsible and ethical sourcing policies and provide educational seminars and experiences for both the team and the guests.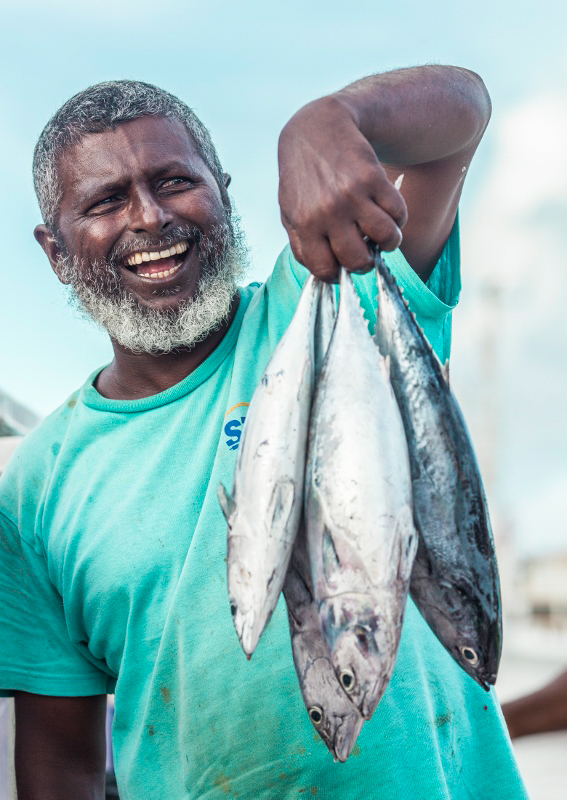 Dr M. Shiham Adam, a local scientist who is well-respected internationally, directs IPNLF operations in the Maldives. He was Director General of the now Maldives Marine Research Institute for 18 years, during which time he represented the Maldives in various scientific and technical meetings of the Indian Ocean Tuna Commission (IOTC).  He is a passionate and compelling orator about the environmental and social benefits of one-by-one fishing and the value this could bring to the tourism industry. Tourists like a story – Why not use one that comes from the very waters that have enticed them to travel from all corners of the globe?! This will allow them to experience, and truly immerse themselves into understanding the multilevel kaleidoscope of fish and fauna that are hidden within the crystal-clear waters and coral reefs, better connecting them with the culture of the people who are at the very heart of "The sunny side of life".
Resorts are proud to display their sustainable projects and initiatives on their websites, so why not compelling "Tuna Tales" which encompasses sustainability, responsible and eco-tourism, to #chooseyourtuna!
Find out more on How to Become an IPNLF member, work with IPNLF and read IPNLF's Strategic Plan 2020-2025
Follow IPNLF on Facebook, Instagram @IPNLF, LinkedIn, Twitter, and YouTube.