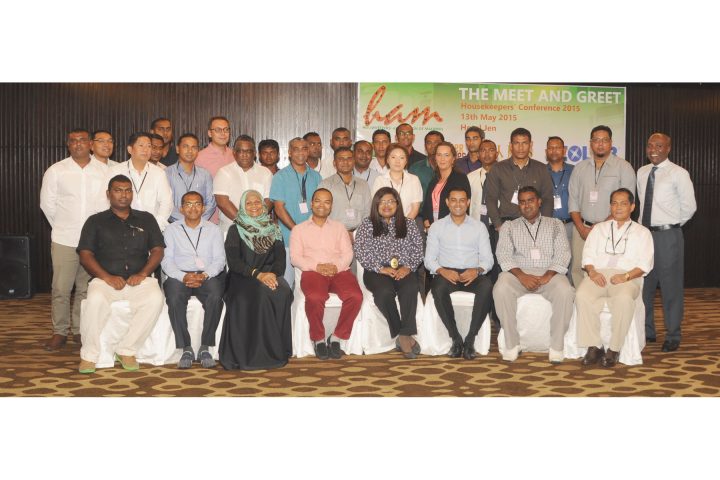 Maldives Housekeepers Forum hosts Maldives' first housekeepers' conference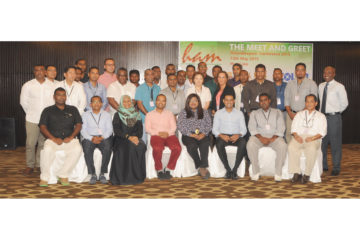 The first ever housekeepers' conference in Maldives took place at Hotel Jen Male' on 13th May 2015. The conference was organized by the Maldives Housekeepers Forum (MHF) which was formed in January 2011. MHF is the official executive housekeepers association of Maldives and the first of its kind in the country.
A number of housekeepers from the Maldivian tourism industry took part in the two-hour conference that began at 9am. Suppliers and partners also attended the event and displayed housekeeping and hospitality related products at various stands. The former Dean of the Faculty of Hospitality and Tourism Studies, Mariyam Noordeen, was the chief guest of the conference. "I am very proud that the housekeepers have come forward and formed an association, giving an opportunity for employees, especially those working in housekeeping, to go forward in their careers", said Mariyam Noordeen while addressing the attendees. In her speech she congratulated everyone involved and also noted that the housekeepers association has set an example inspiring other departments of the resorts to follow in their footsteps to form their own associations.
General Manager of Hotel Jen Male', Vathsala Subramaniam, was a guest speaker at the conference. "People tend to forget because you are not in the forefront. You are always at the back", she said while noting how little recognition and limelight housekeeping receives. She also noted the importance of housekeepers in the functioning of a hotel and how it would all fail if it was not for them. "Everything starts from cleanliness and you are responsible for that", she said. Additionally, Vathsala Subramaniam also noted how housekeeping has evolved over the years. "Housekeeping has evolved from keeping a hotel clean to guest engagement. You've started to engage with guests. You are now customer focused. You are not only supposed to make it clean, you are also supposed to enhance. Towel folding, petals on the bed, making the bath and so much more," she said.
Member of MHF's Executive Committee and Executive Housekeeper at Hotel Jen Male', Ahmed Siaar, who is largely responsible for organizing the event, also addressed the attendees. In his speech, he explained how the idea of forming such an association was conceived. "It was an idea that we came up with during a normal talk between myself and Masdoog (Executive Assistant Manager, Rooms Division, LUX* Maldives) a few years ago. We said it was time for us to put a step forward and establish an association," he said. Siaar also described some of the main objectives of forming the association. "Networking, connect to each other, to share ideas and best practices, these are some of our objectives," he said. According to him, capitalizing and developing the people working in the field along with increasing public awareness regarding the field of housekeeping are also among the objectives. Siaar extended thanks to everyone who contributed to the event including Hotel Jen Male' and participating suppliers and partners.
Partners of the conference included IYMS, Green Path, Ecolab, Sonee Hardware, Karcher, Pest Ex, Sinaf, Hoya, and Hotelier Maldives. "I am happy that the forum is formed. Its trend setting," said Sven Michel from Green Path. Similar sentiments were echoed by other suppliers who attended the conference.
One highlight of the conference was the official inauguration of MHF's official website. The website was launched by the chief guest Mariyam Noordeen and afterwards members of MHF took a group photo. The process of renewing the Executive Committee of MHF was also initiated at the conference, with Ahmed Siaar inviting members to submit names.
The conference concluded with a Meet and Greet program where attendees enjoyed refreshments. "I am really happy today," said Siaar. "These are geographically isolated islands and the response that I got when I sent the invitation was very good," he said. "This is a beginning of a long journey. By doing this we've set an example for the rest of the departments at the resorts and encouraged them to do similar kinds of organizations in the future." Siaar also noted his plans for the next year's conference. "Although this year's event is a little small, we plan to do a little larger event next year. We are planning activities like competitions; bed decorating competitions and activities that would involve the resorts as well," he said.