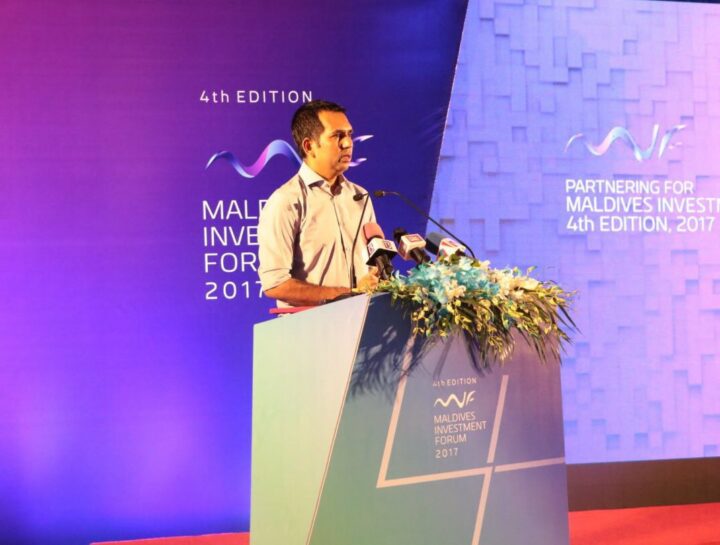 Maldives Investment Forum 2017 to take place in December
The fourth edition of the Maldives Investment Forum (MIF), the premier investment promotion event of the Government of Maldives, is due to take place in Dubai, UAE, on December 18 at the Dubai Trade Centre. More than 400 visitors from across the globe are expected to attend MIF this year, including international and local investors, government entities, consultants, individual business entities and international legal experts.
The exhibition will feature both government and private sector projects and will conclude with a gala dinner for participants and guests. Separate areas are to be used for the opening ceremony, the exhibition area, the tourism arena, the day-case presentation stage and the private networking area.
"The reason why we host the event in global cities is to encourage investments to the Maldives and build networking opportunities to the outside world becomes more familiar with the destination—Maldives," noted Mohamed Saeed, the Minister of Economic Development, speaking as the Guest of Honour at the function held to officially launch MIF.
With its beginnings at the Marina Bay Sands in Singapore in 2014, annual editions of MIF have been held in Beijing, China (2015) and New Delhi, India (2016). The government sought investors for several large infrastructural projects through these forums, including the development of Velana International Airport (VIA).
Speaking further, Saeed assured that the signature land reclamation and expansion project at INIA, which is in progress, is set to expand the airport and allow for additional runway space. A key feature of the fourth edition of the MIF is the conclusion of negotiations to sign a bilateral investment treaty between the Maldives and UAE.
The treaty aims to enhance the attractiveness of Maldives as a destination for investment to global businesses established in UAE. The key areas open for economic investment include real estate, tourism, logistics, infrastructure development, ICT, renewable energy, finance and banking, education, health and fisheries.
At the first investment forum held in Singapore, the government sought investors for its five main 'mega projects,' including the development of a 'Youth City' in Hulhumalé, relocation and expansion of the central port to Thilafushi Island, exploration for oil and gas, transhipment port in the northernmost atoll and the expansion of the Velana International Airport.
Unlike the first edition of the forum, the second edition held in Beijing featured an exhibition which was located in China's "prime business district." This edition prioritised inviting companies from finance, banking, transport and tourism sectors.
Meanwhile, the third edition of the forum held in New Delhi, in collaboration with the Indian Chamber of Commerce, was launched by Abdulla Jihad, the Vice President of Maldives.
Three registration packages Platinum, Gold and Silver were announced at the forum's inauguration ceremony. Further information about MIF is available at mif.mv.