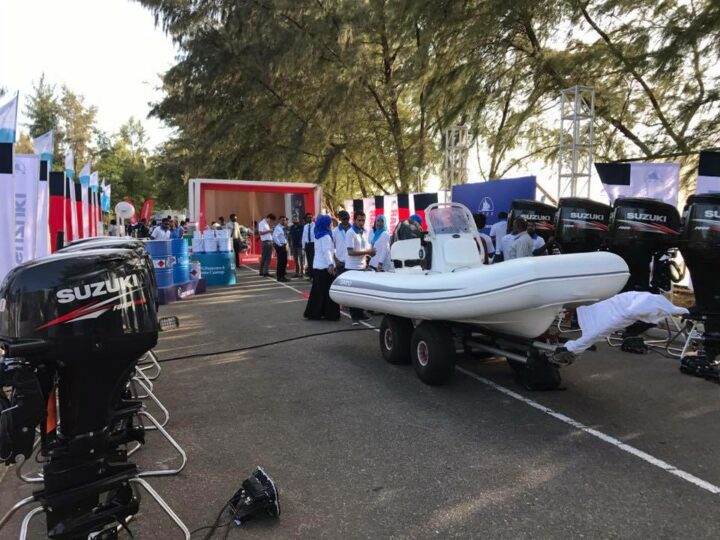 Maldives Marine Expo 2016 opens at Hulhumale'
The third edition of Maldives Marine Expo 2016 opened yesterday at the Hulhumale' marina area.
This year's four-day exhibition features 32 exhibitors which include international exhibitors.
The exhibition was inaugurated by the Environment Minister Thoriq Ibrahim, in attendance of organizers, members of the Liveaboard Association of Maldives (LAM) and the media.
Speaking at the opening ceremony, Managing Director of BLAK Pvt. Ltd, Ismail Husham said : "This year's Marine Expo offers exciting new activities such as Product Seminars, Marine Talks, an Art Gallery and Water Sports activities. We are very proud to have pulled off the most logistically challenging exhibition held in the Maldives for the third time in a row."
President of the Liveaboard Association of Maldives  Hassan Haleem said, " We are proud that Maldives Marine Expo has facilitated this industry to gain recognition in the Maldives and given inception to many new local businesses and thrived existing businesses in the Maldives and we believe purpose of this expo is being fulfilled when we see so many local organisations exhibiting with so many products that benefit the Maldives economy."
Maldives Marine Expo is the official exhibition of Liveaboard Association of Maldives, which is organized and managed by BLAK Pvt Ltc. This is the annual exhibition that features both local and international exhibitors from the Marine Industry.