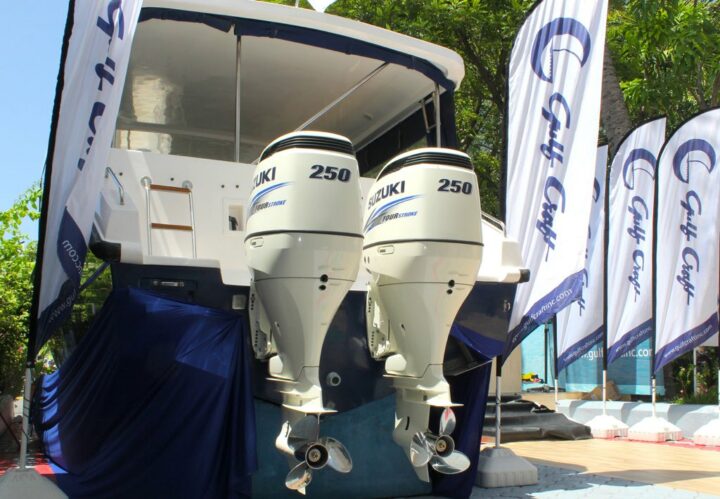 Maldives Marine Expo 2017 wraps up
The fourth edition of the Maldives Marine Expo has come to a successful close. The exhibition was held from September 9 to 11 at Dharubaaruge Convention Centre. This year, Maldives Marine Expo 2017 was held under the banner "Mapping a Sustainable Future". The official exhibition of the Liveaboard Association of Maldives (LAM) was organised by BLAK Pvt Ltd – a multidisciplinary creative agency.
Themed on environmental sustainability, the exhibition focused on the environmental issues threatening the marine industry of Maldives. The exhibition brought the subject of environmental sustainability to the foreground of the event, where private companies, government authorities and local and international NGOs took to the floor to identify practical solutions that could bring immediate improvements to the increasing environmental issues in the marine industry of Maldives, according to the organiser.
The exhibition this year featured all-new developments including the Martine Talks, which brought together experts, specialists and experienced veterans of the marine industry to share their insights and their contributions and visions for different areas concerning the developments in marine tourism, and environment related activities.
The exhibition also saw a nationwide art competition for school children, which focused on increasing the awareness of the marine environment amongst the younger generation. The highlight of the exhibition this year was the Underwater Experience Zone, which was a 360-degree virtual reality experience of scuba diving, giving visitors the chance to view the underwater scenery of the Maldives.
The expo also saw the launch of some new products, including the new Canary 21—a 21-foot speedboat by Al Shaali Marine Maldives Pvt Ltd. According to the company, the new 8 to 10 passenger craft was designed targeting the tourism industry. It also saw a fashion show themed 'Marine Walks', showcasing the best of marine wear.
The Main Sponsors of the event this year were Gulf Craft Maldives and Suzuki Marine engines by Maldives Transport and Contracting Company (MTCC), while Allied Insurance Company and Fuel Supplies Maldives (FSM) were co-sponsors of the event. A total of 24 companies participated in the exhibition this year. To learn more about the Maldives Marine Expo, please visit marineexpo.mv.