Maldives Resorts Embrace Environmental Endeavours on Earth Day
Earth Day is an annual event held on April 22 to pledge support environmental protection, where millions unite in a global movement to raise awareness of ways to conserve the planet. The Maldives is particularly susceptible to climate change since its low-lying islands mean it will be one of the first nations to be affected by rising sea levels. With #EarthDay2021's theme 'Restore Our Earth', many resorts have done a lot of good work behind the scenes in this area. Hotelier Maldives has rounded up some of the initiatives in its honour.
Banyan Tree Group is supporting Earthday.org with a new partnership to drive resources to the organisation's reforestation programme, The Canopy Project. Any purchase of a night's stay at its Angsana, Cassia and Banyan Tree brands from 22 April to 5 May will see a $2 contribution towards tree planting in Sierra Gorda Biosphere Reserve in Mexico. The Greening Communities programme raises awareness of climate change, and has seen the planting of more than half a million trees since 2007.
Banyan Tree's Earth Day Getaway offer also gives up to 35 per cent in savings for guests when booking in the Maldives. From Earth Day on 22 April until 14 May, a weekly challenge will run on Banyan Tree Group's Instagram channel (@banyantreehotels), inviting people to share creative efforts to be more environmentally friendly in line with Earthday.org's 2021 theme of "Restoring Our Earth", which will be entered into a prize draw that includes one-night stays.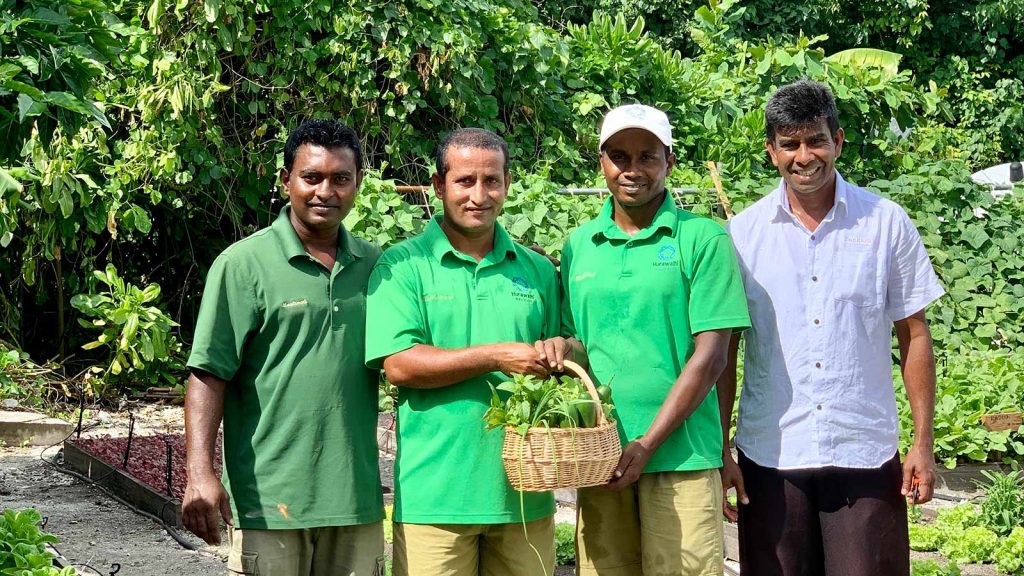 Over at Hurawalhi Maldives they place the environment and sustainability at the heart of the resort. Aside from solar panels that contribute to the electricity needed to power the resort, their water bottling plant providing all the drinking water they need, and the resort 'says no to plastic' policy. The resort's organic garden produces a wide range of fruit and vegetables and a composting machine provides the nutrients to help the plants thrive, while reducing landfill. Executive Chef, Edouard Deplus uses the gardens contents to create superb dishes. This Earth Day, Hurawalhi urges people to plant their own seeds and herbs, buy fruit and vegetables from local producers to reduce the carbon footprint of transport costs and pollution while supporting local businesses and compost kitchen scraps. Tag them on social media #hurawalhi @hurawalhi.
Veligandu Island Resort & Spa, as part of Crown & Champa Resorts, is dedicated to fostering high standards of hospitality while being an advocate for environmentally sustainable business operations. The resort has implemented efficient lighting in all their villas and public areas, with about 97 per cent of light bulbs replaced with energy-saving LED lamps. This has enabled the resort to achieve a two per cent reduction in energy consumption. They have drastically reduced the use of single-use plastics by swapping plastic drinking straws and plastic water bottles for eco alternatives. Veligandu works with suppliers to minimise packaging and ensure it is reusable or recyclable. The resort has their own desalination plant to produce potable water for their guests and team members.
Meanwhile, the team at Kuredu Resort Maldives is passionate about sustainability and protecting the environment and have taken many steps to ensure the island operates green practices. From the in-house production and bottling of drinking water, their eco-friendly housekeeping undertakings and waste reduction initiatives include sustainable seafood choices, fresh fruit and vegetables growing in the greenhouses, seagrass meadow conservation, harnessing solar energy and daily beach clean ups, Kuredu endeavours to preserve the natural environment.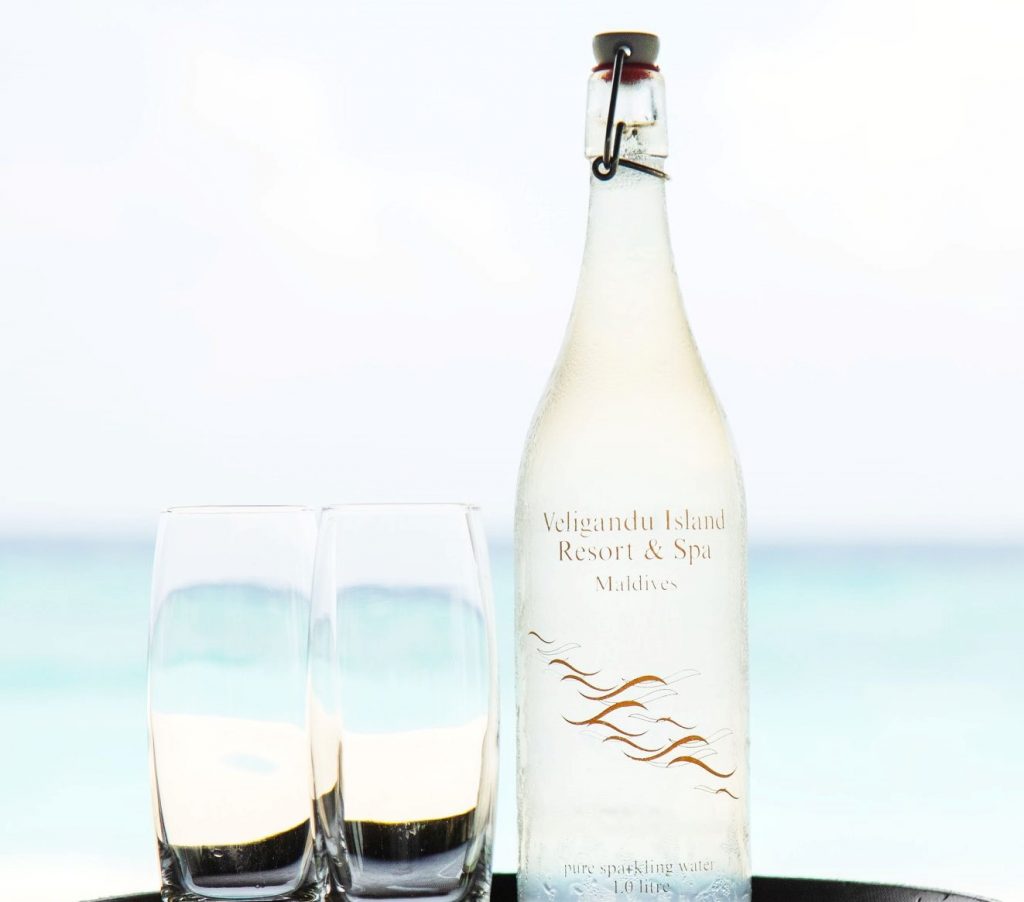 Over at North Male Atoll, Grand Park Kodhipparu, Maldives has announced the launch of its solar power system, harnessing newly installed panels to produce an estimated 478,080 kwh of clean energy for the resort annually. This initiative will significantly reduce the island resort's carbon emissions, saving up to 150,000 litres of diesel fuel annually. Certified with the Green Globe Standard for Responsible Tourism since last year, the resort continually strives for avenues to be more sustainable. They generate their own drinking water, reduce plastics use on the island by removing the use of plastic straws and use only glass bottles, recycle water for watering the vegetation. A coral garden has also been planted to revitalise the house reef. Grand Park Kodhipparu, Maldives also participates in Room For Trees, sustainability initiative, where a tree is planted for every booking on the hotel website.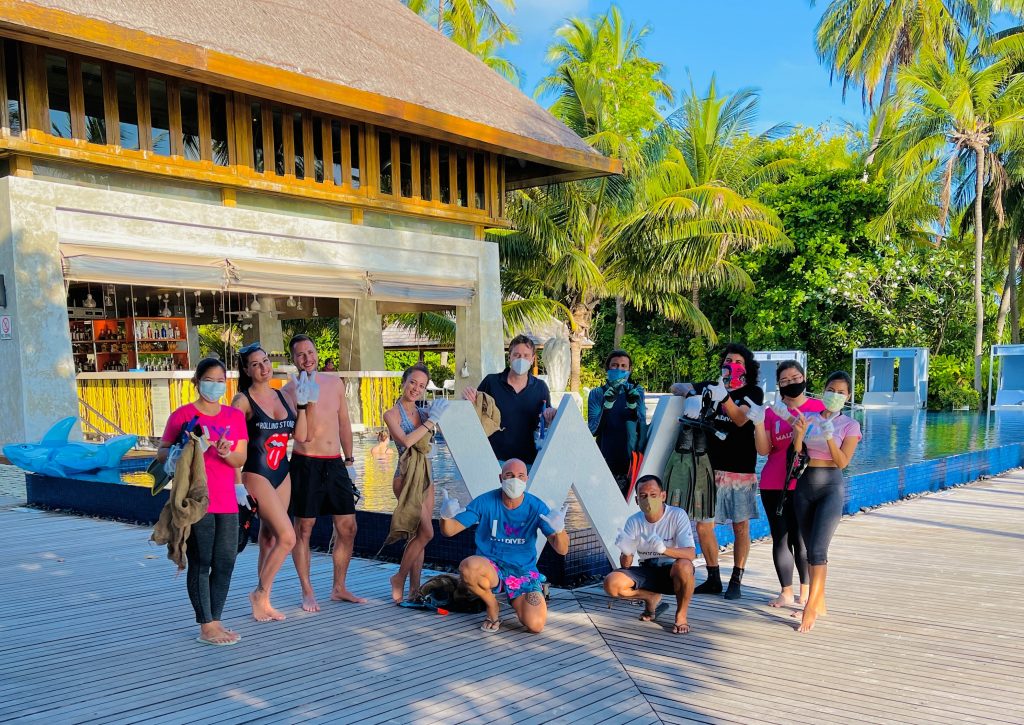 The Marriott Bonvoy Portfolio of resorts in the Maldives also joined the celebration through various sustainability and environmental awareness initiatives across their respective islands. While JW Marriott Maldives Resort & Spa planted 50 new trees around the island, the W Maldives' team had gathered together for a Reef Cleaning, upholding their ceaseless commitment to environmental protection and sustainable tourism. Island Clean-Up, Reef Cleaning, Dive Against Debris, ocean awareness, tree planting and making sustainability shorts from 12 plastic bottles by Māzú Resortwear are some of the many initiatives by the resort.
Sheraton Maldives Full Moon Resort & Spa planted its 100th coral frame to celebrate the milestone in the resort's coral propagation initiative that started in February 2020. To date, over 5,619 coral fragments from 15 different species of corals have been transplanted by the team. The resort is also one of the 15 pilot hotels participating in Good Travel with Marriott Bonvoy, a program offering meaningful travel across Asia Pacific by promoting both cultural understanding and positive change.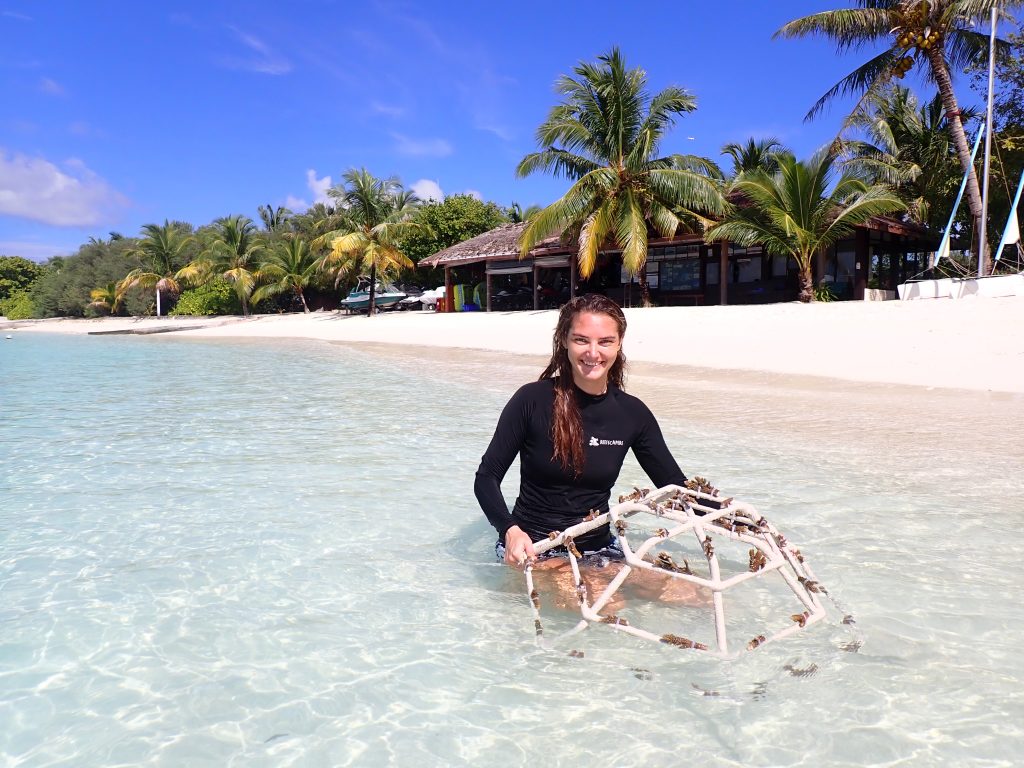 On the UNESCO Biosphere Reserve in Baa Atoll, The Westin Maldives Miriandhoo Resort, celebrated Earth Day by planting new coral frames aimed at generating an educational tool for protecting and preserving one of the most enchanting and diverse coral reef systems in the world. Guests can also be part of this wonderful initiative by adopting one of these frames and revisiting the resort again to see it grow.
Featured Image: Grand Park Kodhipparu Maldives