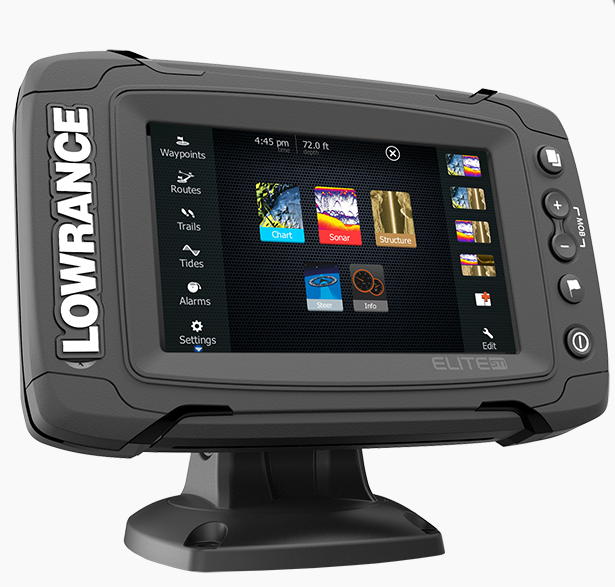 The Lowrance Elite-5 Ti Touchscreen Fishfinder/Chartplotter
The new Lowrance Elite-5 Ti Touchscreen Fishfinder and Chartplotter available at Maizan Electronics pairs functionality with power, delivering a superb product at a reasonable price.
It is a combination of a fishfinder and GPS with a built in GPS antenna, and the product is highly durable and weatherproof, well suited to the Maldivian monsoons.
With a 5-inch high resolution touchscreen, the Elite Ti incorporates Structure Scan ® HD compatibility and support for Low/Mid/High CHIRP and 83/200/455/800Khz frequencies.
"Technology like CHIRP sonar is unique to the brand," says Ibrahim Azleem, marketing executive at Maizan Electronics. "It provides very detailed, high resolution images and is incredibly efficient."
The touchscreen gives user-friendliness a much-needed boost, making marking waypoints much easier in comparison to using buttons and a cursor utilised in most such systems.
"We sell the Elite-5 Ti with maps," explains Azleem. "The maps are provided by a leading brand, Navionics."
The Elite-5 Ti also features integrated Bluetooth® and wireless compatibility, meaning customers can download software updates directly to the unit.
KEY FEATURES
Easy-to-use touchscreen
Touchscreen provides fast, fingertip access to all Elite-5 Ti features
CHIRP Sonar, StructureScan® and DownScan Imaging™
Top-of-the line sonar technologies provide the best possible view of the underwater environment beneath your boat. StructureScan requires optional TotalScan transducer.
Built-in wireless connectivity
Provides access to the GoFree Cloud where you can shop, purchase, download and immediately use Insight maps, and third-party maps from GoFree partners
TrackBack™
Scroll back through your sonar, SideScan or DownScan history to review structure or fish targets and mark the location with a waypoint
Internal GPS antenna
Highly accurate, built-in GPS antenna plus a detailed U.S. map
Optional chart upgrades (Global)
Optional Global chart upgrades include C-MAP MAX-N/N+, Navionics Gold, Platinum+ and Navionics+, Fugawi Aboard, NV Charts and many others.
microSD card slot
Quick Release bracket
SPECIFICATIONS
Overview
Display  Widescreen, 16:9 ; WVGA color TFT LCD
Resolution          800 x 480
Power Output: RMS (PTP)           Max 500W RMS
Operating Frequency     (50/200 or 83/200 kHz) + 455/800 kHz
Media Port         1 microSD slot
Lowrance is a leader in marine electronics, having built the first consumer sonar device back in 1957. Its products have garnered universal acclaim and numerous industry awards. The company's products provide the ultimate in high performance features at very competitive prices.
Maizan Electronics Pvt Ltd is a trusted marine electronics company that introduced marine navigation and communication technology to the Maldives in 1981. Initially catering to the demands of fishermen, the company has expanded its scope to cover all marine navigation and communication needs. Today the company's clients include resorts, liveaboards, dive schools, deepsea and reef fishermen, and speedboat companies.