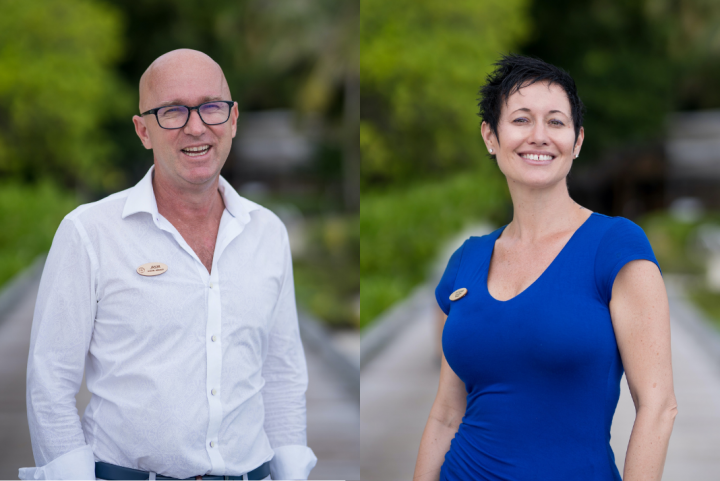 Husband and Wife Team Explain the Secrets of Running An Island Paradise During Lockdown
A husband-and-wife have navigated the tough waters of lockdown to invent new ways of operating their island resort. From making their land fertile enough to grow their own produce during the quarantine period to introducing a new chicken shed called 'Cluckingham Palace,' Amilla Maldives has become a sustainable paradise 'full of surprises" in Baa atoll.
Personalised guest experiences are at the heart of the resort's ethos, general manager Jason Kruse believes. Having worked in hospitality for the past 17 years, across Australia, South East Asia and the Maldives, Jason has built a career around making guests and his team happy. He specialises in rejuvenating beach-based resorts in environmentally sensitive areas. His wife Victoria is the island's Sustainability Manager and over lockdown, she has built the 'Homemade and Homegrown' recycling and reuse programmes within Amilla.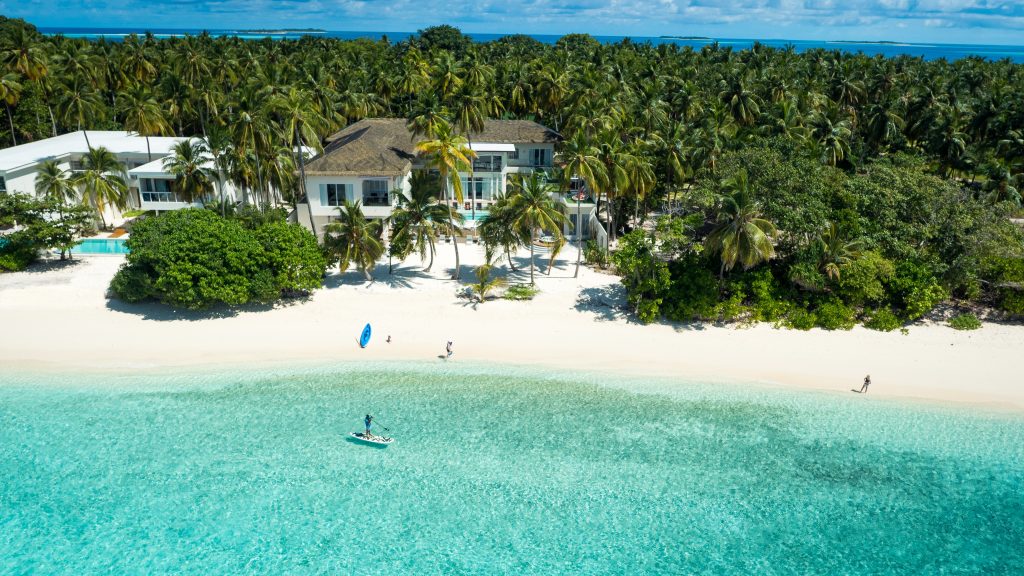 The Kruse's are well known in the Maldives – Jason was General Manager of Kurumba from 2010 to 2016, during which time they celebrated the 40th anniversary of the resort. Later, the couple opened Six Senses Fiji and Victoria worked as a consultant for the Wellness Kitchen and Retail. Upon returning to the Maldives, the Kruse's joined Amilla in their present roles.
Running a resort in the Maldives with its 'one island- one resort' nature, according to Jason is the same as operating a small city.
While other couples fly over for a few days to enjoy their vacation, Jason and Victoria have the luxury of an 'extended vacation' in the Maldives. It is a dream job, and they love the people here, both staff and guests. "When you live and work in the Maldives though, it is your whole life, " said Jason, "We start work when we wake and finish when we sleep and there is little time left for the activities that guests enjoy."
The couple started out in hospitality in quite different ways. Jason was working part-time in a bar while representing Queensland for road cycling. When that ended, he studied hospitality management at TAFE, working in fine dining restaurants at night, and working his way up.
Victoria worked in restaurants while she was in school, then retail management and recruitment while studying management at university.  The couple met through mutual friends when Jason was managing a resort in Bali and Victoria was living there designing clothing for her fashion label.
Managing a resort and putting food on the table during lockdown
As the General Manager, Jason oversees the day-to-day operation of Amilla, sales including residential sales and finance.  Running a resort in the Maldives with its 'one island- one resort' nature which, according to Jason, is the same as operating a small city. "All facilities for energy generation, water production, engineering works, and waste processing are done on the island," he said.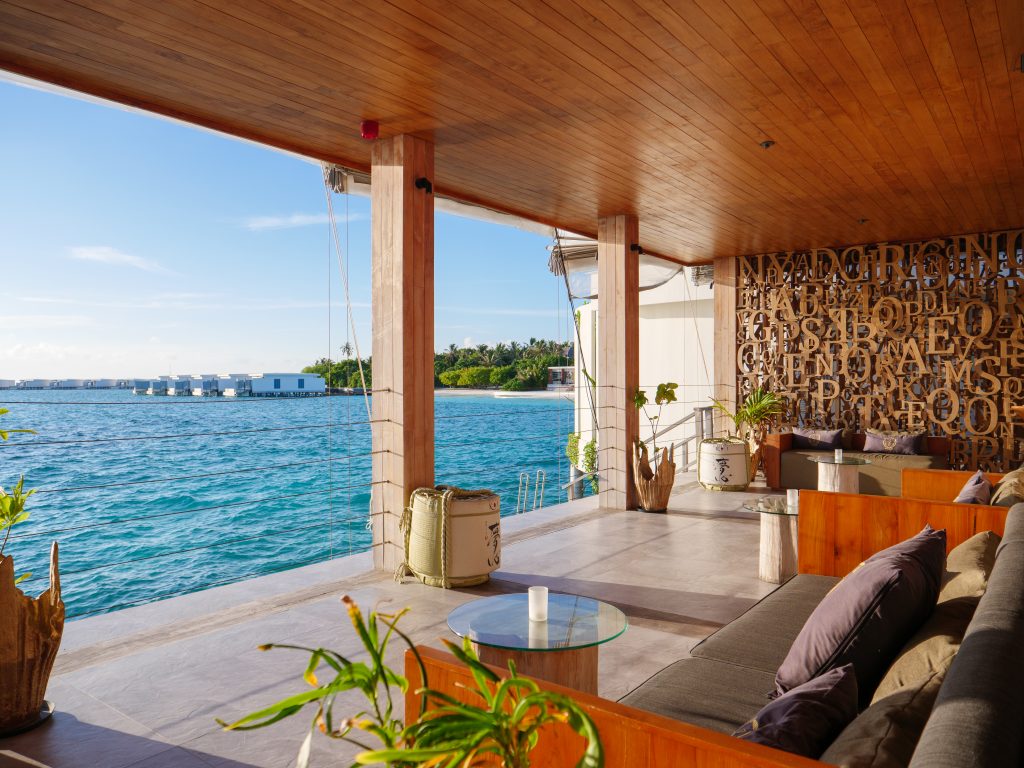 "The logistics of getting food and equipment here are huge. For example, we only have one supply boat each week so all food requirements must be ordered ten days prior. Right now, guests are booking very last minute and arriving within a week, even occasionally booking the same day. So, trying to plan to ensure we have the right amount of food is quite pressured.
"From a maintenance point of view, we need to always have two of every skilled tradesperson here, plumbers, electricians, air conditioning mechanics, boat mechanics. We cannot simply call in 'someone from the city' when something breaks down.
"There seems to be a notion that because we live in a paradise island, our lockdown period was easy, but guests simply do not understand the pressures for the staff of being stuck on an island and unable to be home or realise the difficulties that no flights caused in terms of getting staff home or,  more importantly, bringing staff back once we reopened. Not only this but many of our suppliers are now facing second lockdowns in their cities so cannot produce or ship items that we need."
Putting food on the table during lockdown
The toughest challenge during the pandemic, however, was the five-month closure from March last year, although some of their guests who were in the resort at the time decided to stay on.
The feeling in the resort at the time was of a family coming together to weather a storm.
To meet the challenges of providing food for the guests and staff, during and beyond the lockdown, Amilla and Jason dreamt up the idea of the resort producing its own food, and, under Victoria's lead, they introduced new organic gardens, a banana plantation, mushroom hut and fruit and vegetable gardens and the one set of guests who stayed with them during lockdown made use of a fully equipped multi-bedroom residence where guests could self-cater in the evenings.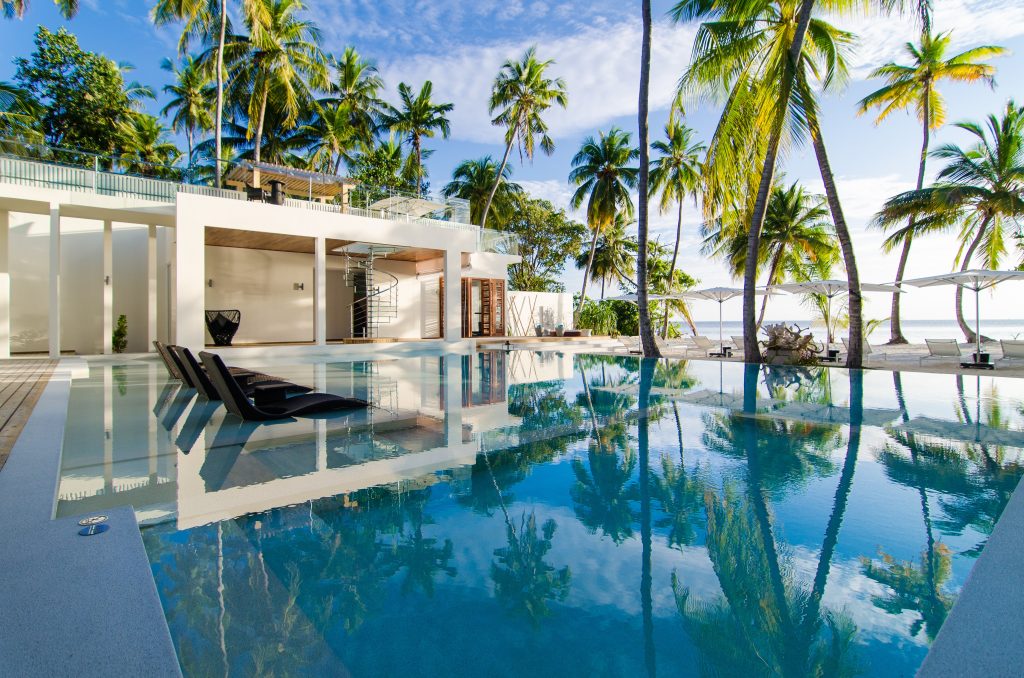 Jason said: "When we closed the resort, we had some guests staying with us that struggled to get a flight home and then their borders closed, so they stayed on the island and despite little common language, we all became great friends.
"They cooked in their residence for us and Victoria cooked for them in their room on a weekly basis. They taught us Russian drinking games, I taught their son guitar and Victoria revealed the true origin of Pavlova. When they departed it was extremely emotional and all the remaining staff took to the jetty to bid farewell. There were tears all round. We were incredibly lucky to have the best guests who helped us in many ways, not least in providing revenue which quite literally put food on the table for our staff. It was a tough time and uncertain for the team."
Lockdown resulted in the staff adopting new roles instead of rigidly performing one function. For instance, Victoria became part of the food and beverage team overnight, spa therapists turned their hands to gardening and butlers turned into a maintenance and housekeeping team to get the rooms back to guest-ready.
Victoria also dreamt up the Homegrown@Amilla and Homemade@Amilla programme and not only did this reduce reliance on vegetables being air-freighted in, but it also cut back on packaging and emissions. An added benefit is that it uses waste or locally grown products to make a range of probiotic beverages that promote wellness with guests, while offcuts of pineapples and mangos make delicious refreshing sodas.
"Our guests loved it and became a treasured part of this journey," recalls Victoria. "Our staff have also taken ownership of the projects they assisted with, even if they are outside their normal role. "For the most part, the staff adapted well, the feeling was of a family coming together to weather a storm."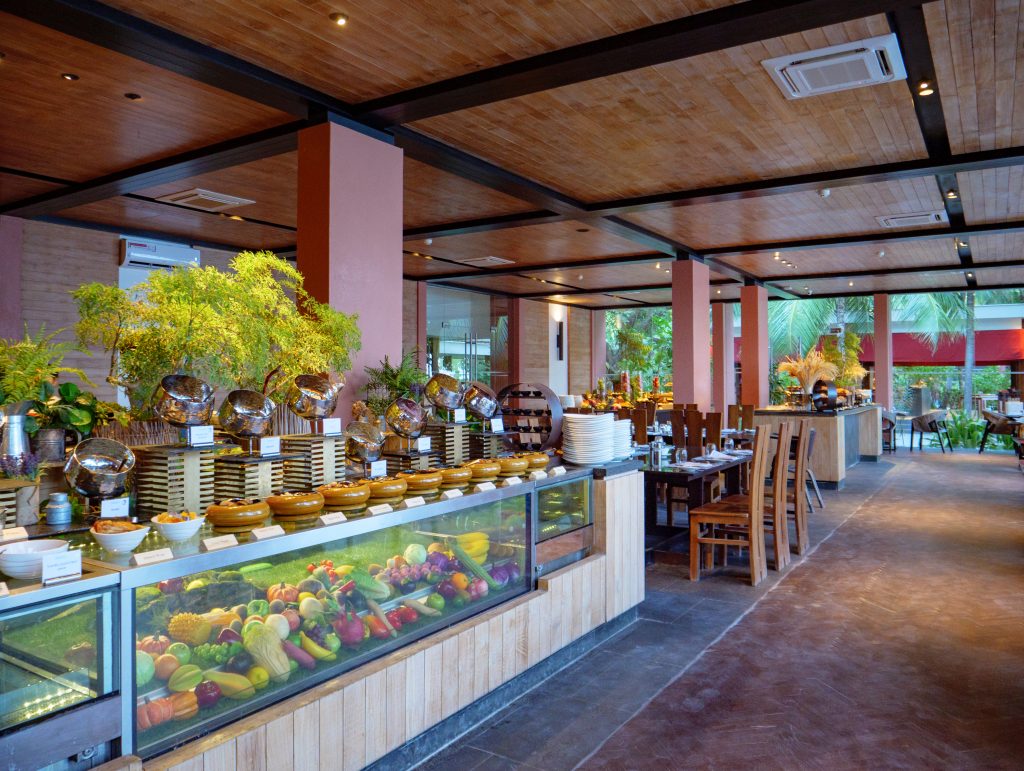 The resort recently opened a coconut processing facility called The Nut, utilising some of the 2,500 coconut trees that grow on the island. All parts of the coconut tree produce usable products – from coconut milk to cold-pressed oil and meat for bar snacks, to using Kaijan for roofing and the shells for artwork and jewellery.
Victoria's work is crucial to both minimising Amilla's carbon footprint and training the team to be aware of the impact. Amilla makes its own drinking water on the island, bottling into reusable glass bottles, which dramatically reduces plastic waste.
Victoria added: "Our efforts of sustainability had an extremely positive response from our guests as they enjoy the fruits of our labour. We presented freshly picked bunches of bananas to our guests at breakfast time, and the chicken coop, supplying fresh eggs is called Cluckingham Palace, which is a real hit with children. There are many city kids who do not ever get a chance to see where chickens come from and they love this experience and the newborn baby chicks are adorable. We are using many of our fresh herbs and vegetables in our spa for our Dhivehi Beys (a traditional Maldivian medicine) treatments as well as our kitchens."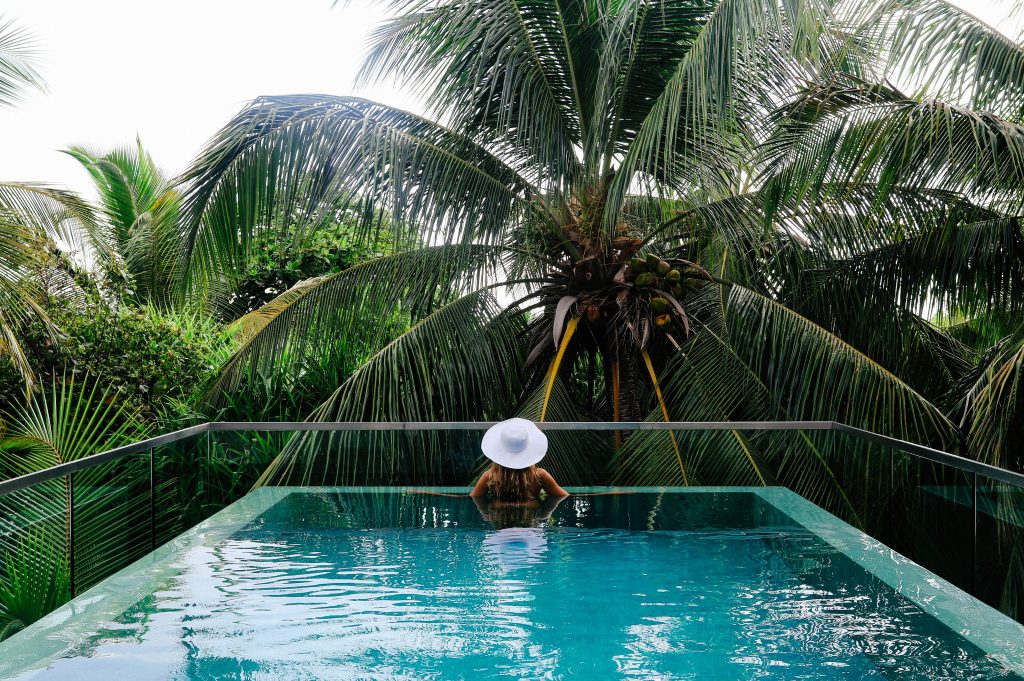 When they reopened Amilla, they decided to continue with PCR testing for all staff and guests on arrival. As a result, guests feel safer and can move freely without wearing a mask. The resort has purchased a testing machine to allow a result within two minutes and now guests do not need to quarantine if they test negative. The original 'lockdown guests' have also returned to show their support.
Amilla is an ancient natural island that is still half jungle and contains Banyan trees that are hundreds of years old and an endangered species of bird that is not found on many islands. A famous spot for diving, Amlila has an underwater reef cave called the Blue Hole and Jason and Victoria are known for holding spectacular festive and Easter events.
Accommodation and service
One of the unique things about the island is the glamping experience that sees guests sleep under the stars in a private air conditioned 'bubble' overlooking the Indian Ocean. This begins with a massage, followed by a barbecue dinner, followed by yoga and breakfast in the morning. The bubble is located on the beach, yet in the jungle so guests feel like they are on their own island.
Jason and Victoria like to create special touches and memories for guests, thinking of anything a guest may need so it is provided before they know they need it. This ranges from thoughtful and playful touches like a bed for a child containing a doll or activated charcoal shots in the bar at night for guest recovery.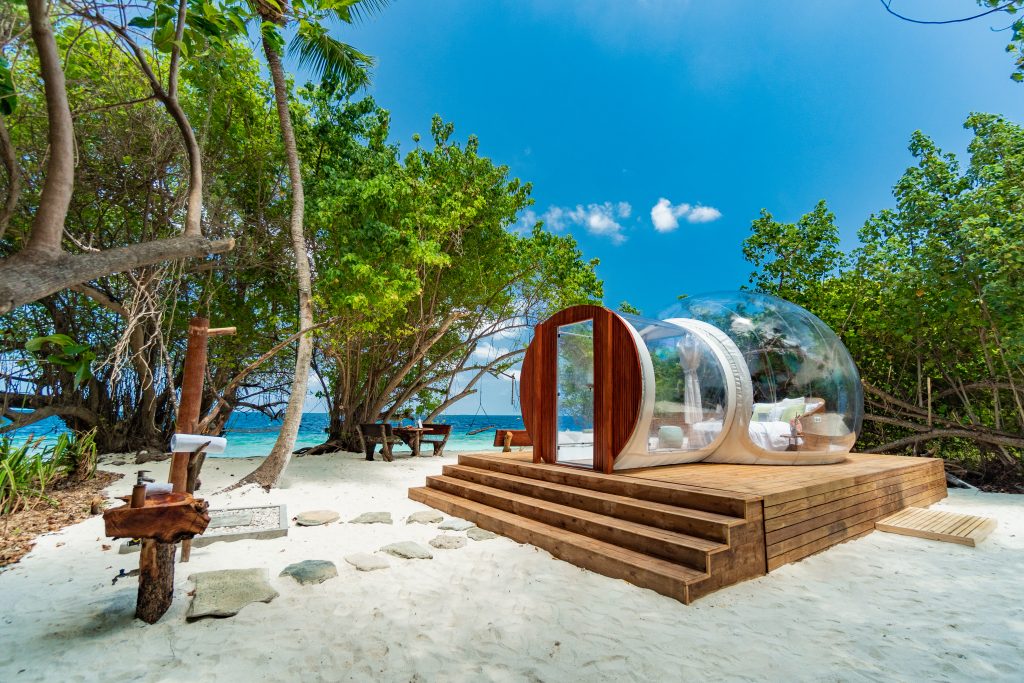 Jason explains: "Without our guests we are nothing. We are a stand-alone resort, so we provide out-of-the-box surprises and implement things without having to go through many layers of management. It means we can also trial things and use a great deal of imagination. This allows us to offer many experiences for the guest themselves. For example, those staying in residences who arrive in the middle of the day, especially those with children, have their food ready and waiting for them when they arrive. We choose the dishes depending on the nationality of the guests and age of children. Other personal touches include having cookies straight out of the oven as guests enter the residences.
Another day in Paradise
For the couple, a typical day begins with yoga before their morning management briefing and getting on with their days. For Jason, this includes attending to emails, tasks and liaising with guests. There is much work on sales and marketing tasks as well as checking on the team.  Victoria's work on sustainable projects is varied, although she doesn't get as much time in the garden as she would like. She is present at all guest arrivals and departures and every evening the couple will enjoy an early dinner before doing the rounds of the restaurants to meet or entertain guests.
The couple spend their free time exercising or relaxing at home with their cat. Working together on the island complements their strengths. Victoria said: "It means I can support Jason fully. I completely understand the operations and solve problems, so they do not escalate to Jason. We can talk through things. In a resort, particularly one without a head office, the general manager does not usually have a sounding board, but I can fulfil that role. It helps that we are also best friends and have successfully weathered tough times together."
The couple's plans for the near future include a much-needed break as they've only had one week off since arriving in 2019. New projects for 2021 include renovating guest rooms, replacing one jetty, expanding the Homemade@Amilla program and completing the waste processing facility and The Nut.
Find out more about Amilla Maldives here.
Donna Richardson is a Contributing Editor at Hotelier Maldives. You can reach her on donna@perspective.mv