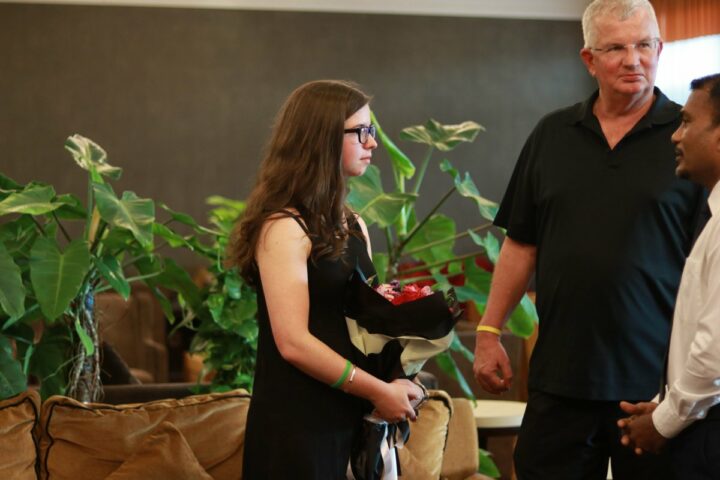 Maldives welcomes 2018's first visitor, announces MVR100m on destination marketing
The Maldives warmly welcomes the first visitor of 2018, as the government announces plans to spend over MVR100 million on destination marketing this year. Tourism Minister Moosa Zameer made the announcement speaking at a special countdown show held to welcome the New Year.
"The government, in collaboration with tourism industry stakeholders, will conduct a number of events to market and promote the Maldives as a top tourism destination. We plan to spend over MVR100 million on destination marketing," said Zameer, highlighting the challenges and achievements of the tourism sector in 2017.
Meanwhile, Georgina Holbrook, a Briton, was warmly welcomed as she officially became the first tourist to visit the Maldives this year. Arriving with her family on FlyDubai, Georgina was the first tourist to get her travel documents stamped at the Maldives Immigration. She was welcomed by officials of Maldives Marketing and Public Relations Corporation (MMPRC), Ministry of Tourism, Maldives Airports Company Limited (MACL) and tourism industry stakeholders.
"On this day, Maldives opens up a fresh chapter of new goals and accomplishments. Over the previous year's several events have been concluded successfully which included welcoming the first visitor, 500,000th visitor the 750,000th visitor and 1 millionth visitor," said MMPRC in a statement.
As the first visitor in 2018, Georgina was awarded with a congratulatory certificate and a special gift representing the traditional Maldivian culture and tourism by Haris Mohamed, the Acting Managing Director of MMPRC. She was also was awarded with a complimentary seven-night holiday package including domestic transfers, sponsored by Furaveri Island Resort.
The British market has been one of the topmost markets to the Maldives over the years. Until November 2017, 94,258 tourists arrived from the UK which is a growth of 1.1 percent compared to the same period last year. In 2017, 1,389,548 tourists arrived in the Maldives – a growth of 8.04 percent compared to 2016.