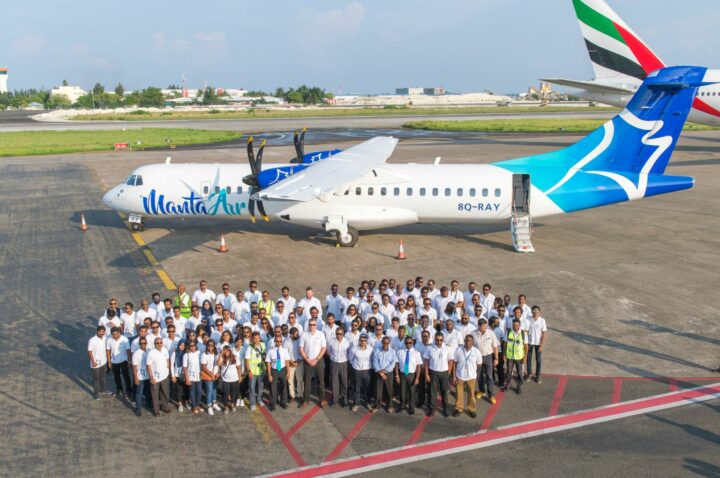 Manta Air gears up for operation, welcomes first aircraft
Manta Air, the country's third domestic airline, has welcomed its first aircraft. A special function was held in Velana International Airport, in partnership with Maldives Airports Company Limited (MACL), to welcome Manta Air's first aircraft – a brand new ATR 72-600.
The aircraft, which comes with a modern and comfortable turboprop cabin, has customised seats offering passengers with the best comfort with additional legroom. Manta Air is currently gearing up to begin operations, with an aim to meet the demands of the tourism industry, while providing new experiences for its passengers.
"At Manta Air, our goal is to provide all our customers with a reliable, friendly and hassle-free travel experience," said Mohamed Khaleel, CEO of Manta Air. "Our brand new aircraft will have more legroom and quieter rooms than other carriers. We will make sure everyone on board is delighted with their experience. We wish to make seamless domestic air travel accessible to as many people as possible."
Manta Air was founded in 2016 as a joint venture between Deep Blue Pvt Ltd, a local company with multiple investments in the tourism sector, and Umar Mohamed Manik. The company was created to cater to the need for more air transportation options and to support the rapid development of domestic airports and the fast-paced expansion of the resort and guesthouse market across the country. For more information, visit www.mantaair.mv.