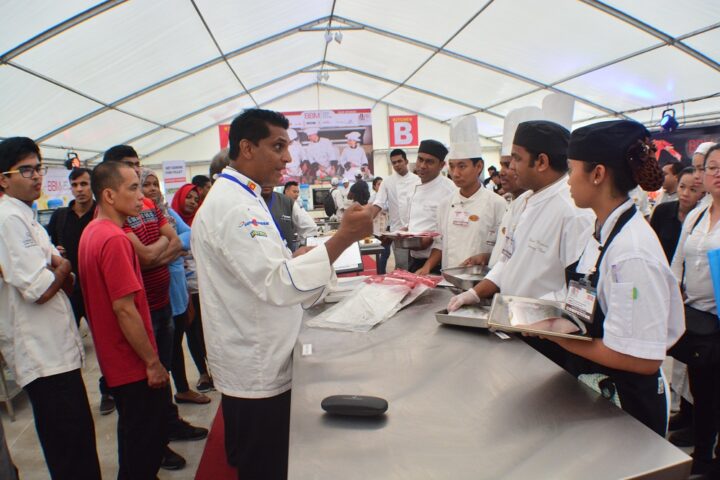 Masterclass planned for chefs ahead of Hotel Asia Culinary Challenge
Swedish chef and professor of gastronomy, Gert Klötzke, will teach a culinary masterclass at the Hulhule Island Hotel on 1 September.
Klötzke's class is part of the build-up to the annual Hotel Asia Exhibition & International Culinary Challenge, due to take place this year from September 5 to 7 at the Dharubaaruge' convention centre in Male'.
The class is aimed at chefs from Maldivian resorts who will be participating in the culinary challenge, which will begin a day before the exhibition and continue for four days.
Klötzke is an award-winning chef whose accolades include Swedish Chef of the Year and numerous Culinary Olympic and World Cup gold medals as part of the Swedish Culinary Team. A long-serving member of the Nobel Banquet Committee, Klötzke also holds seminars and makes guest appearances at restaurants all over the world.
The Masterclass, titled 'How to prepare for culinary competitions,' will offer participants an insight into what the panel of judges will be looking for during the competition.
Aside from Klötzke, Master Chef Tarek Ibrahim and Jodi-Ann Pearton will also share their knowledge and experience and help prepare and train the chefs competing in the challenge.
Ibrahim, the corporate executive chef at Meat & Livestock Australia, will make practical demonstrations on cooking meat.
Jodi-Ann Pearton, the founder and owner of The Food Design Agency, will share her experience in competitions and concentrate on the presentation of the food on the plate. Her instruction will focus on cooking fish and seafood.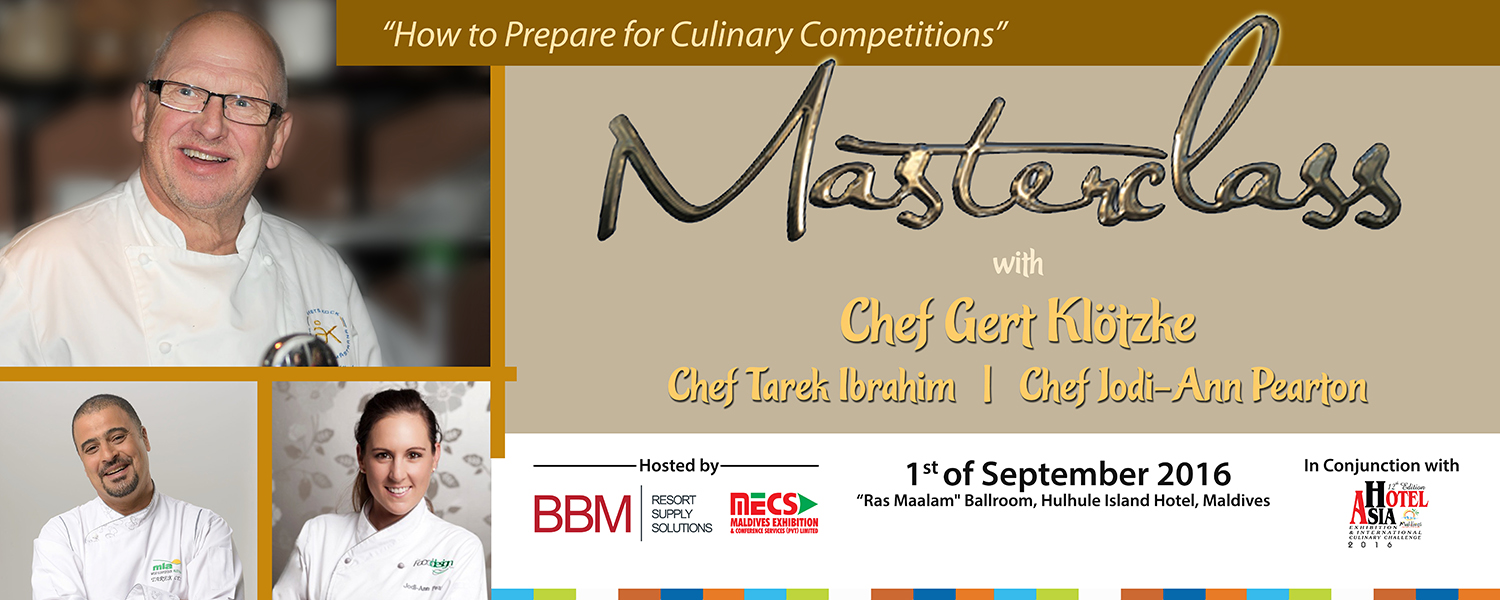 The masterclass will be followed by a knowledge sharing session and lunch with chef Klötzke.
Participants will receive certificates signed by the Swedish chef. Registration is open until 25 August.
The Hotel Asia International Culinary Challenge is divided into 20 categories, including Dress the Cake, Novelty Cake, Honeymoon Cake, Desserts, Bread & Pastry Display, Fruit & Vegetable Carving, Hot Cooking Fish fillet, Hot Cooking Seafood, Hot Cooking Lamb, Hot Cooking Beef, Hot Cooking Poultry, Hot Pasta Appetizer, Cold Pasta Salad, Creative Asian Dish, Maldivian Dish, Young Chef, Team Challenge, The Perfect Steak & Omelette, Team Challenge and Iced Mocktail.
The main awards include Individual Class Winners, Most Outstanding Chef, Most Outstanding Pastry Chef, Top Maldivian Chef, Best Culinary Establishment – "Alan Palmer Challenge Trophy", Food Hygiene Award, and Judges Special Award.
The annual Hotel Asia Exhibition and International Culinary Challenge is Maldives' largest and most anticipated culinary event.
The Hotel Asia event is organised by the Maldives Exhibition and Conference Services (MECS) together with the event's long-standing partner and main sponsor Best Buy Maldives Pvt Ltd (BBM).
Visit www.hotelasia-maldives.com for more information and registration.