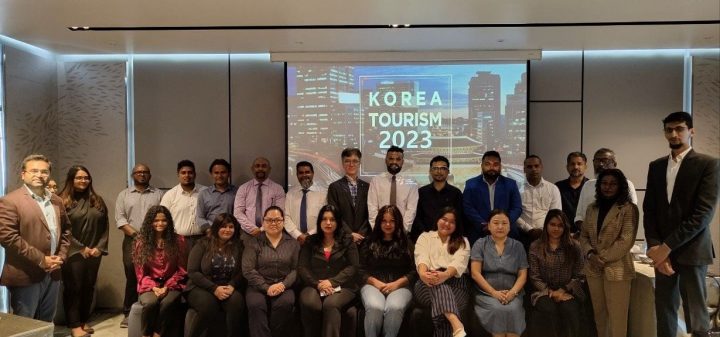 MATATO Collaborated with Korean Tourism Organisation for Roadshow Event at Maagiri
Yesterday, the Maldives Association of Travel Agents and Tour Operators (MATATO) partnered with the Korean Tourism Organisation (KTO) for a roadshow event in Male' at Maagiri Hotel. The roadshow aimed to promote bilateral tourism between the Maldives and Korea.
This event was a platform to introduce KTO to MATATO members, stakeholders, and the media. In order to facilitate a closer partnership and opening up new opportunities for both destinations. The roadshow is a continuation of discussions between the organizations to enhance the tourism experiences for travelers from both countries.
This roadshow event presents an exceptional opportunity for MATATO members and other industry stakeholders to gain valuable insights into the diverse offerings of Korea as a tourist destination. Attendees were treated to engaging presentations by KTO and speech by Regional Director, Mr. Myong Kil Yun. Their expert knowledge and expertise shed light on the unique experiences and attractions awaiting Maldivian travelers in Korea.
"We are excited to witness the captivating presentations and hear the perspectives of our members on this partnership," said Abdulla Ghiyas President MATATO. "The collaboration between MATATO and KTO holds immense potential for forging stronger ties and creating mutually beneficial opportunities. We anticipate that this event will pave the way for more Maldivians to explore Korea and for Korean visitors to discover the enchanting beauty of the Maldives."