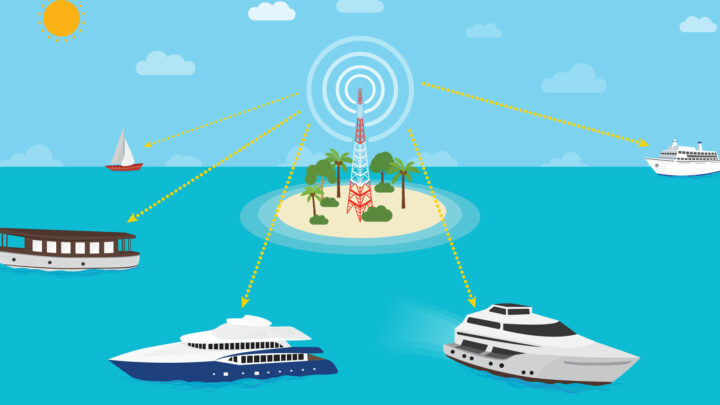 Medianet Cruise
Introducing the Medianet Cruise service: targeted to the main two marinas at the capital, it provides the means for everyone on liveaboards to be entertained with the best cable TV content from around the globe. By installing a small antennae and purchasing a decoder, all sea-vessels within a 30 km radius of the capital Male' will be able to view over 20 channels including news, local channels, movies, and live sports along with a number of High Definition (HD) channels.
With over 20,000 subscribers, Medianet is the largest pay-tv broadcaster in Maldives. The company was formed in 2005, and since then has an ever-growing customer base within the country. Medianet consistently looks to find new and improved ways in providing customers with the best cable TV experience. As such, they have sought an innovative way of providing their service to a new platform, where the demand for entertainment was present.
According to the CEO of the company, Ahmed Shafeeu, "via the service antennae, the signal will reach live aboards anchored in a harbour nearby or cruising within a radius of 30km from the capital. Subscribing vessels will receive uninterrupted service of their favourite channels for a small monthly fee".
Head of Marketing, Imaz Mohamed explained that the company is currently doing some trial runs with selected vessels in the harbours. "We have the biggest marinas in the country here, and as such, we would like to begin the service by providing it to these two marinas".
A large portion of the tourism industry depends on live boards and cruising. Therefore it is high-time that guests and crew on board these vessels get to experience the latest HD channels.
Although this service is currently not available nationwide, Ahmed Shafeeu highlighted that Medianet would be expanding the service to include other marinas in the near future. "We have a dedicated team to help customers install the system on these vessels," Ahmed added. The system is designed to work on at least 4 televisions.
So why should customers choose the Medianet Cruise package? Imaz explains that even the vessels which already have similar services will gain valuable content in HD, especially the ability to watch live sports in HD,  which will further enhance their cable TV viewing experience.
Medianet is set to launch the service officially sometime early August. The company is hopeful about Medianet Cruise and guarantees a reliable service, along with an enhanced lifestyle for all travellers within the region.