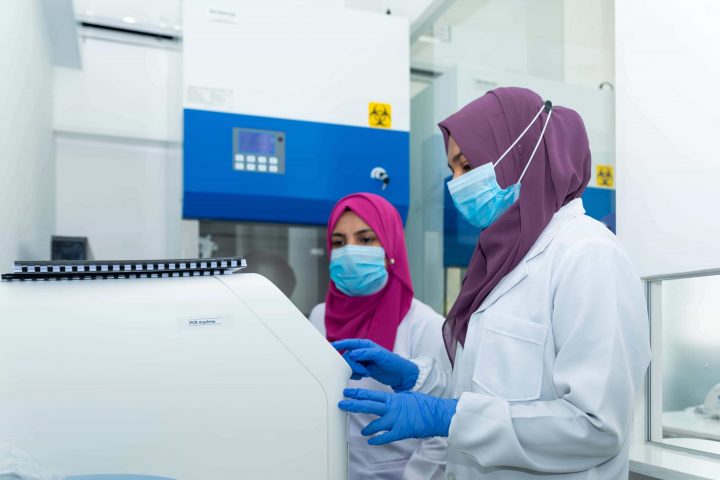 Mediflex Laboratories, Comprehensive and Reliable Diagnostic Services
Mediflex Laboratories – on 20th December 2020, Medtech  launched its most recent services and opened its doors to the public at the capital city of Maldives, Male'.  Their very first, state of the art laboratory is situated conveniently right opposite Thaajuddeen School on Kanba Aisa Rani Hingun, on the West Side of the island, right at walking distance from major government hospitals and medical pharmacies located in Male'.
Mediflex Laboratories is a subsidiary company of Medtech Maldives. Their brand new laboratory is a well-equipped, diagnostic laboratory that is deeply integrated in guiding patient care, with a mission to provide high-quality, accurate and most comprehensive and reliable diagnostic service with excellent patient care enhanced with continuous research and development. Their aim is to improve health and lives by delivering world-class diagnostics, accelerating the availability of results, and using advanced technology to change the way care is delivered. Mediflex Laboratory is geared to serve a broad range of customers, including patients and other customers alike, government agencies, physicians and other healthcare providers, hospitals and health systems, local & expatriate workers, corporate customers, insurance agencies and independent clinical laboratories.
With the ongoing pandemic since early 2020, Mediflex Laboratories have mainly focused in providing a good quality quick service on the much needed area of PCR testing in the Maldives, especially for the Hospitality and Travel sector which has been facing great difficulties with the new normal. With the stringent government regulations, currently there are only seven approved laboratories in the Greater Male' Area and Mediflex Laboratories is proud to be one. Their testing professionals are qualified, well experienced molecular diagnostic technologists trained by the United States Centre for Disease Control in the USA.
All the equipment and brands used in the laboratory are FDA approved by the United States of America as well as approved by European Medical Standards. Their major testing equipment includes two Thermofisher QuantStudio 5 machines used for real time PCR system for quantitative detection, which also has the ability to detect the newly found UK strain, one Thermofisher Automated system used for RNA Extraction Kingfisher. For all their PCR Tests, Mediflex Laboratories use CDC recommended UTM and swabs from Copan, supplied by Medtech.    
According to the management of Mediflex Laboratories, at the moment their lab is equipped and has the capacity to test around 1000 PCR samples per day. They offer two different packages for their customers, the first being Normal Service, which the test results will be generally provided within 12 Hours and Express Service, where results are provided within 6 Hours for an additional charge, a crucial service for urgent cases.
Special Services for Hospitality Providers & Corporate Clients
Mediflex Laboratories have special packages designed for hospitality providers such as resorts, guesthouses and hotels as well as to other corporate clients who may need to get a large number of PCR tests done regularly for the movement of their guests and staff members. For clients with a corporate agreement with Mediflex Lab, Copan UTM with swabs for sample collection, PPE Kit including gown, face mask (surgical & N95), shoe cover, nitrile glove and disposable face shield with a zip bag are provided for free along with sample carrier box for transportation.
Samples for PCR are collected anywhere from the Greater Male' Region including Velana International Airport. Once the samples arrive at the lab, it is then processed and results are reported digitally via email for the designated clients by the Mediflex Lab team, providing a fast, convenient service for their partners.
"Our aim is to provide a hassle free service for everyone, especially for the general public along with our corporate clients, specially at a reasonable, competitive rate. We are constantly working with government bodies such as HPA and NEOC to find better quality, fast and reliable solutions on PCR testing," said Mohamed Mufeedh, Deputy Managing Director.
Mediflex Laboratories aim to start other medical laboratory tests, providing a wide variety of tests for the general public in the near future. Currently their team is undergoing the last minute preparations to expand their services.
About Medtech
Medtech Maldives is one of the major suppliers of healthcare, medical and pharmaceutical products in the Maldives. Medtch has been serving as a leading partner and distributor for several reputable medical equipment brands with partnerships across the globe. The group has supplied a wide range of medical equipment to the biggest government hospital, Indira Gandhi Memorial Hospital (IGMH), as well as to several regional hospitals across the Maldives. Medtech's 'crowning achievement' in their list of completed projects is the recent upgrading of Addu Equatorial Hospital from primary to secondary level under auspices of a global tender they won. Mediflex Laboratories is one more step towards the company's promise to be the nation's ''Bridge to Medical Excellence''.
To contact Mediflex: