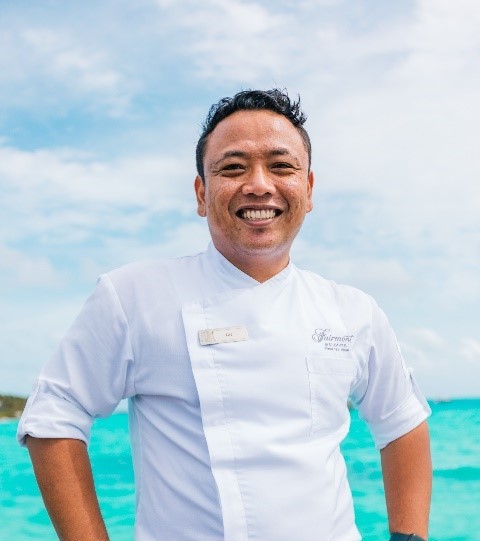 Meet Chef 'Art', Sushi Master at Kata Japanese Restaurant, Fairmont Maldives
Chef 'Art' Artyiasa is the Sushi Master and Chef at Fairmont Maldives Sirru Fen Fushi's signature Japanese restaurant Kata, and has been perfecting the art of sushi making for over a decade.
Due to his hard work and passion for the Japanese cuisine and culture, Art has travelled the world and worked for household names – including Nobu and Zuma – before going back to his motherland, Bali in 2014.  After working at Conrad Bali, he joined the team at Fairmont Maldives Sirru Fen Fushi in 2020 and, in spite of the challenges dictated by the global health emergency, he managed to keep spirits high and continue to offer guests fresh and expertly crafted sushi, teppanyaki and omakase, served in the unrivalled oceanfront location of Kata.
You've worked at some of the most famous sushi restaurants around the globe. What did you bring with you to Fairmont Maldives? And what have you learned since? 
In my past experience, I learned that motivation and passion are keys to success. There's no shortcut or way around it. The kitchens, especially the ones of world-famous restaurants, can be stressful environments and one needs to be prepared to work hard and long hours. But if you're driven by passion and you are determined to improve and reach your goals, it's so much easier to face these challenges.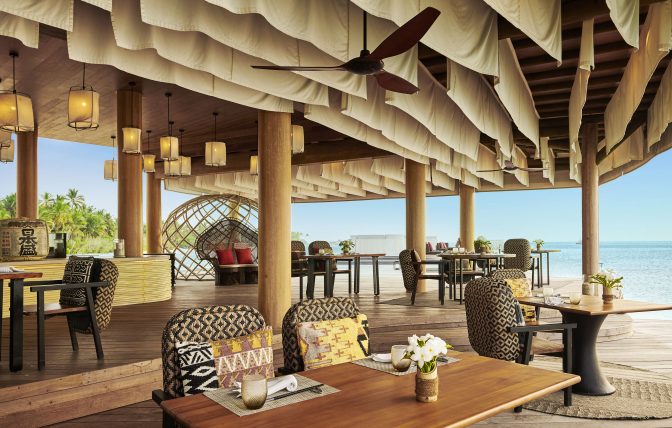 Here at Fairmont Maldives Sirru Fen Fushi, I brought all the knowledge I earned in the last ten years of studying the art and details of Japanese cuisine. I joined Fairmont less than one year ago but I've learned so much since. We had to navigate the new rules due to the pandemic and find alternative ways to connect with our guests. I have learned to use and appreciate local ingredients, for instance, tropical fruit and different kinds of fish, and integrate them into my creations.
I love to work at Fairmont because is such an established luxury hotel brand, and my goal is to make Kata Japanese restaurant a renowned foodie hotspot in the Maldives.
The resort champions sustainability on every level. How does this apply to Kata, and the way fish is sourced for the menus served across the resort?
I'm really happy to work in the Maldives, and especially at a resort that puts sustainability at its core and respects the planet. We really offer a sea-to-table menu, we get the product from the local fishermen who use ancient and sustainable techniques to catch it. I've never seen healthier and fresh fish than here at Fairmont. We use so many varieties of local fish, that guests can virtually eat different things for the entire length of their stay. White grouper, Red snapper, Octopus, Sea urchin, Seabream, Keimedai (small fish) and Tuna are just some of the fish guests can find in the menu.
As a result of the pandemic and the on and off lockdowns, many people decided to get creative in the kitchen. What would be your top three tips for those willing to learn the art of sushi making?
Prep Up
It might be obvious, but the first tip I'd give to someone willing to approach sushi-making is to not overlook the preparation. By preparation, I mean all the steps that precede the 'rolling phase': make sure you have all the ingredients you need (don't skip anything: even the smallest seed or littlest drop of sauce can make a big difference in the final result!). All the ingredients have to be prepped and sliced before you start making the sushi, as this will make that process less stressful and therefore more enjoyable.
Strive for Rice Perfection
It goes without saying that rice plays an important role in Japanese cuisine, and in sushi especially. For sushi, we use sticky rice, which is boiled rice tossed in sushi vinegar (made from rice vinegar, sugar and salt). The challenge with sticky rice is to create the perfect, most balanced flavour: not too sweet, not too sour and not too salty. Practice makes perfect so don't get disheartened if it's no perfect the first time.
Keep it Simple
Rolling sushi seems easy but it's really a craft that needs a lot of exercise and patience. For starters, try and keep it simple both in terms of ingredients involved and kind of preparation. The hand-rolled Temaki is a good one to start with, and if you're cooking with friends and family everyone is free to choose their own toppings.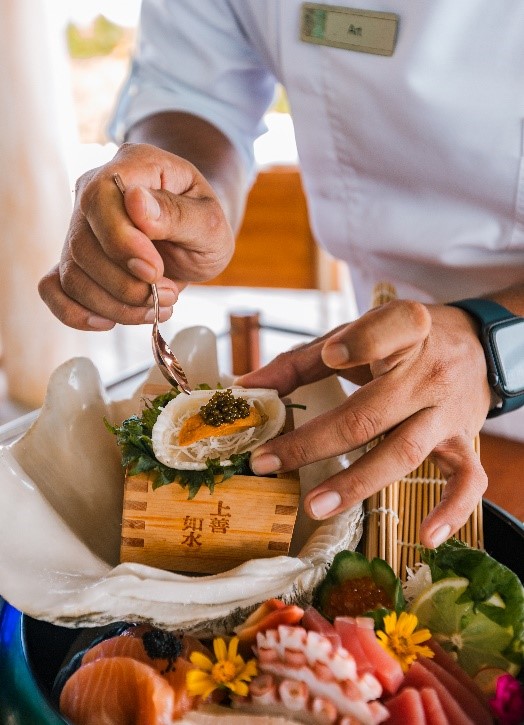 What is your favourite locally-sourced ingredient to work with?
Reef fish is my favourite kind of fish to use for sushi and sashimi. It's unrivalled, super fresh and delicious. I always say to the team at Kata: if the ingredients aren't the freshest possible, don't even start making sushi!
Do you think sushi is better off with wines, cocktails or sake? Does it depend on the fish?
Sushi is a light dish, therefore it marries nicely with white wines, as they're lighter and less robust than red ones. It could also be eaten with fizz, maybe low dosage champagne, and Japanese beers. It's not traditional in Japan to drink sake while having sushi, but this is an increasing trend worldwide and it's amazing to see that more and more people are willing to learn more about sake.
Fairmont Maldives is a family-friendly luxury resort: do you offer a children-friendly sushi menu? Or do you suggest something different for the resort's littlest guests?
Of course, we have some children-friendly options. I believe sushi is a very convivial food hence perfect to be shared at a family lunch or dinner. Some of the ingredients might be new for the kids' taste buds so we are very happy to make special arrangements and change ingredients upon request.