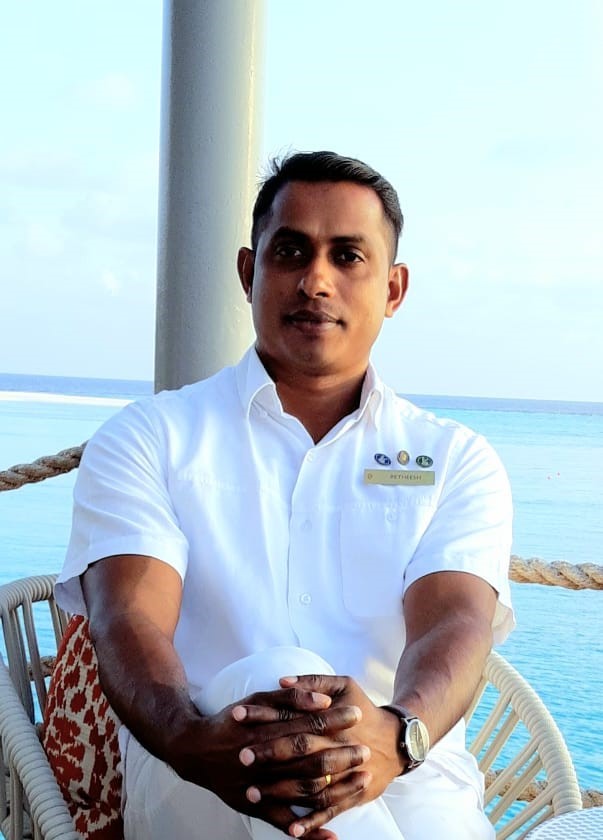 Meet Retheesh Mohanan, Head Sommelier, InterContinental Maldives Maamunagau
Retheesh Mohanan, 39, originally from Kerala, India is currently the head sommelier at InterContinental Maldives Maamunagau Resort.  Hotelier Maldives interviews Mohanan about working in the Maldives,  different wine varieties in the wine cellar at InterContinental and his favourite wines.
HM: Tell me a bit about yourself and your background and how it has shaped you?
RM: I grew up in the picturesque village of Kumarakom in Kerala, India. I came to Maldives in 2008 as a waiter for an Italian restaurant at Paradise Island Resort and was fortunate to be promoted to a supervisor quickly. As my knowledge, confidence and passion for wines grew, I became the assistant sommelier at Kuredu island resort and soon became sommelier for the 5.8 Under Sea Restaurant at Hurawalhi island resort. In 2019, I joined InterContinental Maldives Maamunagau resort as head sommelier.
HM: What does it mean to be a sommelier?
RM: We work in a restaurant interacting with guests and making their dining experience memorable by suggesting wines which will enhance the flavour of their chosen meal, as a sommelier we are responsible for selection of wines, wine lists, many events (birthdays, anniversaries, proposals) for guests. I should rather say I am key person for the wine loving personnel.
I believe that a resort sommelier is a personal guide as guests navigate through an extensive wine list. I always try and connect with the guests and get to know them as much as I can so I can make better recommendations based on their personal preferences and meal selection.  Each guest is unique, and I enjoy sharing my knowledge and passion with them as it's very rewarding when the guests are pleased with their experience. I also responsible for the menu of wines on offer and the costing and budgeting.
HM: Why did you decide to become a sommelier and how you came to be in the Maldives?  
RM: While I had an interest in becoming a sommelier, it was a mentor of mine that encouraged me to apply for the WSET Level two in the Maldives as the only participant from Paradise Island Resort. I completed this certification with a distinction and with my growing confidence applied myself to achieve the WSET Level three which I did with distinction as well. I later became certified by the Courts of Master Certified Sommeliers.
I was inspired to work in the Maldives by friends and colleagues as its not only a beautiful destination, but it also offers many learning opportunities. We have some of the best restaurants and bars on the planet offering unique experiences that you cannot find anywhere else in the world and I knew I would be working alongside incredibly talented culinary personalities.
HM: What do you love most about the resort you work at?
RM: I love meeting new people from all around the world and learning about their experiences. It is also very gratifying to be able to share my knowledge and experience of wines with our guests.
HM:  Can you tell me about your wine cellar and what wines you have on offer including vintages and champagnes. How big is the collection?
RM: The Sunset Bar is unique as it is a replica of a traditional Maldivian dhoni and offers spectacular sundown views. We have 400 wine labels from all around the world, 40 labels of champagne (both vintage and non-vintage), prestige cuvees, rare collections, 1970 port and a Abys champagne which is limited edition and aged in the Atlantic Ocean.
HM: What is important to understand about wine and how do you select the perfect wine for your clients?
RM: We have many grape varieties with many wine producing countries. The same grape variety with different characteristic from different regions, I always ask the guest what grape variety or what style of wine they prefer, which will give me an understanding of their likings to recommend, second suggest them wines what food chosen which will enhance their dining experience, I am always happy to recommend they try something different not one grape or one type wine.
HM: What is the most expensive wine on offer at the resort?
RM: 1986 Château Pétrus priced at $9,000.
HM: How do you keep the wines at the right temperature?
RM: It is quite challenging to keep our wines in their optimal temperature given the climate here, however with a well-designed wine cellar with proper humidity and temperature controls we can store the wine long term. For service and short-term storage, we have the wine coolers.
HM: Do you do wine tastings?
RM: One of my signature experiences at InterContinental Maldives Maamungau Resort is our "Wine Games" where I lead the guests through a blind tasting. For 90 minutes, they have a lot of fun learning about different wines. Another tasting that I do which is well received by our wine connoisseurs is  a tasting comparison of wines from the northern hemisphere vs southern hemisphere. A favourite tasting of the guests is always the Mediterranean wine and cheese tasting.
HM: What changes have you seen in the industry during the time you have worked at the resort?
RM: Nowadays, we have many travellers from different parts of the world with different taste and culture which will help me to curate their wine habits. I also offer them to do experiences with some other from their taste.
HM: What hobbies do you enjoy when you are not at work?
RM:I love my island life in Maldives and enjoy going to the gym, snorkelling and fishing.
HM: What steps did you take to become a sommelier and why did you choose the Maldives to work?
RM: Presently I am a WSET LEVEL two, WSET LEVEL three, Courts of Masters Certified Sommelier,
I choose to work due to the working environment and as well as it is an international tourist destination and truly the best in the world.
HM: What has been your biggest challenge along the way?
RM: It was challenging at the beginning as I had never specialised in wine so even the simple task of pronunciation of French labels was difficult at first.  However, I was determined, and I quickly overcame that through continuous practice and along the way I taught myself other important aspects such as the laws and regulations of wine production in different countries, grape varieties and how wine is produced.
HM: What advice would you give to people entering the industry?
RM: Nothing is impossible. There are no barriers for learning. Be humble and continue learning.
HM: Tell me about the wine experiences available for guests?
RM: Wine games, champagne sabering sessions at Sunset Bar, wine pairing dinners at our signature restaurant – Lighthouse, champagne and cheese tasting, Mediterranean wine and cheese tasting.
HM: How do you import wines in a pandemic?
RM: We always maintain ample stocks to ensure that we can cater to our guest preferences. We haven't faced many challenges sourcing wine during the pandemic as we pre-plan in the long term so that there is plenty of time for it to arrive should there be any shipping delays.
HM: What is the most popular wine?
Kanonkop cabernet sauvignon from South Africa and whispering angel rose from France.
HM: Red, white or rose what is your favourite and why?
RM: Tignanello a super Tuscan red wine from Italy. I love Sangiovese which is the main grape for Tignanello. I love it because from young to mature its taste and flavour is amazing.