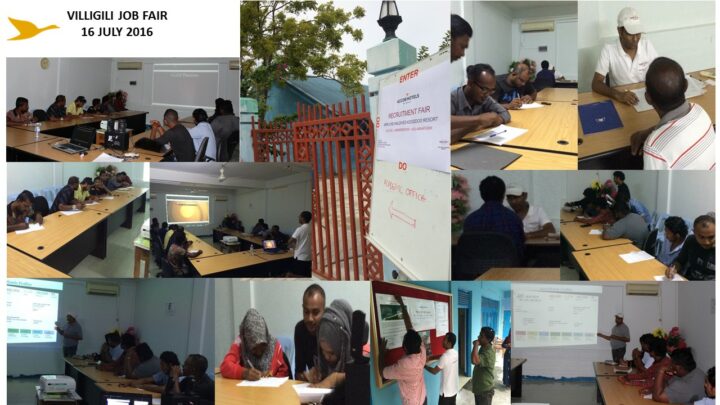 Mercure Maldives Kooddoo Resort conducts recruitment drive
The Talent & Culture team at Mercure Maldives Kooddoo resort conducted a three-day recruitment drive on several islands in Gaafu Alifu atoll this week.
Focused primarily on islands near the resort, the recruitment fair took place from 16 to 18 July and sought to identify and attract youth with potential as the resort gears up for its pre-opening operations in the coming months.
The resort is scheduled to open in November 2016.
"We are pleased with the response of the Recruitment Fair and that those objectives determined from the outset have been accomplished to a great extent," said Vaibhav Garg, Cluster Director of Talent & Culture – AccorHotels, Maldives.
"Because of this event, Mercure Maldives Kooddoo Resort is widely exposed to its future workforce from the nearby islands in the GA Atoll with connections being established between island administration, counsellors, resort management and potential skilled and talented candidates.
"Youth and young hospitality students were guided to begin the process of planning for their future in hospitality as career opportunities were explained to them for developing a greater awareness of resort operations and career options available to them for overcoming barriers to employment."
He added: "We are confident that this crucial database will help us as we kick start our pre-opening recruitments to support operations shortly."
More than 235 individuals visited the recruitment fair, according to the resort.
Some 155 job aspirants registered at designated counters on the islands of Villigili, Maamandhoo and Kolamaafushi. The counters were manned by the Talent & Culture representatives.
A further 500 applicants registered through email.
The Talent & Culture team provided information about all levels of resort management and matched the needs of individuals' personal and career goals with the needs of the resort ongoing operational workforce requirements.
The team also offered help for individuals to make the right choices for their careers at AccorHotels and particularly with Mercure Maldives Kooddoo Resort.
According to AccorHotels, the objectives of the recruitment fair include addressing barriers to employment facing youth and helping them become more aware of hospitality market trends, career options, resources, employment and training opportunities available with AccorHotels in the Gaafu Alifu Atoll; improving ties between island counselors, island administration, resort management and youth who are interested in entering the hospitality industry; creating a database of potential candidates in the atoll for any future workforce requirements; assisting local youth to have a greater awareness of employment and training related opportunities available to them; and encouraging youth to pursue their career goals with AccorHotels in Gaafu Alifu Atoll.
Managed by AccorHotels, Mercure Maldives Kooddoo Resort is located on the island of Kooddoo, a 55-minute domestic flight from the Male' International Airport.
The first 'airport resort' in the south of the Maldives, Mercure Maldives Kooddoo Resort will be the only property directly accessible via domestic plane without an additional speedboat transfer.
Mercure Maldives Kooddoo Resort aims to provide one of the best value full-service resort options in the Maldives mid-scale sector with 68 Villas, including 43 Over Water Villas and 25 Beach Villas. Some 20 villas include a private swimming pool. The resort says its accommodation highlight will be the best-in-class Sunset over Water Pool Villas.
Visit www.mercure.com for more information.