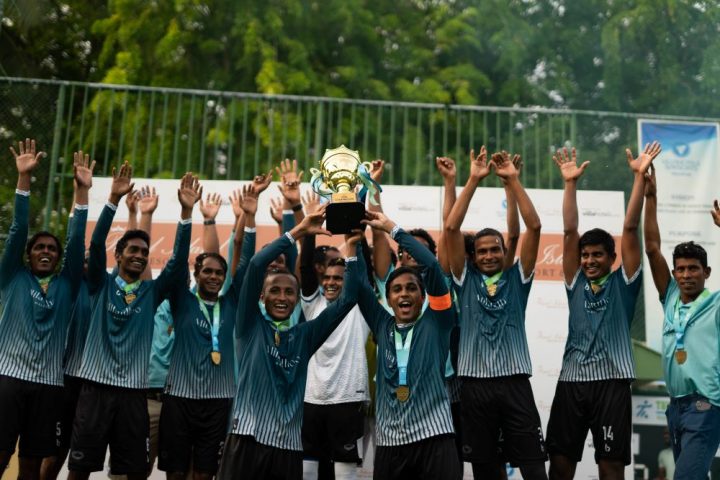 Milaidhoo Maldives wins Tekkers Resort Cup 2023 Baa Atoll
In a thrilling finale at the Baa Atoll zone of the Tekkers Resort Cup, Milaidhoo Maldives emerged as champions after a captivating match against Soneva Fushi on Tuesday, June 20, 2023. The event witnessed the senior management of both resorts coming together to witness the high-stakes showdown.
The first half of the final match concluded with a goalless draw, intensifying the anticipation for the second half. It was in this crucial period that Mohamed Akram, wearing the jersey number 23 for Milaidhoo Maldives, seized the opportunity and scored the winning goal, securing the team's victory and sealing their glory.
Unais Zubair of Milaidhoo Maldives was awarded the title of the game's man of the match for his outstanding performance throughout the tournament. Additionally, the top five players in the Baa Atoll zone were recognized, including Adam Naseer, Hussain Eaman, and Ali Naseer from Milaidhoo Maldives, as well as Mohamed Naail and Mohamed Asfan from Soneva Fushi. Furthermore, three players were honored as the top scorers of the zone, each having netted four goals: Mohamed Naail and Mohamed Asfan from Soneva Fushi and Hussain Eaman from Milaidhoo Maldives. Mukhthaar Naseer of Milaidhoo Maldives was acknowledged as the Best Coach of Baa Atoll, while the esteemed title of Best Player of Baa Atoll was awarded to none other than Unais Zubair from Milaidhoo Maldives.
The Tekkers Maldives Resort Cup will now shift its focus to the Lhaviyani Atoll zone, with matches set to commence on July 1, 2023, at Le Meridien Maldives. Excitement continues to build as the competition progresses, promising an exhilarating display of talent and skill from participating teams.