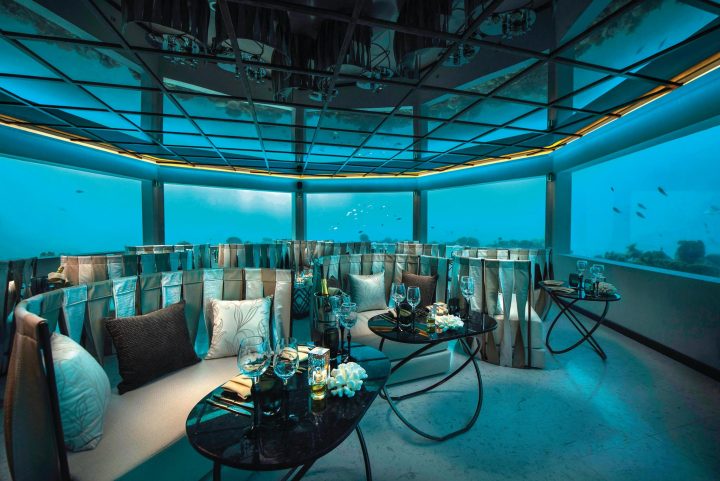 'Minus 6 Meters' at OZEN by Atmosphere
The brand-new underwater restaurant at OZEN by Atmosphere opened the doors to an unparalleled, immersive dining experience. 'Minus 6 Meters' – M6m is the first underwater restaurant within the South Malé Atoll and the first in the Maldives to be included on an all-inclusive plan.
M6m: an open sea venue that's truly a world away, is the result of painstaking planning, conceptualization, and detailed design, with a focus on protecting the environment and the delicate, world-renowned aquatic life in the Maldives.
Complementing the luxury flair of OZEN with exquisite contemporary seafood cuisine and elegant interiors, the aesthetic intertwines of the restaurant are sleek white furnishings with splashes of color inspired by the hues of the surrounding lagoon. The result is surroundings that will make guests feel like they are gliding past sharks, stingrays, sea turtles and vibrant angelfish in the core of the ocean.
Adhering to Atmosphere Hotels & Resorts' philosophy of integrating world-class experiences into all-inclusive holiday plans, M6m will be included on the Atmosphere Indulgence Plan for all guests–a first in the island nation. The inclusion will mean that guests can't be stung with an additional bill at the end of their stay.
This five-star resort will also feature a number of other fine dining experiences, ensuring that the guests are never short of dining choices. These include The Palms, the resort's main restaurant, serving up fresh international cuisine, Traditions – IndoCeylon, an ambient restaurant in keeping with the resort's South Asian culinary roots, Traditions–Peking, a favourite with fans of Far-East cuisine and Joie de Vivre, a stunning poolside bar and pizzeria.