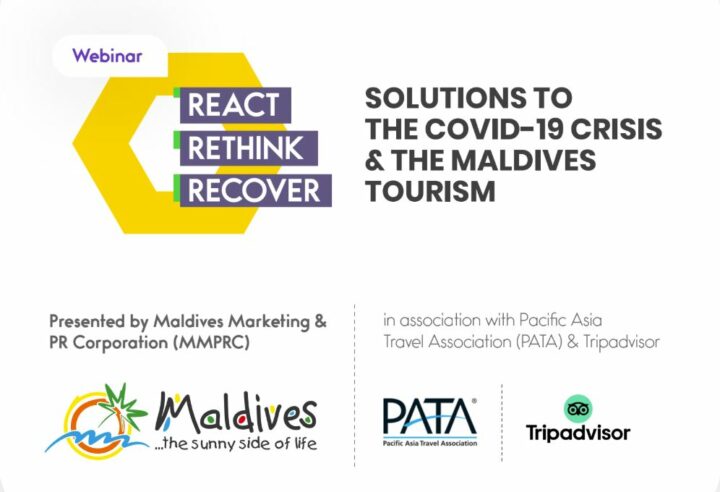 MMPRC to host webinar for tourism marketeers on solutions to the COVID-19 crisis
Maldives Marketing & Public Relations Corporation (MMPRC) in association with Pacific Asia Travel Association (PATA) and Tripadvisor will be hosting a special webinar designed exclusively for the Maldives Tourism Marketeers on Monday 27th April 2020.
The webinar titled "React, Rethink, Recover: Solutions to the COVID-19 Crisis & the Maldivian Tourism Industry" The 90-minute webinar will be led by Damian Cook (CEO of E-Tourism Frontiers), who has managed global tourism crises including the SARS and Ebola outbreaks, and will offer practical assistance moving beyond reassurance and information into solutions outlining a prioritized plan for organisations to follow.
The Speakers include Mr. Thoyyib Mohamed, Managing Director, MMPRC; Dr Mario Hardy, CEO of PATA; Mr. Paul Pruangkarn, Director of Communications and External Affairs of PATA; Ms. Sarah Mathews, Group Head of Destination Marketing for Asia Pacific, TripAdvisor and Mr. Leon Chan, Business Development Manager for Asia Pacific, TripAdvisor.
During these unprecedented times the Maldives Tourism industry is also being heavily impacted by the crisis. The webinar is part of the initiative by MMPRC to assist in how to react, plan for and manage a situation that is still evolving daily, and be ready for eventual recovery. Mr. Thoyyib Mohamed, Managing Director of MMPRC stated that, "We are making every effort to rise to the challenging situation and finding means to keep Maldives visible on the travel radar. I thank the invaluable support received from PATA and Trip advisor in developing this webinar which I hope will be very useful for the Maldives tourism industry marketeers. To ensure that all marketeers regardless of the size of the entity get the benefit of this seminar, we have opened up this opportunity for non-members of MMPRC as well".
Interested parties can register for the webinar at: https://zoom.us/webinar/register/WN_o3D0H37dQpikbaJx-P5fnQ