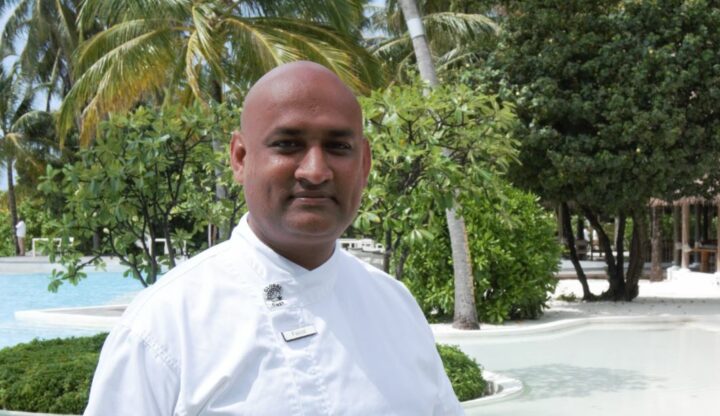 Mohamed Faisel, Executive Pastry Chef (Acting Executive Chef) at COMO Maalifushi
Mohamed Faisel is the Executive Pastry Chef and Acting Executive Chef at COMO Maalifushi. He hails from Kandy, Sri-Lanka, and has been in the culinary field for around 16 years. He has been with COMO for the last 10 years and has been at COMO Maalifushi since the resort's pre-opening in 2013.
Faisel always had a fascination with food and would try to replicate new dishes he tried. His family background also helped push him on the F&B path, with four of his siblings also pursuing their careers in the F&B industry in various positions.
After completing school, Faisel joined hotel school where he specialised in pastry. His career began at John Keells where after joining as a trainee, he became a Commis Chef. Faisel first worked in the Maldives at White Sands Resort & Spa where he worked for two years. White Sands was, as per Faisel where he learnt the most about the craft. Working with chefs from different cultural backgrounds, he says helped him gain a lot of different international influences and an appreciation for the hot-kitchen.
Faisel says he chose pastry because that was where he could express his creativity. He has a personal interest in art starting in his school years and decided to combine both his passions when it came time to pick a career.
"Pastry is the best chance to create things that would leave a lasting impression on the guest as the dessert is at the end of the meal," he says proudly. "It's where we can impart some true happiness on the guest by serving something refreshing that has a wow factor."When asked about his decision to come work in the Maldives, he said that what he considered was that the Maldives already had a reputation as a good place to work and excel in the F&B industry. The Maldives being close to his home nation was also a plus, as it would be easy for him to visit his family back home.
Describing his duties as Acting Executive Chef, he said: "Taking over the kitchen was kind of a big task as I had to take some time to get fluent with the hot-kitchen side again. But with my previous experience and knowledge, I was able to quickly adapt and fit into the role."
Faisel says that managing the kitchen is relatively easy as COMO chefs are of a very high standard and any chef at any level is well poised to do any job at the same standard. "Food consistency will always be the same regardless of who prepared it," he says.
The most difficult aspect Faisel notes is that sometimes some guests are very hard to satisfy as they have travelled all over the world and are well-versed in cuisine. He says that they always try their best to satisfy the customers as one of COMO's main selling points is their food.
A typical work day for Faisel starts at 5:30 a.m. when he first wakes up for his prayers. After getting a bit more sleep, he wakes back up at 7 a.m. then gets ready to start his rounds. His first stop is at the staff canteen and kitchen. He checks whether everything is in order then heads to the main kitchen around 8 a.m.
Faisel checks on the kitchen and breakfast buffet before catching up on his emails to get ready for the Heads of Departments meeting at 8:30 a.m. After the meeting, Faisel heads back to the kitchen to manage the breakfast rush hour. He holds a kitchen meeting at 10:30 a.m. to brief the staff on that day's plans, guest comments, allergy notices and spends 10 minutes gathering staff opinion.Lunch service starts at 11:30 a.m. and runs around till 3 p.m. Faisel goes to catch up on his prayers after that, then takes a break until the evening service starts. The evening shift starts at 6 p.m. and finishes around 11:30 p.m. Add another hour to close the kitchen and Faisel's day ends around 12:30 a.m. He says as chefs, they don't get much free time as their free time is spent honing their craft and learning new things.
The most important aspect Faisel notes in managing the kitchen is maintaining an inventory of the produce. He has to anticipate and order everything accordingly as being located on an island, he cannot buy the necessary items when they run out.
"We source most produce and meats from overseas, but some produce is sourced locally as guests want that local experience," he says. The island has a herb garden, where some greens, vegetables and fruits are also grown. The resort hosts chef's table events from time to time where most of the ingredients used come from the island itself.
As a boss, Faisel says he is a good problem solver, his staff sees him as a father figure who takes care of all their issues and guides them. Even in his family, he says he is the designated problem solver even though he is younger. Faisel held a lot of senior positions in school as well, so he has been a leader all his life.
Faisel says his future plans are to get more experiences and to take on more challenges to advance in the industry. He says that if he receives a good opportunity he will gladly move in pursuit of more experiences. He has an ambition of one day owning his own coffee shop back home.
Faisel says that if you want to grow in the industry, show your worth and creativity, you can do so in the kitchen. "Because in the kitchen, even with the same ingredients each chef will give a different taste. It comes from your heart," he says. "Additionally, you can get into any cuisine and taste food from all over the world as a chef."
His most memorable experience in the Maldives was, unfortunately, the tsunami of 2004 which happened just after he got to the country. Faisel was working at White Sands at the time and says that that day would stay with him forever.