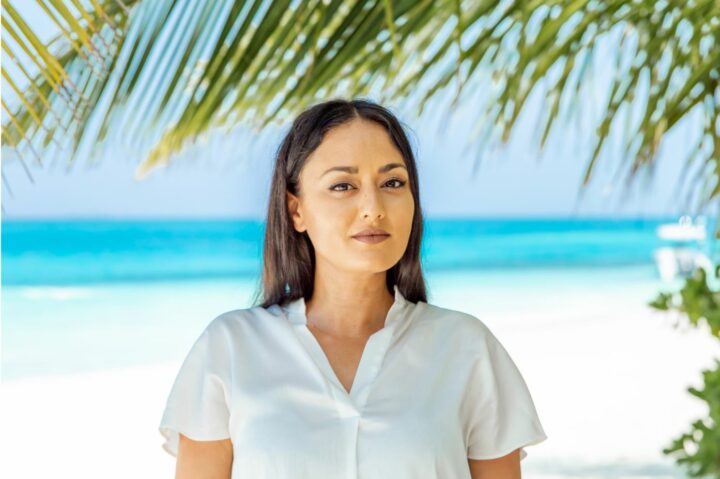 Mona Sedghi, Cluster PR and Communications Manager, LUX* South Ari Atoll and LUX* North Malé
After almost a decade of working in the entertainment industry, Mona Sedghi knew that the time was right when she made a sudden turn in her career and entered into the hospitality industry. She eventually got the jump on things when LUX* Resorts & Hotels gave her the opportunity to follow her dreams.
As the Cluster PR & Communications Manager at LUX* South Ari Atoll and LUX* North Malé Atoll in the Maldives, she realised that the shift from music to hospitality was indeed a very natural move for her, not only because she was interested in the field but because PR is very applicable to any industry. She believes that the music and hospitality industry have a lot in common. For Mona, both offer an experience that cannot be physically touched; it's all about subjective experience, unique to each person and heavily connected to feelings, recreation, memories and ultimately what people want to associate themselves with.
"I've always been profoundly passionate about people, hospitality, music and travelling, so naturally, those areas have been my focus when growing up and eventually building my career. There is really no long story to how I got into the hotel industry after spending ten years in the music industry. I just knew hospitality was the next step for me and I'm a true believer of doing what you love in order to create a meaningful life for yourself and to serve others," says Mona.
After graduating from Linnaeus University in Sweden with a BA in Communications in 2009, Mona, who had no clue about what she wanted to do got some golden words of wisdom from her mentor who told her to dream big and to do a list of her dream scenarios. "I was asked that if I got to choose, what would I want to do for a living? It sounds like something from a movie, but on top of that list I wrote 'working with people and music', I applied for internships and just a week after that evening, it all took off," she adds.
She joined Universal Music Group for a six-month internship and was later hired to build the company's social media platforms. Back then, Facebook was the hottest thing around and people had finally realised the power of social media! That was the starting point of ten years working with PR & Communications at Universal Music Group and Sony Music Entertainment. It was a chapter of her life that she will always remember and cherish with great joy, as she had learnt so much about the music industry and met so many fascinating, fun and innovative people.
Growing up, Mona amusingly remembers herself as that one kid who wanted to either always entertain people with her own shows or 'play hotel' and forcing her friends to be her guests. She would do menus, hand out welcome kits, keys and even go as far as to make their beds.
When asked about the challenges she faced in her early days, Mona replied that she missed having people around her that she could relate to when she first joined the music industry in 2009. Traditionally, the music industry has always been heavily male-dominated and as she was always the only woman as well as the youngest person in the room, it was very exciting but tiring at times for her.
Luckily for Mona, this has changed as management teams around the world have seen the necessity of diversity and the great accomplishments achieved only by including all angles of society. The last two years at Sony Music Entertainment, Mona reported to a woman, the Vice President of Artist Services, Michelle Kadir, who later became her mentor as well as a close friend. For Mona, it was the first time she had seen a woman in such a position and it was so refreshing and important for her to witness this.
Mona states that LUX* Resorts & Hotels has been the best possible introduction to not only the industry but to the Maldives and insists that it is a new way of thinking. "People are so forward-thinking and so passionate about what they do here. They love to serve and to get the job done, all with a positive attitude. It's very inspiring and empowering to be around that kind of energy," says Mona.
As someone who believes that the challenges in any industry are fundamentally the same if you only keep doing what is expected of you; Mona believes that the execution of innovation is key in order to take the business to the next level and break new grounds.
Her previous endeavours of solo travelling around the world as well as changing careers, leaving her home in Sweden, has forced her to practice the art of remaining calm when sometimes feeling devastatingly uncomfortable and unfamiliar to a situation. Mona says that realising things of substance and quality take time to build and that has really helped her to stay focused, grounded and patient. This is a secret that she believes has helped her to adapt and overcome the challenges she faced when working in the Maldives.
One of the things that she loves about LUX* is that she believes they have identified a niche and saw an opportunity at the very top end of the market for a resort operator that wasn't as predictable and static as most conventional luxury brands.
"The latter brands tend to be very formal and somewhat of a predictable luxury experience. They turned that on its head by delivering the finest levels of service, food and beverage experiences and design in a much more relaxed, creative and fun way. To be in an environment as responsive, progressive and innovative as LUX*, really made me realise that I'm at the right place to do great things," adds Mona.
Proud and thrilled to have opened LUX* North Malé Atoll – a thoroughly original approach to a luxury Maldivian holiday and a fresh alternative to the Indian Ocean's traditional thatched villas with its futuristic penthouses and the beautiful nautical designs, Mona believes that the resort really demonstrates a fresh, forward-thinking approach and is truly a first of its kind in the Maldives. For Mona, LUX* is a brand that is all about reinventing a hospitality experience and since it is a relatively young brand created just seven years ago, she believes that the brand has the ability to implement ideas at a fast pace.
As the Cluster PR & Communications Manager, Mona thinks that an open mind and the aim to innovate are the key ingredients in order to evolve. She says, "The Maldives is such a beautiful place with its powder-fine sand beaches and crystal clear lagoons that you can show over and over again, but there needs to be more to the story in order not to fade away in the 'sea of sameness'.
"There are so many other aspects of the Maldives as a destination to shed some light on. The challenge is to challenge the expected image of the Maldives as LUX* challenged the idea of the luxury experience. I want to focus on the people, the locals and the beauty behind the scenes to name a few. There are so many stories to tell. So many things to show if we just go outside our comfort zone."
Mona believes that creating one's own footsteps and figuring out what your purpose is on your own and being around people who want the best for you are the most important things to succeed in the field. List the things you want to accomplish and tick them off one by one. She is adamant in not seeing failure and mistakes as bad things and says that they are vital for the person's evolvement.
"Stay true and authentic to who you are and what you believe in; what are your core values and how do you practice them in your life and in your work? Lastly; dare to take risks, that's where the fun and success happen," she says.
Mona and her career is an inspiration to all hoteliers, women and the people committing themselves to what they love to do no matter the number of hurdles they face. Her long career stands as a testament to doing what you truly want to do, what you are truly passionate about and the sweet bliss that is achieved by actually following your dreams.