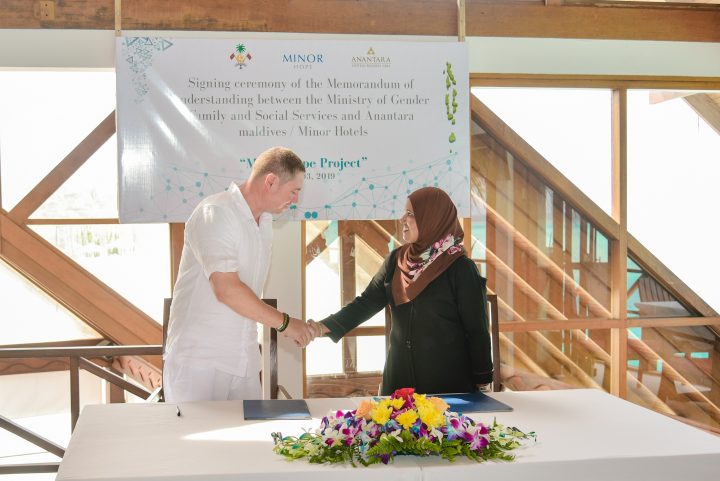 Anantara Maldives, Gender Ministry partner on Minor Hope Programme
Anantara Maldives has signed a Memorandum of Understanding with the Ministry of Gender, Family and Social Services to provide opportunities for children from the Kudakudhinge Hiya orphanage to take part in a three-month internship programme at Anantara Dhigu, Anantara Veli and Naladhu Private Island. With this signed MoU, Anantara Maldives has received the recognition and support from the government for its CSR programme for underprivileged children named as 'MINOR Hope'.
The programme, launched in March 2017, is expected to last three months and during that time, interns will be exposed to all aspects of resort operations and will spend two weeks in each department. After the three month programme, eligible candidates with an interest in launching a career in the hospitality industry with Anantara will be invited to enrol in 'MINOR's Explorer Programme', which is a 12-month long internship in their preferred department.After visiting Anantara Dhigu to sign the MoU regarding the MINOR Hope program, Minister for Gender, Family and Social Services, Sidhaatha Shareef said, "Anantara is really showing the way forward as an example of a working CSR programme for the tourism industry, It's really an inspiration to see companies like Anantara stepping up – especially in a country like the Maldives, which is dependent on the tourism industry."
To date, eight children have been enrolled in the programme, with five graduates, two of whom have gone on to full-time permanent positions.