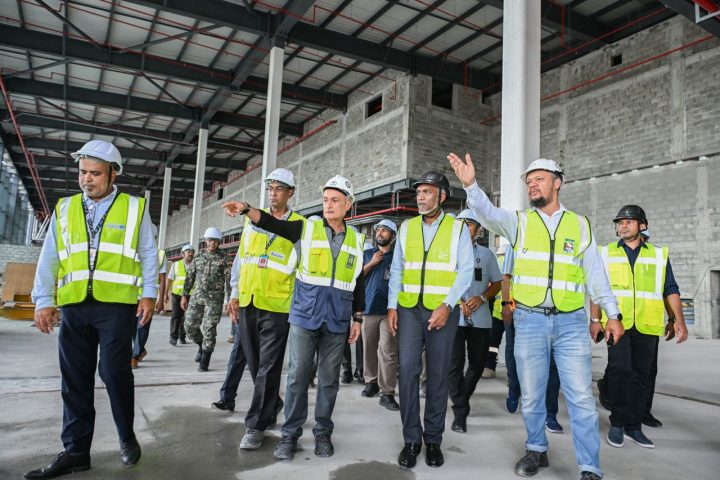 Muizzu says several new VIA terminal works uncontracted
President-elect Dr. Mohamed Muizzu visited Velana International Airport (VIA) on Sunday to assess the progress of the new international terminal project. During his visit, Muizzu emphasised that the contractor, Saudi Bin Laden Group, has not been assigned to complete crucial tasks necessary for the terminal's operation.
The Saudi Bin Laden Group was awarded the terminal construction project in 2016, and to date, 54% of the work has been completed. However, Muizzu aims to expedite the process, stating, "I want to complete their scope by October 2024."
Highlighting key aspects overlooked in the current contractor's scope, Muizzu pointed out the absence of a service road connecting operations and the need to enlarge the airport apron to maximise the new terminal's potential. These aspects are crucial for the terminal's functionality and must be addressed.
"The road will take about 10 months to build, and that is one of the top priorities," Muizzu remarked. He also stressed the importance of completing the duty-free area and assigning someone to finalise this crucial component.
Acknowledging the need for additional funds, Muizzu informed reporters that the airport project has already received USD 80 million from Abu Dhabi, and Saudi Arabia had previously contributed USD 100 million. He expressed confidence that project sponsors are prepared to provide more funds if necessary.
Despite the challenges, Muizzu expressed determination to complete the project, stating, "In recovering the economy, this project will do everything we need to do to meet the target."
Key details about the airport's new terminal:
Handed over to the Saudi Bin Laden Group in May 2016
Costs USD 350 million (MVR 5.3 billion)
Designed to serve 7.5 million passengers
Equipped with 40 departure gates and 38 immigration counters
Aero bridges will be installed for boarding flights