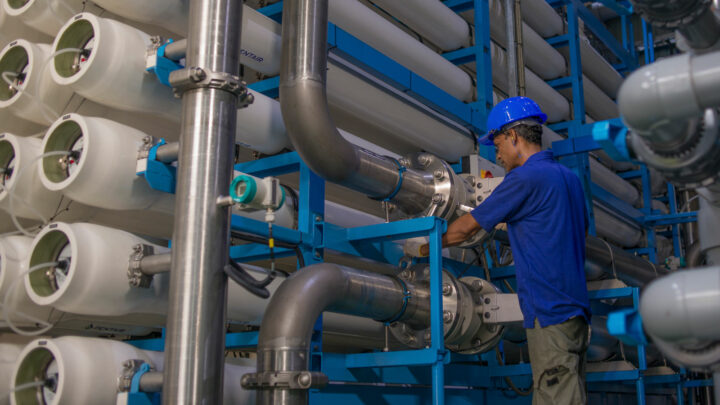 MWSC Utility Solutions: Reaching New Heights
Having started operations in 1995, Male' Water & Sewerage Company Pvt. Ltd (MWSC) is a pioneer company engaged in designing, developing, operating, managing and maintaining the public water supply and wastewater disposal systems in Greater Male' Region and outer islands including Male', Hulhumale', Villimale', Thilafushi, Gulhifalhu, K.Maafushi, HDh. Kulhudhuffushi, R.Dhuvaafaru.
With over 21 years of experience in the business, MWSC has more recently tapped into the market of supplying these essential resources to resorts.
In March 2016, MWSC expanded its services to resort market by introducing utility solution packages. 'MWSC Utility Solutions' is the first of its kind, offering a full MEP (Mechanical, Electrical & Plumbing) solution to existing and new resort developments.
Focusing on providing the fundamental resources primarily to resorts the company assures to provide the latest, state-of-the-art, quality products and services. The solutions are specially designed for resorts, keeping the layout minimal, efficient and cost-worthy – a customised solution to fit to each individual resort.
The MWSC Utility Solutions offer different packages – the Basic, Elite and Bonus package, which are all designed for the resort market. The packages guarantee quality assurance and will provide customised services to cater to each individual resort.
The Company employs a professional team of engineers who are proficient in all aspects of survey, design and construction while applying to globally accepted practices.
"Our specialised team will conduct training sessions at the resorts on maintaining the systems – this is beneficial to customers as it will reduce the operational costs," Manager Business Development, Ahmed Yamin said.
MWSC also own manufacturing facilities which ensure product availability at all times and minimal dependence on external merchants.
"Our vision of transforming into a multidisciplinary engineering company has paved way in becoming the first manufacturer of high quality pipes under our own brand. Under the license of Wavin (Netherlands), MWSC has adopted ISO standard in manufacturing "Fen Pipe", the quality assurance standard adopted by all European countries,"
The company will soon reveal a show-room equipped with readily-available products. "We have readily available inventory so our clients can always depend on us for the products. The trade showroom will feature high-end quality brands for water and wastewater related products."
The company being based in the country is an added bonus when considering emergency situations such as the resort needing a spare part, or maintanence work.
"We also offer water testing services for our clients. Water Quality Assurance or WQA package, allows clients to test their water and verify that the quality of water meets the standards specified by the Environment Protection Agency (EPA)." Yamin assures that the water will be tested by MWSC's internationally certified ISO17025 laboratory. "We are proud to proclaim that clients will be able to test the parameters required by the resorts as per EPA regulations from our ISO standard Laboratory." As a value addition for clients who sign up for the WQA package, MWSC also arranges collection of water samples to carry out the required tests. "Here at MWSC, we aim to provide convenience for our clients."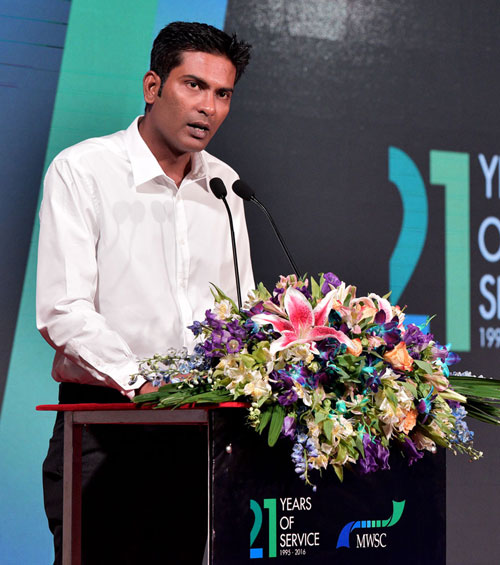 MWSC currently caters to major resorts in the Maldives in providing water quality assurance services.
The Elite package includes one year of free consultancy and maintenance services. "Even if we train the staff at the resort, it is quite possible that there might be some blips the staff are unable to handle. In such a case, we have a team on-call 24/7. We also organise quarterly visits to the resort to check-up on the systems and assure the management that everything runs smoothly." One of the biggest advantages for the resorts is the after-sale service.
The Utility Solutions are all designed to generate the maximum economic benefits for the country, and the company provides integrated systems that makes water reusable, using the STP – Sewer Treatment Plants- systems.
"We remove contaminants from wastewater, which can then be recycled and made safe for watering plants or flushing toilets, thereby offering clients a more cost effective and environmentally-friendly solution"
MWSC also oversees their own mineralized water bottling factory, with the option of customizing bottles specifically for resorts as per their requests. As a value service of Elite package, free customization of labels is included for resorts with discounts on PET bottles for a period of one year.
The company assures they already have a large number of clients who are currently signing contracts with them, and are in the negotiation process with a list of the developing resorts as well.
"Our services are deliberated to bring great infrastructural, economic and social benefits to the country by coinciding with the Government in pursuing the national plan. Hence, 'MWSC Utility Solutions' is a noteworthy effort in diversifying our services to the tourism industry offering total solutions and customised solutions for water, sewerage and electrical networks," said Managing Director of MWSC, Ibrahim Fazul Rasheed.
MWSC Utility Solutions is designed to provide with the upmost advanced utility services, through a process which yields maximum satisfaction and value. "We not only do the physical part but we make sure to give our clients the assurance of after-sale services, and leaving them with a fully-trained team."