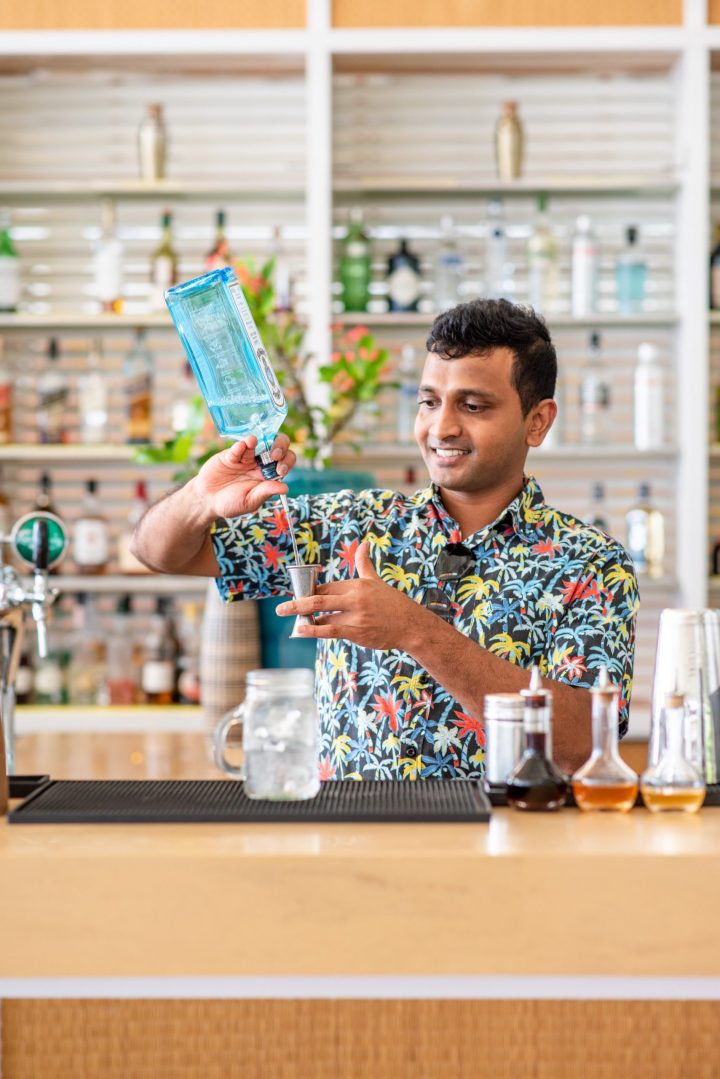 Nalin Praboda, Assistant Bar and Pool Operations Manager, The Standard Huruvalhi
On the occasion of World Cocktail Day on 13th May, Hotelier Maldives interviewed some of the most creative mixologists in Maldives resorts.
Nalin Praboda hails from a small village called Polgahawela, a three-hour train journey from the capital city of Colombo in Sri Lanka. He is a beverage specialist at The Standard Huruvalhi in Raa Atoll. With over 11 years of experience in the industry, his expertise includes flair bartending, beverage menu creation, and bar operations. Nalin has worked for various hospitality brands such as Cinnamon in Sri Lanka and Hilton in the Seychelles.
Hotelier sat down with him to find out more about his role at Guduguda bar.
Donna Richardson: How did you become a Mixologist?
Nalin Praboda: As a new graduate in Advanced Level Bioscience, I didn't know much about bars and beverages. One day I found myself watching a flair bartending competition and it made me want to delve into the world of mixology. I started to watch videos and shows and spent several hours a day observing how bartenders mix and shake up spirits. Finally, I got trained and certified and participated in various bartending competitions myself. Since then, I have held multiple positions including trainee bar waiter, bartender, flair mixer, head mixologist, bar supervisor, and now, Assistant Bars & Pool Operations Manager at The Standard, Huruvalhi Maldives.
DR: What is it like being a Mixologist at The Standard, Huruvalhi Maldives?
NP: Working as a mixologist at The Standard, Huruvalhi Maldives provides me with lots of opportunities to mix things up and create imaginative cocktails. Thanks to our proactive approach to programming and events, we get to learn and grow as a team of like-minded and passionate professionals. At the resort, we have seven restaurants and bars with their own unique menus. Todis Bar serves up fresh cocktails in a relaxing and playful setting, Beru Bar offers classic cocktails with a local twist, Guduguda highlights authentic Maldivian tastes, BBQ Shak features innovative cocktails and spirits on the beach, and Tonic Bar & Pool focuses on healthy elixirs and wellness-inspired drinks.
DR: What influence do you bring to a beverage menu?
NP: I have a strong passion for the art of mixing and tasting. I enjoy creating innovative cocktails based on classic favourites, and luckily, I get to put my own twist on classics by using locally-inspired ingredients.
DR: Do you drink yourself, and if so, what is your favourite tipple?
NP: Yes, I do, and that's a difficult question to answer. It really depends on my mood, but a Negroni always works for me. I usually drink it before a good meal, not just because it is the very essence of an Aperitivo cocktail but also because I enjoy the blend of gin, vermouth, and bitters.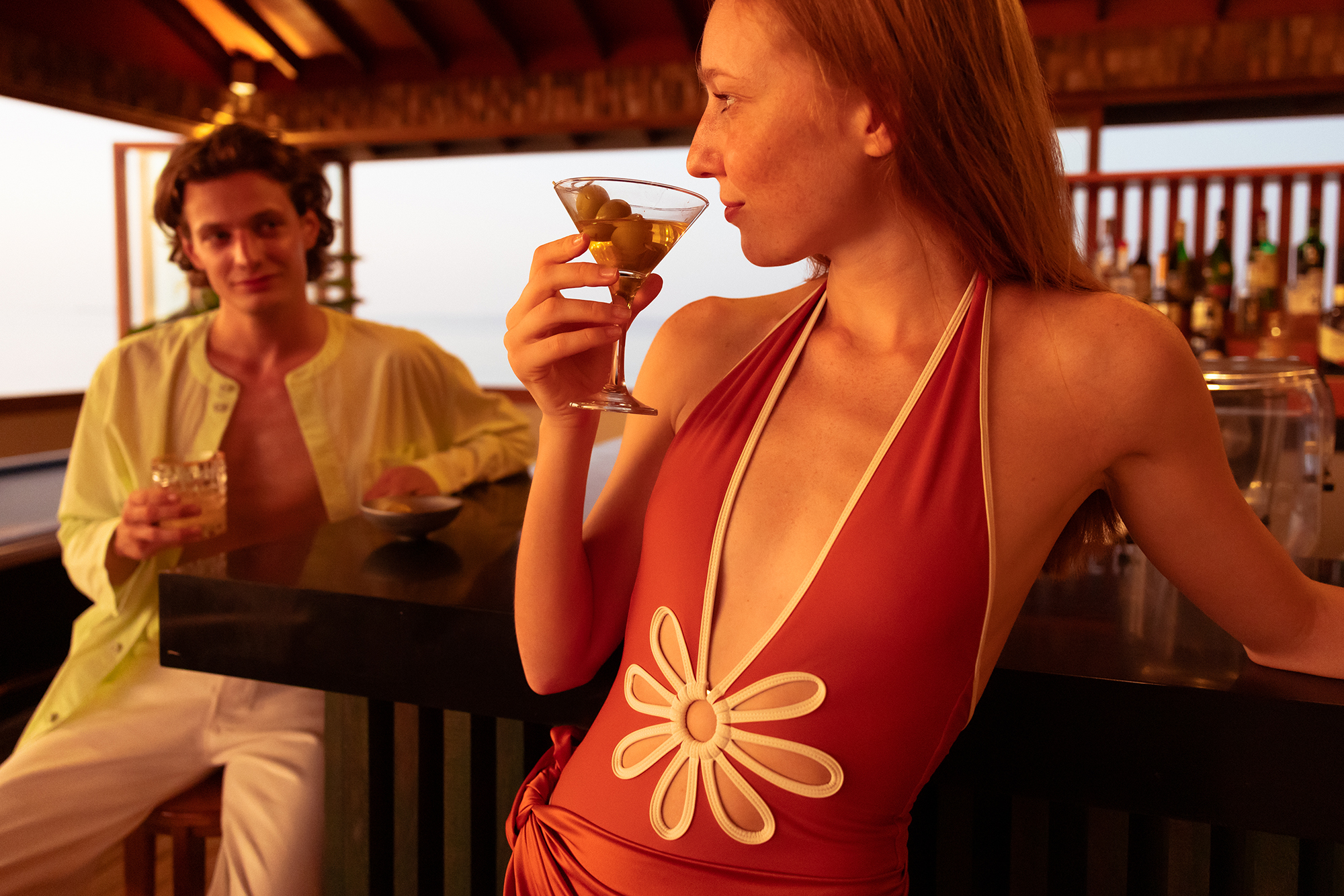 DR: What are your five favourite drinks?
NP: My top five drinks are a Negroni, Singapore Sling, Old-fashioned, Dry Martini, and my own cocktail creation, the Finiashi, which is available for guests to sample at Guduguda.
DR: What is in a Finiashi?
NP: A Finiashi, which translates to chill out or cool down in English, consists of (30 ml) grapefruit juice, (5g) brown sugar, (6pcs) fresh curry leaves, (40ml) white rum, and coconut water to finish.
DR: Tell me about your life experiences in this field?
NP: I endeavour to start my own events company that specializes in organising cocktail receptions. Working at a bar in a paradise allows me to have more time to create moments for guests. It is more laid-back here, unlike working at a bar or hotel in a large city where everything is fast-paced.
DR: What's the most interesting bar conversation you've had?
NP: I had a chat with a couple who ended up getting married after meeting each other at a bar. Love truly is in the air, especially over cocktails!
DR: Who is the most interesting person you've met at a bar?
NP: I had the chance to serve the Spanish actor Manu Rios at our Todis Bar here at The Standard, Huruvalhi Maldives.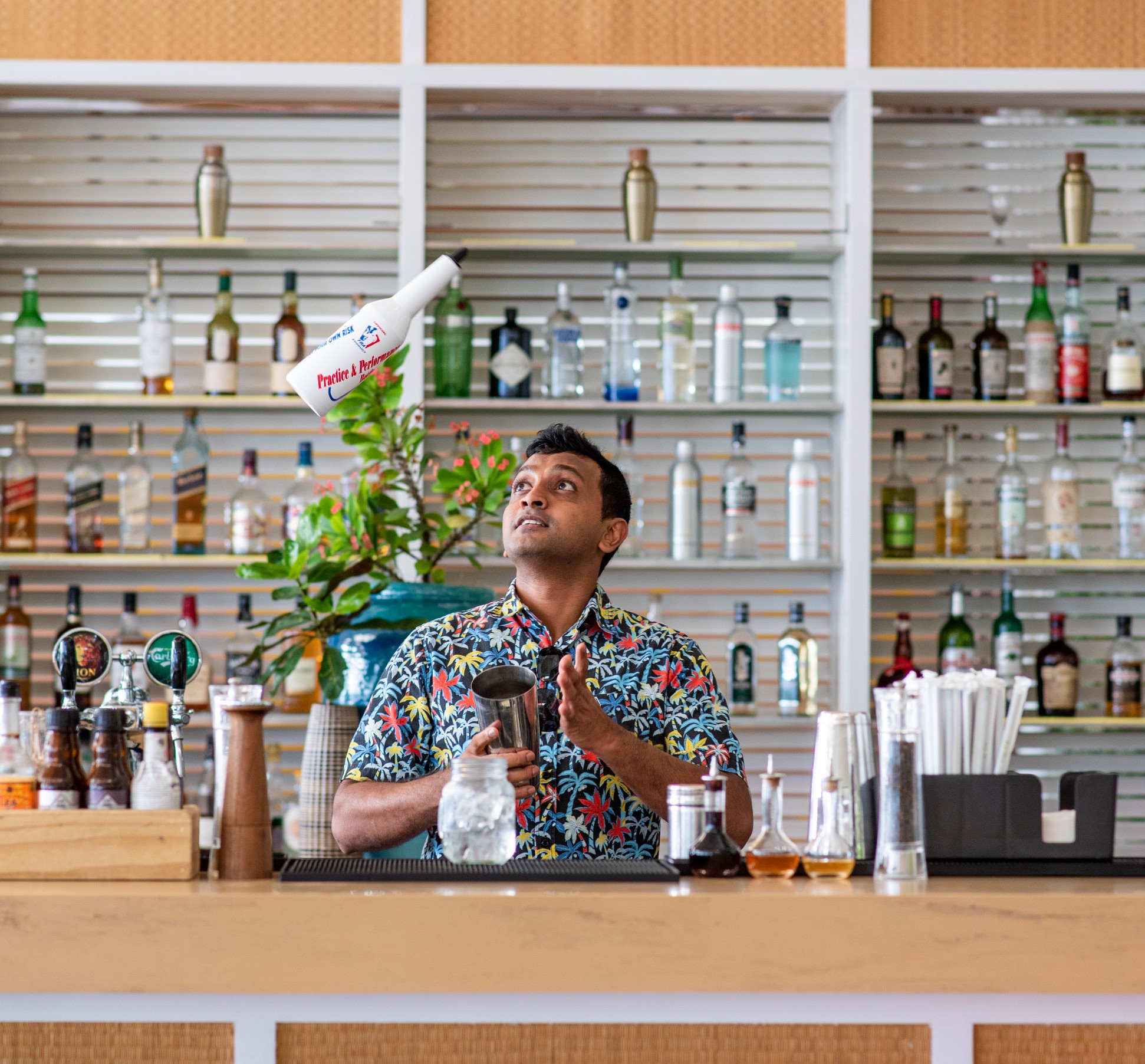 DR: What is the best part about your job?
NP: Without a doubt, it is the human connection it brings. This job allows me to meet and interact with so many different people from all over the world. The best part? I can put a smile on their faces with unique cocktail creations.
DR: What is the best advice you've been given?
NP: Educate yourself on the basics. You have to fully know your craft and be able to keep up with the trends.
DR: If you could change anything about the industry, what would it be?
NP: The industry should be more sustainable. We need to keep exploring creative ways to minimize our impact on the local environment. Simple steps such as getting rid of plastic straws and incorporating local or home-grown ingredients can go a long way.