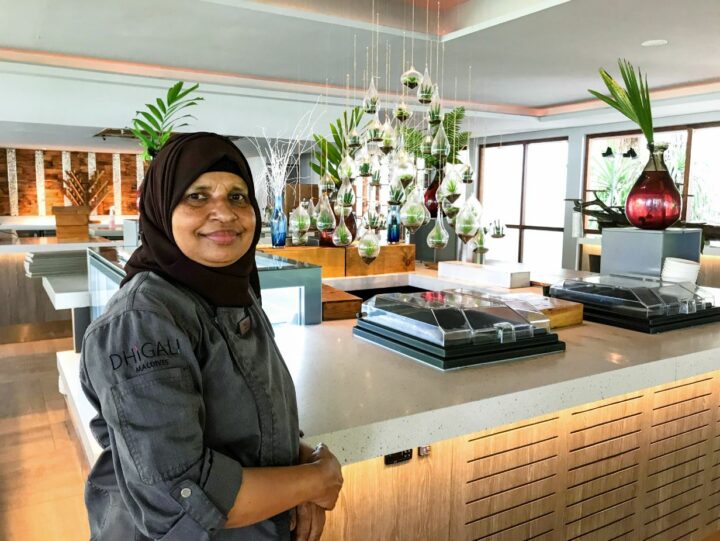 Women in Hospitality: Nasreena Ali – From a small business owner to a sous chef
The woman who has earned it all, Nasreena 'Natti' Ali is someone who came from humble beginnings to reach the top. As the Sous Chef at Dhigali Maldives, Nasreena has quashed the beliefs and stereotypes that surround the hospitality industry and has proven that women can be as successful both professionally and personally.
Nasreena Ali, who grew up in Malé, has been fond of cooking ever since she can remember. Having developed an interest in cooking from an early age, she likes to make people happy with her food and to be around people who share her love for food. Her interest and passion for cooking lured her to numerous cookbooks and recipes from which she was inspired to try out various recipes on her own.
Despite working in a field which is mostly dominated by men, Nasreena has led a highly successful and accomplished career, starting from scratch. Even though she was looked down earlier in her career for being a woman, instead of succumbing to the disappointment of being biased, Nasreena bore with the frustration and worked hard to prove what she is worth.
In the mid-80s, she was introduced to more sophisticated and professional gourmet cooking through a two-week course in Mount Lavinia, Sri Lanka. There, she learned a lot of new culinary ideas and methods from professional chefs. After a while, in 2004, she started her own business named "Natti's Take away" which catered for events, especially for government receptions.
When her only son completed higher secondary school and sought higher education abroad, she closed down her catering business to move to New Zealand with her husband and son. However, this did not stop her from pursuing her career further. As soon as the family shifted to New Zealand, she started to work in the culinary scene in Auckland, where she received an abundance of experience while working in different kitchens in the city. Some of the establishments that she worked in include the Westgate Food Hall, Spotless Services (NZ) Limited, Kampung Delights and Compass Group.
Finally, when her husband and son completed their studies in New Zealand, it was time to head back home. Her vast experiences working in Auckland did not wear her out a bit. On the contrary, she started working as soon as she arrived back home in 2011, starting as a commis (junior) chef at Maldives Inflight Catering.
From there, she moved ahead to hold the executive chef position at the Airport Departure restaurant. Afterwards, she started to work for The Coffee Club located in Velana International Airport. Working at the airport helped Nasreena further expand her experience and learn more about her work ethics and tactics.
Recalling a day from her working days at The Coffee Club, she comments, "There was a day when 18 flights got delayed and we had to cater to them on behalf of the airlines. The entire airport was full of passengers but we managed to make them all happy. There were only three staff in the kitchen! We worked long hours and ultimately satisfied all the customers."
After working for almost five years at the airport, Nasreena decided it was time to fry bigger fish. She was given the opportunity to work at Furaveri Island Resort & Spa, as the chef de partie. She worked there from 2016 to 2017. "A career of working at resorts hold a very promising future. That is why I chose to work for resorts," explains Nasreena.
Then, finally, in 2017, she headed to Dhigali Maldives to fill in the sous chef position, taking with her a vast and diverse experience of working in the culinary field. As a sous chef, she is in charge of food production, making sure the kitchen is ready before the restaurant opens for customers, dividing tasks among kitchen staff and making sure that the meals are ready on time.
While she is happy and pleased with her job at Dhigali Maldives, she admits that working in the kitchen of a luxury hotel can be extremely hectic and stressful especially when you have to work within a very short time limit. Most of all, she finds it challenging to deal with new hires as most of them take some time to take on the restaurant's signature style. To overcome this, she takes extra hours to train the new chefs.
Despite the challenges, she believes that in order to get a job done well and to get the satisfaction from it one must face the challenges with a positive mindset. Moreover, being a sous chef has given her the chance to be more creative and make her own recipes in order to impress guests with unique tastes. This motivates her to continue working at luxury kitchens.
Having had a wonderful experience in the hospitality industry, Nasreena recommends working in the industry, for people like her, who want to earn good pay doing what they love. Despite the false belief in the society that resort work is for men, she encourages women to find employment at resorts where, she assures that, the work environment is safe, with many privileges and family like care.
Coming from a society where most women hesitate to work far away from home, Nasreena's success in the field can be considered as extraordinary and could not have been possible if not for the constant support she receives from her family who are extremely happy and proud of her accomplishments in the culinary field. Along with an admirable career, she has a successful marriage of 30 years and a 27-year-old son, who is well brought up and well-educated, proving that it is not impossible for women to have it all.
With her mastered skills, vast experience and great talent in cooking, her goal is to open her very own Dhivehi restaurant in a European country sometime in the future!