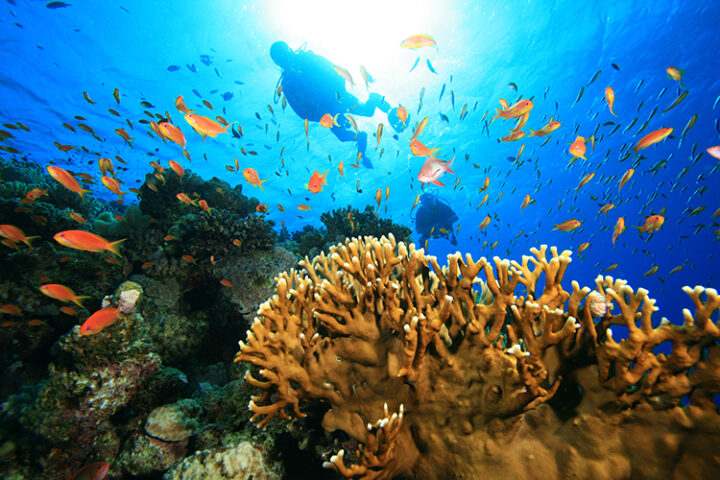 National University hosts seminar on resilience of coral reefs
A visiting professor of coral reef ecology from the University of Queensland in Australia gave a seminar titled 'Managing the Resilience of Coral Reefs for Human Goods and Services' at the Maldives National University on Tuesday evening.
Organised by Project REGENERATE, the seminar was the second edition of International Union for Conservation of Nature's (IUCN) Public Seminar Series 2016.
Addressing an audience of university students, marine biologists and environmental enthusiasts, Professor Peter Mumby presented the findings of his research on causes of stress to coral reefs, the impacts of climate change and reef fisheries, and the degree to which management can improve the functioning of the reefs. He explained ways to manage fisheries sustainability to maintain healthy, productive coral reefs.
Mumby's team predicts a bleak outlook for the future of coral reefs due to rising ocean temperatures and the increased concentration of atmospheric carbon dioxide. However, there are reasons for optimism. Contrary to their earlier predictions, Mumby's team has found that large porites are not only relatively resistant to stress, they also appear to have a remarkable capacity for recovery even after severe partial mortality.
Project REGENERATE is a partnership between IUCN, United States Agency for International Development (USAID) and the government of Maldives working towards marine conservation and climate change in the Maldives.
The International Union for Conservation of Nature, founded in 1948, is the largest professional global conservation network and a leading authority on the environmental and sustainable development.
The union's work focuses on valuing and conserving nature, ensuring effective and equitable governance of its use, and deploying nature-based solutions to global challenges in climate, food and development. IUCN supports scientific research, manages field projects all over the world, and brings governments, NGOs, the UN and companies together to develop policy, laws and best practice.
IUCN is the world's oldest and largest global environmental organisation, with almost 1,300 government and NGO Members and more than 15,000 volunteer experts in 185 countries. Their work is supported by almost 1,000 staff in 45 offices and hundreds of partners in public, NGO and private sectors around the world.