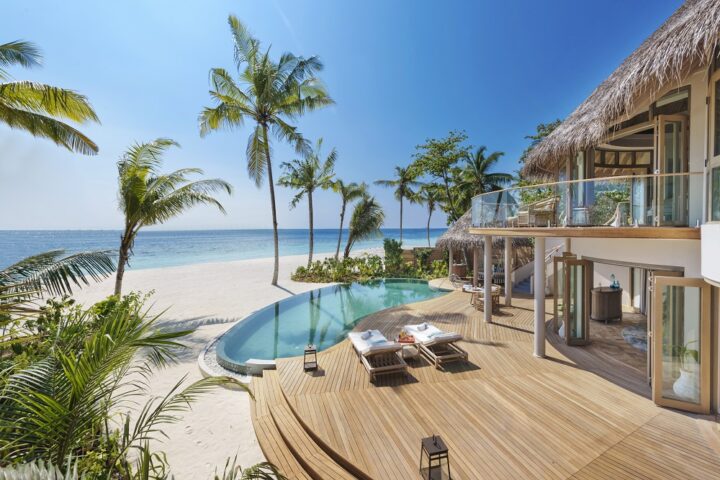 The Nautilus Maldives announces 2019 rates and new opening date
The Nautilus Maldives has announced 2019 room rates and announced a revised opening date. The Nautilus Maldives – set to open in Q1/2019 – is a privately-owned island in the heart of the Baa Atoll UNESCO Biosphere Reserve, with the serious ambition of being noted as one of the leading luxury resorts in the world.
According to The Nautilus Maldives, the room rates for 2019 will include a CIP welcome at the airport for every guest, up to two free stays for children, and no rate increases are expected in 2020. "The rates are in line with our ethos 'a world of your own making'. The rates are designed to offer ultimate freedom and bespoke luxury," according to the resort.
The generous rate inclusions at the resort include all-day breakfast, daily cocktails; a selection of soft drinks, teas, coffees in the villa and complimentary deli dining, according to The Nautilus.
Offering an intimate selection of 26 houses and residences, each equipped with its own private pool as well as living area, every guest begins their journey at the VIP Terminal of Velana International Airport, before being whisked off via a scenic 35-minute seaplane ride to their luxurious abode for what The Nautilus promises will be a "transformative experience".
Designed ala "tropical, boho-chic-whimsy" for the new generation of luxury travellers, the resort is derived by House Captains (butlers) who take care of even the most minute details of one's stay, neither the spa nor the three restaurants require prior booking and have flexible hours.
It has been created for the new generation of luxury travellers who expect transformative experiences and activities that they can share. For more information about The Nautilus, please visit thenautilusmaldives.com.