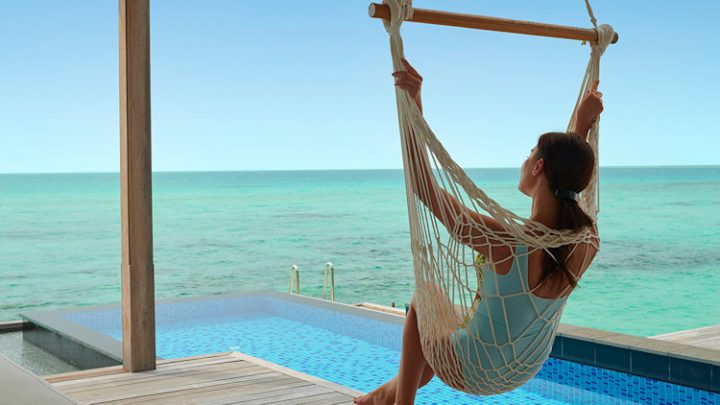 New island experiences at Fairmont Maldives
Located in the Shaviyani Atoll – one of the archipelago's most unspoiled islands – Fairmont Maldives, Sirru Fen Fushi is a paradise waiting to be discovered. Known as 'Secret Water Island' to locals, the resort invites guests to recharge, reconnect, and discover a different side of the Maldives with an array of new experiences rooted in island nature. From pop-up cinema nights at the new Beach Tented Villas, to bespoke pampering at the recently revamped Fairmont Spa, Fairmont Maldives offers the perfect reason to disconnect with everyday life and reconnect with the natural world.
Whether new to the archipelago or returning to a much-loved destination, travellers wishing to experience a less explored side of the Maldives are invited to stay at the resort's new Beach Tented Villas, a safari-style lodging surrounded by lush tropical jungle, steps away from the iconic sugar-white sand beaches. Designed to sit in harmony with the natural environment, the villas offer a unique alternative to traditional beach and overwater villas, where guests can recharge and reboot mind and body in utter privacy, enjoying the most luxurious glamping adventure in the archipelago; private cinema screenings, unique wellness treatments and seafood BBQ's under the stars are just some of the offerings unique to these villas.
Personal wellbeing and holistic health are at the heart of Fairmont Maldives, and the newly reimagined Fairmont Spa offers a selection of treatments designed to alleviate anxiety, stress and tension accumulated in the body from the hustle and bustle of daily life. Drawing inspiration from its natural surroundings, the Spa offers a total of 2,000 sqm. wellness space and provides indoor and outdoor areas to help guests reconnect beyond the treatment experience. From revitalising spirulina body wraps and magnesium body massages, to hot stone therapies and caviar marine facials, there is something for every health need, whether its lack of sleep or aching muscles. Those in need of movement and stretching can opt for daily yoga sessions overlooking the vast ocean or take a dip in the 50-meter-long, adults-only infinity pool that connects the two sides of the island.
Travellers wishing to go one step further, not only immersing themselves in the location but also the community within it, are invited to join the dedicated sustainability team in community-focused and marine conservation missions, including a guided tour of the Coralarium, a unique coral regeneration project in the form of an underwater art gallery that plays home to over 100 species of fish. When they're not exploring the Coralarium or snorkelling the island's 600-hectare home lagoon, budding eco-warriors can turn plastic waste into wonder by transforming bottles and ghost nets into bespoke souvenirs and useful products for the surrounding islands in the Sustainability Lab, such as stationery and furniture for local hospitals and schools. After a day of giving back to the community, guests are invited to dine at the resort's four restaurants, including sea-to-table dining at Azure and Japanese-inspired delicacies at Kata.
For more information, please visit www.fairmont-maldives.com.