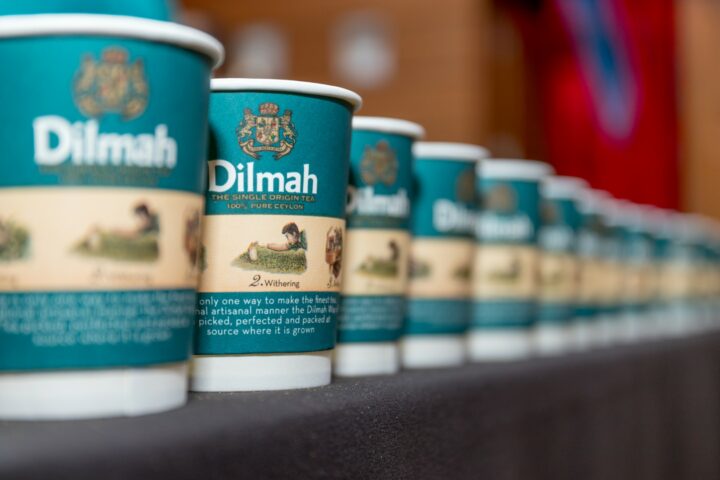 The Dilmah Story – creating beautiful experiences with tea
A 'brand with a conscience', Dilmah Tea was born in 1988 when a young tea grower, Merrill J.Fernando, decided to colour in his dreams of ethically producing his country's tea, the famous Ceylon tea, for tea-lovers around the globe. Named after his two sons Dilhan and Malik, Dilmah Tea is now enjoyed in more than 100 countries internationally.
The Dilmah Story brought in a tea appreciation event to the Maldives for the first time in collaboration with SIMDI group that was hosted in Kurumba Maldives. The event highlighted its brand new product, Elixir, with four times World Champion Flair Bartender, Tomek Malek together with delightful food pairing courses with tea.
Hotelier Maldives: The story of Dilmah Tea is very inspiring. How did the story evolve from your father being a young tea grower going on to produce the brand, Dilmah Tea?
Dilhan C. Fernando: It's a story that spans almost seven decades because, at the time that my father wanted to start in tea business, it was not permitted for Ceylonese, to enter this industry. My father's vision was to do something that would help people. He kept growing, and it was nearly 40 years when he got started. Dilmah was born in Australia in 1988. We went on to New Zealand, to Europe and to different parts of the world. Today, Dilmah is in over 100 countries around the world.
HM: What is the philosophy of Dilmah Tea?
DCF: It is to share the pleasure and goodness in fine tea whilst ensuring that our business is also a matter of human service. Today, serving humanity is equally working towards sustainability in the environment as it is to help children, to help women and to help people in different situations. It is a business that has a very large heart. The business exists to help people and to share our profits with people.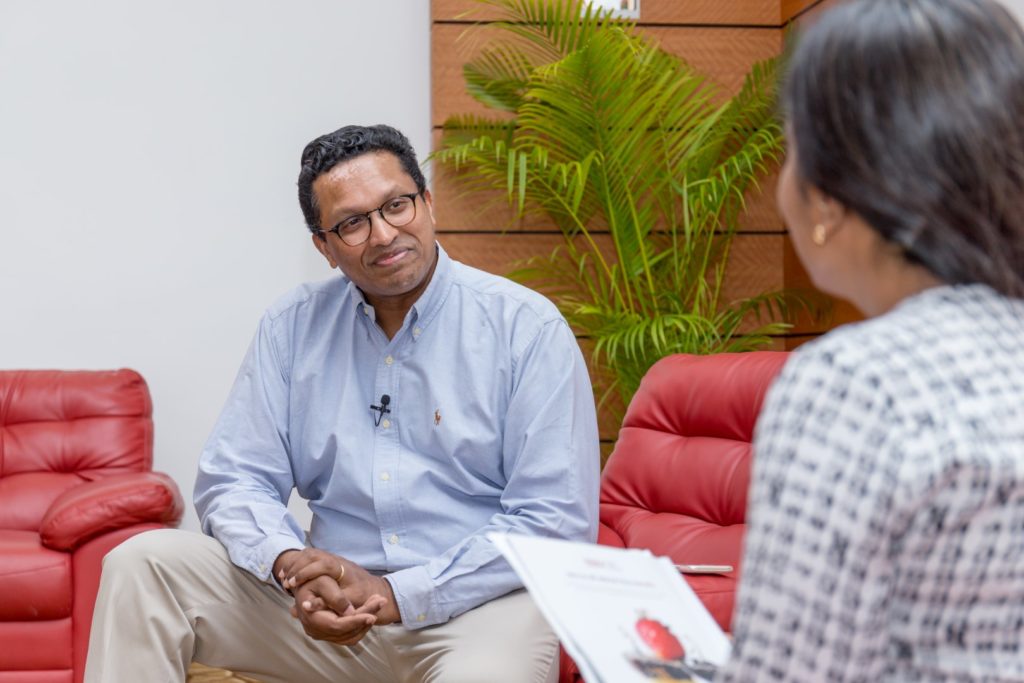 HM: Did you envision to take over your father's footsteps? How has the journey been for you?
DCF: As children, when it was a small business, we used to be there at the heart of it, and we grew up with it. When you see the human side of the business, the purpose; the love for the business grows. It has been a progressive and fulfilling journey.
HM: Tea is now famously dubbed a miracle herb. Could you give us a little insight on tea from your perspective? How do you take your cup of tea?
DCF: Mostly I drink tea continuously and straight. I take it straight, brew it for 3 minutes and I do not add anything. I think the important thing about tea is to take it the way you enjoy it. For me, I like pure tea because it is very good for health.
HM: How can a person become a tea taster?
DCF: It takes a long time because tea is extremely complex. The flavour in the tea comes from the enzymes in the leaves. The enzymes are influenced by the weather. The tea taster has to be able to have a good eye, a good nose, and a good palette. When you connect the three, you can understand the identity of the tea.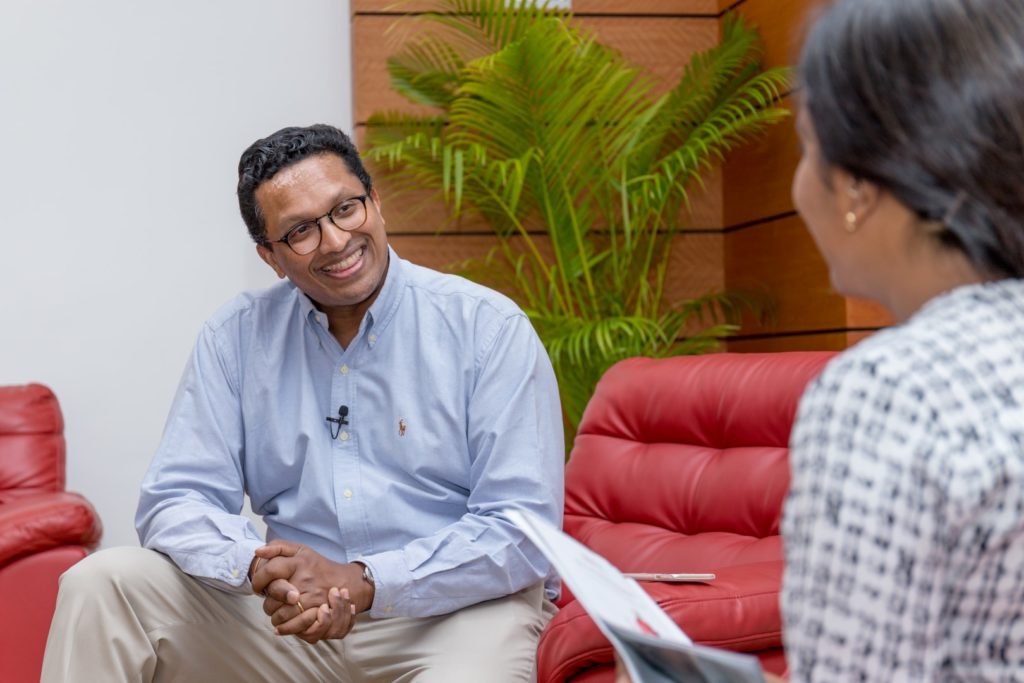 HM: What qualities are sustained in the Dilmah Tea production when introducing new flavours and maintaining existing flavours?
DCF: For us, the principle is always about respecting the authenticity of tea. Where innovation is concerned, what we do is to first help people to understand and to appreciate tea. Tea has enormous complexity, and you can craft the experience not only for the health and wellness but also for the taste.
HM: How did the trend of pairing the right kind of food with tea arise? How does this affect the taste of the tea?
DCF: Tea has two ways in which it interacts with food. One is sensory, which is the flavour. The temperature and the characteristics of tea, which is known as polyphenols, pull flavours from some foods. But functionally, tea has an emulsifying aspect.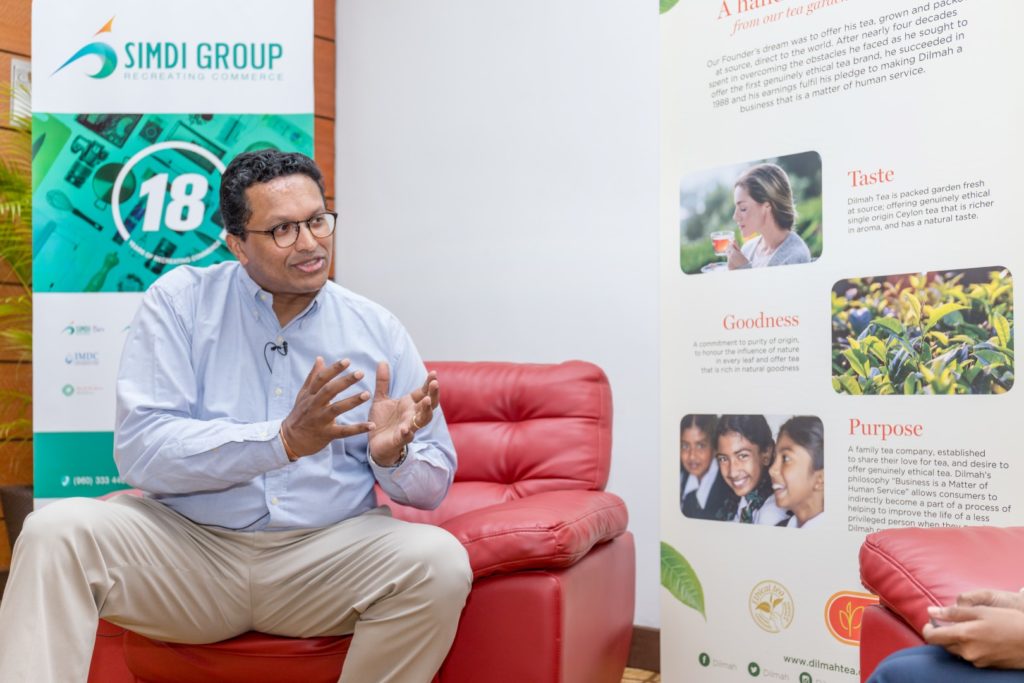 HM: Dilmah Tea is a huge believer in the soft infrastructure of the company. How have you sustained this philosophy throughout your journey?
DCF: We had always decided that we will not compromise with the quality, freshness and the goodness of the tea, and with the purpose of our business. When we make a decision we try to make sure that we think genuinely, not only the people involved but also of the environment. To create wealth you can have a successful business but when you do that you have to help the community.
HM: How has Dilmah Tea grown in contributing to the communities of Sri Lanka? What is the company's plans for projects within the community in the future?
DCF: We are focusing a lot on children with developmental disorders and entrepreneurship in the region. We try to help people to realise their dreams. Internationally, we are also working with mental health in New Zealand and Australia.
HM: Does Dilmah Tea together with SIMDI plan on expanding the demand in the Maldives?
DCF: We are bringing in a new product called Elixir. Elixir is a unique product where we handpick the green leaf. Within 24 hours we extract it into a natural concentrate and from then on it is just a question of the consumer putting one part concentrate with 12 parts of mineral water to make an iced or hot tea.
HM: In concluding what would be your advice for tea lovers who would like to pursue their love for it as a profession?
DCF: I think the most important thing to understand is the product. Understanding the leaf and spending some time in the tea garden is important. It is an art based on science. We have many opportunities in Sri Lanka. Here, in the Maldives, you do not grow tea yet. But Sri Lanka is just next door so it is possible to pursue a career in tea.