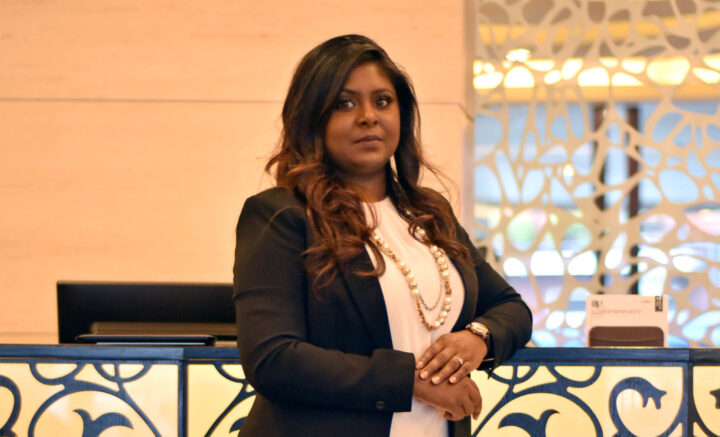 Nina Mohamed: Marketing & Communications Manager Hotel Jen, Malé, Maldives by Shangri-La
It's rare to meet an individual like Nina Mohamed who is as work oriented as she is. Her replies in a personal interview contained more information about her company and her work than her personal life. But it was refreshing and we sat conversing at Azure, the rooftop restaurant of Hotel Jen. Her, over a cup of coffee and me, a glass of orange juice. She is charismatic and friendly and strikes up a conversation immediately.Nina is the Marketing and Communications Manager at Hotel Jen, a hotel managed under the umbrella brand of Shangri-La, and has been working for the company for the past 3 years. A fitness enthusiast and a Philomath, Nina lives for activity and knowledge and is constantly on the lookout for personal development.A graduate, who also has an interest in Physical Education, has acquired multiple International certifications and she hopes to keep on improving herself with further education and experience in her field and beyond.
Hotelier Maldives: How did you come to be involved in the field of hospitality?
Nina Mohamed: After concluding my studies in KL and Colombo respectively, I joined Villa group in 2010 and spent eight years working in their marketing department where I acquired a considerable amount of knowledge and experience in the field of hospitality. In 2015 I joined Hotel Jen and from then on, have been managing their Marketing & Communications with a focus on digital marketing, social media and PR. Marketing is my passion and the move to the hospitality industry has been a thrill.
HM: What motivates you in this field?
NM: I love challenges and I like the challenge involved in broadening my horizon at Hotel Jen, as Malé City has limited options for entertainment and tourist activities. Tackling that satisfies me and we have organised several activities over the years to negate the presumption that Malé City has nothing to offer by organising activities that are interactive with the culture and the local community and maintaining a standard with those activities.
HM: Could you elaborate on said activities?
NM: As the guests of Hotel Jen are mostly businessmen and transit travellers, we planned and implemented campaigns that would appeal to the millennial market by introducing entertainment options that would make up for the lack of a nightlife in Malé City. These include; an excursion directory, a city after hour map which also provides details of all the places guests can go for day trips, dining experiences, ways to experience islands and their culture. We also facilitate platforms for local talent to perform or exhibit their work at, helping guests to network personally with the artists. Other facilities include fitness classes and water aerobics classes, to name a few. We also interact with the community by organising events, special F&B promotions, marking International days and leaving all these opportunities and services open for the general public as well.
HM: Is it challenging working in the field of hospitality, being a woman?
NM: Used to be that hospitality was a taboo field for women to engage in but now the mentality has shifted. As far as I am concerned, there hasn't been any such challenge based on my gender. But I have noted instances where highly capable and experienced local women tend to or are forced to leave their jobs once they have children. I hope that mind-set changes and people and companies learn to adapt to working mothers. Shangri-La is very supportive of female employees and very accommodating of working mothers and that is one of the reasons why I love working at Hotel Jen.
HM: What is your advice to women who wish to pursue the field of hospitality?
NM: I believe that if you learn the basics, experiment with your work, keep expectations low and believe in team effort, anyone can succeed at their job, regardless of gender. There will be obstacles but stay true to yourself and your path. I would also like to see more local women and men in senior positions of the hospitality industry because I believe we are as capable.
HM: Who has been your biggest strength and enabled your way to pursue the path you are on now?
NM: My parents, definitely. They always believed in me and enabled ways for me to pursue my passions, regardless of what I wanted and motivated me to face all the opportunities that came my way. And my husband Magdhim, who has always stood by me, believed in me and helped me to be what I am today.And of course, my best friend Inna, who has decades of experience in the hospitality industry and has been relentless with her support whenever I needed her. Professionally, my current general manager Rahim Flynn, has been my mentor for the past one year, guiding me throughout and believed in my potential. Vathsala Subramaniam, the former general manager of our Hotel, has been a constant source of inspiration and knowledge for as long as I have known her. The two of them have always given me the push I needed and encouraged me to face the challenges that came my way.HM: What has been the best experience for you so far, in your career?
NM: The best part is the knowledge I acquire while working, and at the same time, being able to apply what I'm learning to my daily work. Shangri-La provides you the opportunity to further studies and to keep you updated with the skills and knowledge you require. Therefore, the opportunity to do the Harvard Manage Mentor programme is one to be thankful for, which began in 2017 and am due to conclude the programme in July 2018. I am proud to be working for an International hotel company and my greatest achievement is being where I am today.
HM: What is the reason behind your work ethic?
NM: I have always thought that multitasking and learning is fun. I am organised and try to balance all the elements of my life as best as I can. I don't think productivity is based on the amount of hours you spend at work, but rather being productive during the daily hours at work. I make the most of the time I have and maintain a balance when it comes to my professional and personal life.
HM: What are your future plans?
NM: To broaden my knowledge and experience within the Shangri-La group. I wish to be able to move within the organization, experience work with the different brands of the group and to work with a diverse culture mix.