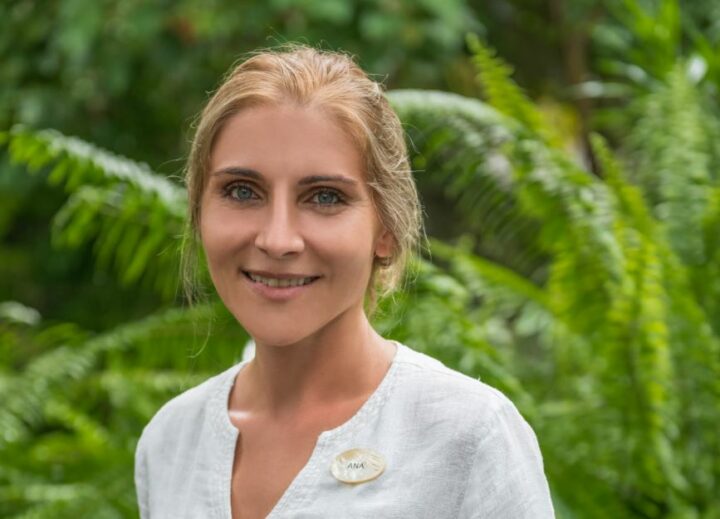 A wellness lifestyle at Niyama Private Islands Maldives with Spa Director Ana Marques
One could easily live here.
This was the thought that was running through my head as I walked with my therapist, along the sandy pathways lined with island foliage, through the relaxation area with lime trees, back to the reception at Drift Spa by Niyama. I had just finished my massage and was still obsessing over the amazing foot scrub with freshly grated coconut and coarse sand, and the soothing massage with lavender oil.
As I took a seat at the reception with a zingy cup of tea, I was told that Ana will be with me in a few minutes.
Ana Marques is the Spa Director at Niyama Private Islands Maldives, having been with the sleek luxury resort for close to two years now. Before her time in Niyama, she held roles of similar capacities with renowned brands such as the Four Seasons, Mandarin Oriental and Anantara. With over 10 years of experience in spa operations and development, Ana is an individual who continues to pioneer new concepts at the spas she runs.I meet Ana, a warm, friendly and soft-spoken person who immediately jumped into the spa and its offerings. "I am proud to work with an excellent team here at Niyama. We have therapists and specialists who each have their own set of skills, whether it be masseuse skills, personal training, yoga, Ayurveda or Pilates, and they are able to use these skills to provide a holistic experience. We are not trying to limit our guests to a strict healthy regime over here, instead, we want them to find a balanced lifestyle that fits them individually," says Ana.She takes me to the spa and I am introduced to the speciality range of products Drift Spa works with. "It is important to have a range of products because each product is designed for a specific purpose and you want to offer your guests the best our there for the face and body," she adds.
A range of blends for the award-winning essential oils by Aromatherapy Associates is mostly used for the body massages at Drift Spa. An innovative step by the spa team has also introduced face treatments by Intraceuticals, a more high-tech oxygen facial to rehydrate the skin and leave it radiant.
Hollywood celebrities such as Naomi Campbell and Miranda Kerr swear by these facials and they are available for guests of Niyama. Taking another step further into skin care and anti-ageing, Drift Spa offers a third product with a range of treatments by Anne Semonin, a pioneer brand that restores a youthful complexion by harnessing the power of essential oils, minerals and marine active ingredients to help prevent or reverse signs of ageing.Ana also speaks to me about how Niyama continues to deliver the best health and beauty offerings to guests by inviting visiting practitioners throughout the year:"We recently hosted Dr Rui Pedro Loureiro, a Chinese medicine practitioner and acupuncturist based in Lisbon. During his residency with us, Dr Loureiro was available to provide complimentary consultations to all our guests who wanted to undergo epigenetics tests, allowing him to look at nutritional deficiencies and food intolerances, and basically explore alternative healing therapies."Together with Dr Loureiro, Niyama was also hosting Katrina Valente, a Scottish-Italian practitioner of reflexology, crystal therapy, Shamanic Reiki and Pranic healing. For the last two decades, she is based in Dubai giving holistic beauty treatments to royalty and socialites. So with the alternative approach from Dr Loureiro, and Katrina's experience in beauty and holistic medicine, guests are pampered with a balanced island wellness lifestyle," Ana comments.Ana tells me that they already have very exciting plans for the festive period where two amazing practitioners will be in-house. "With October and November covering a more traditional approach to beauty and healing, our December programme takes it to another end of the spectrum with treatments along the line of non-surgical facelifts," she explains."Dr David Alessi is the founder and medical director of the Alessi Institute for Facial Plastic Surgery in Beverly Hills, and just in time for Christmas and New Year, he will be on the island and our guests can enjoy non-invasive procedures all under the care of a doctor who appeared on TV shows such as Larry King Live."
"And to balance what some people might view as an extreme end of beauty, we will have Paulo Fernandes in-house towards the end of December. A health coach who has travelled the world, Paulo will be hosting complimentary workshops for our guests to look at a more holistic approach to diet, detoxing and exercise. He will also offer live blood analysis to evaluate your nutritional deficiencies and recommend what your body needs," Ana says regarding the plans for the remainder of the year.Ana was present at the first Hotelier Maldives Wellness Summit that took place in September this year, and she reflects a bit on the event in relation to her opinion on where the Maldives is headed. "The summit was an amazing platform for the industry to come together and share insight on emerging trends and what works here in the Maldives.For me, it makes complete sense to promote the destination as a wellness retreat. Because the minute you land here, you are transported to a retreat whether you realise it or not. The natural surrounding is made to calm your nerves and offer that sense of seclusion your mind needs.
"In the future, I see the Maldives rivalling the nature of Thailand and India as a hub for retreats to treat your mind and body. Of course, this is a more exclusive environment, which plays to our advantage because people are seeking more bespoke experiences which we are able to offer here. With the right promotional tactics, I see the destination being the perfect spot for high-end client retreats."When Ana was speaking to me, I felt that her conceptualisation and operation of the spa is very much headed towards a well-rounded holistic experience. I could sense her understanding of spa treatments being a very intimate experience, one that requires a gentle human touch.At the same time, Ana is a seasoned professional who has gotten behind the trends to explore different spectrums of wellness as a general lifestyle.
Drift Spa at Niyama Private Islands is headed towards utilising the natural ambience of the destination and creating a comprehensive health, beauty and fitness lifestyle. The philosophy is very much about avoiding limitations and balancing the body and mind. Off to a fantastic start already I must say.