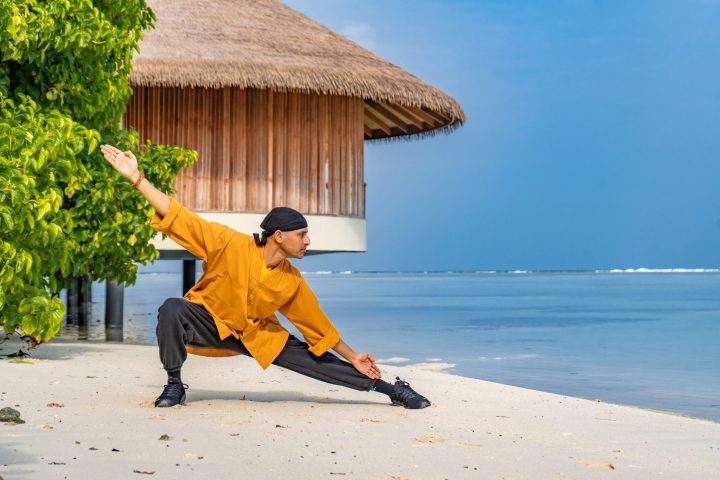 Nova Maldives Welcomes Visiting Kung Fu Master Sifu Aniket
Nova Maldives is welcoming visiting practitioner and Kung Fu Master, Master Sifu Aniket from July 3-19, 2023.
Master Sifu Aniket is an internationally acclaimed spiritual guide with a remarkable background. His path began with intense yogic austerities in the mountain ranges of Sahyadris and Himalayas in India. He then embarked on a profound spiritual expedition in China's Songshan and Wudang mountain, immersing himself in Shaolin Kung Fu and Tai Chi under the tutelage of Shaolin Monk and Taoist Masters.
During his residency at Nova, Master Sifu Aniket will offer a range of signature holistic treatments, including Crystal Reiki healing and Kundalini Yoga. Nova guests will have the opportunity to discover the authentic art of healing and restore their body's energy through a thoughtfully curated selection of practices such as the 18 Hands of Buddha Qigong, originated by Bodhidharma nearly 1500 years ago, and the transformative Six Healing Sounds Qigong.
At Eskape Spa, Master Sifu Aniket will provide sound vibrational massages and sound baths, utilising Tibetan singing bowls to create harmonious sounds and gentle vibrations that introduce deep healing relaxation. Guests will release worries and anxieties, finding inspiration in new solutions and personal growth. Furthermore, complimentary workshops will be offered, focusing on meditation and achieving balance in body, mind and soul. Master Sifu Aniket promises an authentic holistic journey rooted in mindfulness and self-discovery.
Nova is renowned as a sanctuary for the soul, where guests can explore countless ways to spark the joy. Recently, Nova announced its recognition as winner of the prestigious 2023 Travelers' Choice Award by Tripadvisor.
"We are immensely proud to receive this valuable award, which serves as a testament of our unwavering commitment to providing our guests with outstanding and soulful experiences. Our dedicated soulmates continuously strive to ensure utmost satisfaction of every guest, and it is both an honour and a motivating force to be recognised by our valued guests. We extend our heartfelt gratitude to all those who have supported and trusted us," says Abdulla Aboobakuru, General Manager of Nova Maldives.