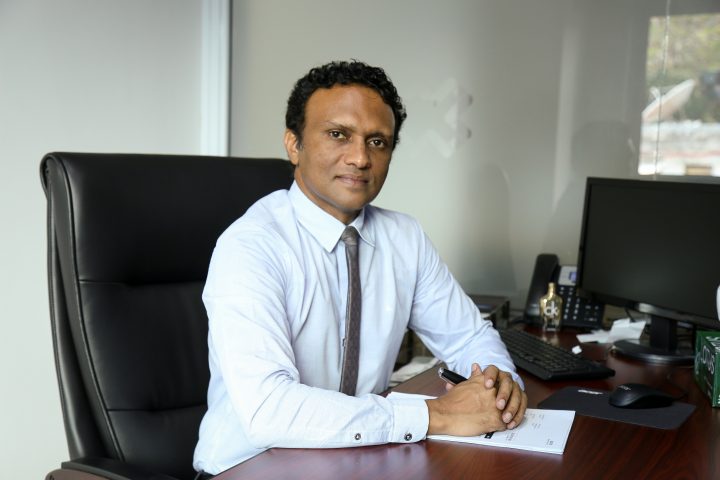 Abdul Wahid Thowfeeq – Managing Director, Dhivehi Insurance Company Pvt Ltd
Dhivehi Insurance Company is a new player in the insurance market, led by Abdul Wahid Thowfeeq – an innovative and masterful entrepreneur, with his sights on furthering the needs of their customers to the next level. Dhivehi Insurance Company is a new indigenous brand embedded in our traditional culture of great service coupled with modern and contemporary solutions for the changing business landscape. After six years at the helm of Allied Insurance Company, Wahid now leads the experienced and talented team at Dhivehi Insurance Company, striving to become industry leader in all things insurance.
HM: Over your long career in the insurance sector spanning over two decades, what are some of the major highlights of your career?
Wahid: This is my 21st year working in the insurance sector. My career started in 1993 at Allied Insurance Company and I was one of the few Maldivians to join them. I am a Chartered Insurer by profession, and I was fortunate enough to be the first in the country to be professionally qualified in insurance.
I started my career as an Officer and worked my way up to the post of Managing Director, which I filled for six years, after which I left in 2013. I founded Dhivehi Insurance Company in 2016 and also have other personal business affiliations. I am somewhat proud of the fact that I have been actively engaged in the business sector since the age of 22, having founded several companies which are well-established today.
HM: What prompted you to constitute the Dhivehi Insurance Company, and what is the secret behind the name of the company?
Wahid: When I first started with Allied Insurance, there were only six employees. Though we were a small team at the beginning, we pioneered many new initiatives. Over the years I made it up through the levels of the company up to the post of Managing Director, and I have always been a strong advocate of developing local talent.
Allied Insurance is today the most prominent insurance brand in the market, and I felt the need to take on a new and more challenging endeavor. Despite the fact that the Maldives is a small player in the globalized insurance sector, I believe that there is a lot we can contribute, both locally and on the international front. What I have learnt over the years is that in this 100% service-based sector, it is not where you are from that matters, but your determination to utilize your expertise and drive for change.
Dhivehi Insurance Company is the product of my attitude and vision to empower others, and to tackle the new challenges and requirements in the insurance sector, and to bring differentiation to the market and up the service levels in the industry. We at Dhivehi Insurance Company want to make a difference, because it is my belief that a privately-owned company will give me a better sense of ownership, easing my drive to bring about change; in the form of new services that meet the needs of our clients.
As for the name of our company; I feel a very strong sense of belonging and connection to our beautiful country, with our rich history, culture, roots and traditions. These are the values that are most principle to us Maldivians, and we should never abandon them. Our economy has seen dramatic transformations over the years, and these values are a vital part of our everyday wins and achievements.
The team at Dhivehi Insurance Company not only stands to strengthen our bonds with our traditions and culture; we are also equipped and ready for the insurance sector of today, to provide new and modern insurance solutions.HM: What are the core values of Dhivehi Insurance Company? What does it take to make a name in this field?
Wahid: I believe that our strength lies in the commitment and service culture that we instill in the company. It is the determination and dedication of our team that makes us a strong player in the field. Only experience and dedication can make our products and services appealing to customers.
We also have a responsibility to the market; to be in step with the changes in the market and become a more proactive player. And as we come from a very community-based culture, that is where our hearts and minds should lie.It is the 'Maldivian way' to stand with our community in times of need, and that is our mission at Dhivehi Insurance Company; to always stand true to our pure values, traditions and culture, and always be there when we are needed.
HM: What are your products that target the hospitality industry, and why should resorts and hoteliers choose Dhivehi Insurance Company?
Wahid: The history of insurance for the hospitality industry is something of interest. Earlier, resorts were only insuring on fire insurance, but their spectrum is now different. The development of the hospitality industry has given rise to new insurance requirements over the past 5 to 10 years. With the increase of foreign investments, and especially by international hotel chains, the insurance sector had to come up with new policies that were higher in standard and in par with international norms.
Though Dhivehi Insurance Company is a new player, the experience we have to offer is strong. We understand the current and future requirements of our clients, and we have the experience and knowledge to cater to their needs, especially those of large hotel chains and operators.  We have an array of better solutions, which will optimize insurance coverage of our clients, as well as minimize costs. Our strong connection and backing of financially A-rated reinsurers in Europe, U.S.A., and Asia, with strong understandings of the Maldivian insurance market, is what levels the playing field.
Our insurance products will cover you from the concept stage, design and architecture, and construction and development to operations and management of resort properties. Some of the products we offer include Business Interruption (Loss of Profit) Insurance, Fire Insurance, Liability Insurance, and Indemnity Insurance, in addition to other industry-related solutions targeting contractors, designers, architects and management and executives of resorts and hotels.
HM: What makes Dhivehi Insurance Company stand out from other insurance providers in the market?
Wahid: Simply because we are our clients' closest partner. We are focus-oriented, providing tailor-made insurance solutions that meet every requirement of our clients. We are continuously developing our products and services, introducing new products that are custom-designed for each and every client, with the aim to become the ultimate insurance provider in the market. Our expansion plan, too, is focused on our clients and bringing them exactly what they need. For the hospitality industry, we are there from conceptualization, construction and operational phase. We will take a holistic approach to work our clients to ensure all.It is the 'Maldivian way' to stand with our community in times of need, and that is our mission at Dhivehi Insurance Company; to always stand true to our pure values, traditions and culture, and always be there when we are needed.
HM: How do you see development of the country's insurance sector, and its future?
Wahid: The sector has evolved over the past 10 to 15 years, and there are many factors contributing to this development, of which the hospitality industry played a vital role. Mandatory insurances such as national medical insurance and third-party motor insurance created awareness of the need for insurance. But I think more needs to be done on increasing awareness about the importance and benefits of insurance, especially when people rely on bank loans and other lenders for their businesses and protection of homes and personal assets.
As the demand is increasing, I see that the five insurance providers currently in operation are a positive step. With one Government-owned and the rest privately-owned, I believe that the number of local players in the field is paramount to the success of the industry.
HM: How is your long career in the field helping you make a difference at Dhivehi Insurance Company?
Wahid: I would say it is the backbone of my success and that of Dhivehi Insurance Company. Since we use a more focus-oriented approach, it allows me to better utilize our technical expertise. We can apply a new approach and modern techniques and bring about new changes that are more beneficial for our clients, also since the competitive market requires us to do something different to stand out.
We at Dhivehi Insurance Company can draw up from the past and top it up with fresh ideas a contemporary approach, which is beneficial for the development and future of the market, as well as our clients. It is our business to create more value for our customers in order to forge closer, stronger, and long-standing partnerships.
To be successful in business we have to have a sense of purpose, to have a firm belief in our strategy, to be proactive to the market needs, and finally to be competitive we have to have a proprietary advantage. This advantage will be to develop our brand as a professional customer-centric solutions provider which stands out to create a differential value to our customers.