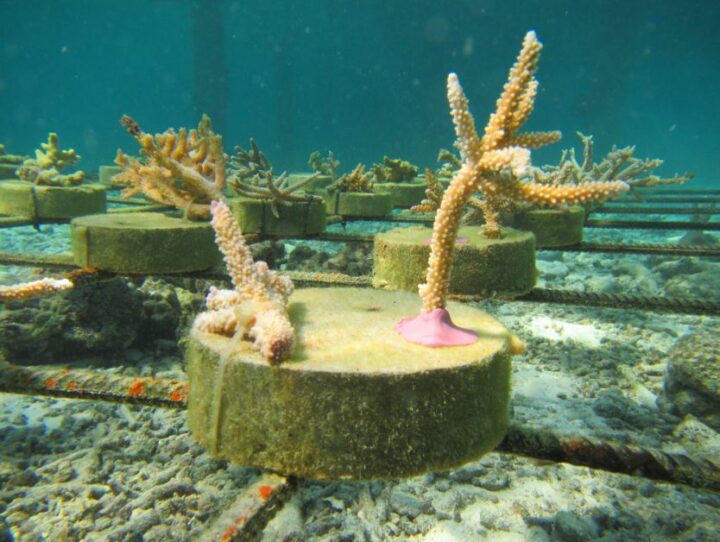 Oceans Day reef cleaning and coral restoration in Outrigger Konotta Maldives
Outrigger Konotta Maldives Resort holds "Our Ocean, Our Future" marine awareness events to honour World Oceans Day on June 8. The events were an extension of Outrigger's global OZONE (Outrigger's Zone) marine conservation programme, with all nine Outrigger Resorts participating around the world.
In the Maldives, Outrigger staff and guests conducted a beach and lagoon reef clean up to remove marine debris from the reef, followed by a coral restoration programme in the afternoon. After a briefing, guests helped the Best Dives Konotta staff attach fragments of coral to a metal frame which will be placed underwater to encourage new coral growth.
In the evening, guests and staff gathered around the pool and watched a documentary called "Planet Ocean" by Yann Arthus-Bertrand.
In the Outrigger Kids Club, youngsters participated in World Oceans Day by painting pictures with the theme, "My Ocean." There were ocean face painting sessions, creating sand sculptures and a viewing of the Walt Disney movie "Moana."
The lagoon-clean up and the key activities of World Oceans Day were led by Best Dives Maldives.
This June, throughout World Ocean's Month, Outrigger Resorts properties worldwide are offering a diverse range of immersive activities and conservation opportunities for Outrigger guests to get in the OZONE mindset and make a difference, even while on vacation, it said in a statement.
Some 60 percent of the world's coral reefs are being denuded by climate change, land-based pollution and unsustainable fishing. Outrigger's OZONE conservation programme encourages guests to become part of the solution by participating in marine conservation activities while on vacation.