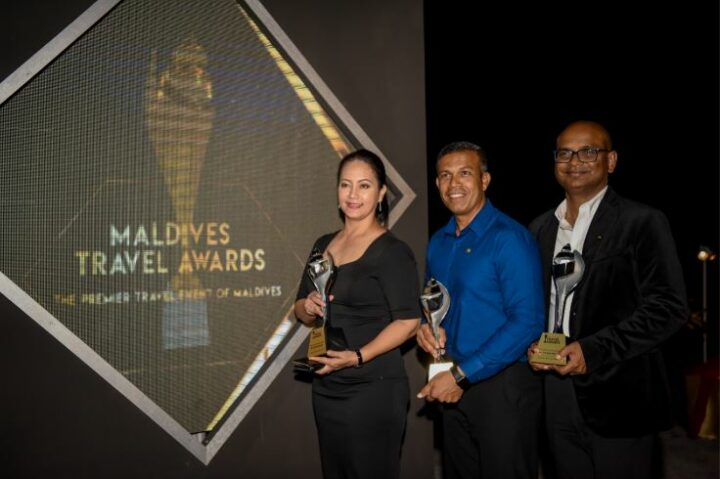 One&Only Reethi Rah wins three awards at the Maldives Travel Awards 2018
One&Only Reethi Rah has been awarded two titles for the Leading Food & Beverage Resort & Leading Human Resource Management at The Maldives Travel Awards. MATATO Maldives Travel Awards is one of the most prestigious and credited award programs in the Maldivian hospitality industry.
One&Only Reethi Rah's Airport Manager, Hussain Waheed was also announced as the proud winner of the People's Edition Award. Hussain Waheed has been with the company since he joined in 1999 and as the airport representative, he is the first point of contact between the guests and the resort.
With the achievement of these awards, One&Only Reethi Rah said in a statement that it is focused to aim even higher in 2019 and keep improving the exceptional service it provides, while strengthening the learning and development programs to support colleague's career development within the hospitality industry.
"We are thrilled to be the proud winner of these awards, which serve as further recognition of the passion and dedication from our entire team of colleagues. Special recognition goes to the human resources and food and beverage teams over the past year," said Jan B. Tibaldi, General Manager, One&Only Reethi Rah. "These awards will only further our commitment to provide guests with memorable experiences and everlasting memories. Our colleague's are our greatest assets and as a resort we are constantly delivering the genuine and warm service with a smile that guests love."
The Maldives Travel Awards was created to recognize outstanding individuals and companies in the industry and represent the highest honors given in the tourism industry in Maldives. One&Only Reethi Rah has been on the receiving end of several awards for its excellence in the industry. Just a stone's throw away from the Velana International Airport, this luxurious tropical getaway offers a variety of Japanese, Middle Eastern and Mediterranean cuisines from the three acclaimed restaurants situated on the island. For more information about One&Only Reethi Rah, please visit www.oneandonlyresorts.com/one-and-only-reethi-rah-maldives.