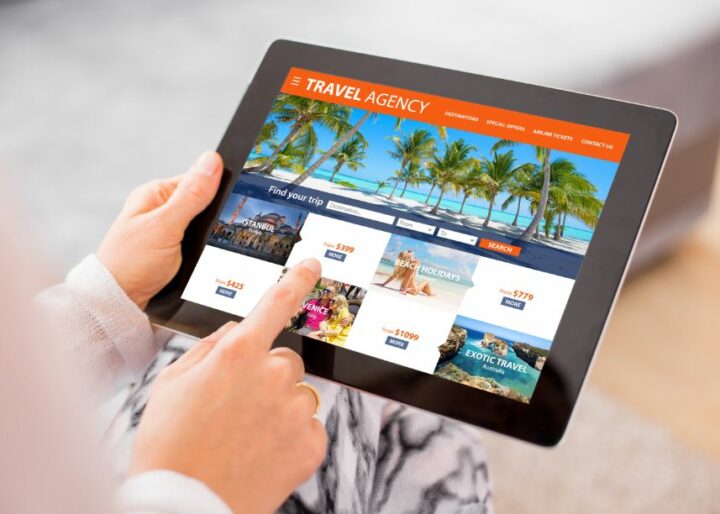 Online Travel Agencies (OTAs): Enemies, Friends, Frenemies, or…?
Since their debut in the 1990s, OTAs have become a significant force in hotel distribution and marketing with indelible effects on the hotel industry.  It is no surprise that with such rapid innovation and technological advancement, online booking is growing by 13% per annum. According to the European Travel Technology Services Association (ETTSA) online accommodation bookings now accounts for 35% of the global market.
So how has the proliferation and increase in usage of OTAs impacted the Maldives? According to the Maldives Visitor Surveys conducted from 2011 to 2018, there has been an increase (from 24% to 59%) in the number of visitors to the Maldives who adopted the Internet as their main source of information. This was subsequently met by a decrease in the number of visitors who prefer using a travel agency for their bookings, showing an inverse relationship between the two.
Booking.com, cTrip, Expedia, and Agoda were the most widely used OTAs by visitors to the Maldives. Expedia, Agoda, and cTrip have had a consistent user base throughout 2013 to 2018.  However, Booking.com has increased in popularity in 2018 with 27% of visitors to the Maldives using the booking engine.  As of April 2018, the top five source markets in Maldives comprise of China (16.2%), Italy (9.2%), United Kingdom (8.1%), Germany (7.8%) and Russia (5.7%).  As these nations make up a significant chunk of demand to the Maldives, it is imperative to understand what OTAs these source markets are using.  According to the data from the Maldives Visitor Survey during the period 2014-2018, the most favoured and widely used OTA for China was cTrip, while for Italy, United Kingdom, Germany and Russia it was Booking.com.
At JLL Hotels & Hospitality, when we advise clients in the Maldives, we are placing an ever-increasing focus on "Rate Parity", which is an agreement between a hotel/resort and the OTA ensuring that rates are the same across all distribution channels, including the property's own website. With increased popularity and market share, OTAs are having greater bargaining power in terms of commission fees. However, OTAs help to increase online exposure, and according to a recent study by PhocusWire, OTAs are forming majority of the top 10 searches on Google.
With changing consumer patterns, it is imperative for hotels to not see OTAs as enemies, but a vital marketing tool that has a larger marketing budget than independent hotels or even hotel brands. As such, hotels should invest in a long-term OTA strategy, which needs to be constantly monitored and updated. OTAs should be seen more as a complementary sales and marketing platform rather than a replacement for wholesalers, given that the Maldives still remains a predominantly wholesaler market.
Below are nine key focus areas we emphasise on when advising resort owners/operators on OTA strategies:
Maintenance of OTAs – Content and "Rate Parity" must be constantly monitored/updated with professional photos in high resolution.
Attractive Deals with Flash Sale – Launching attractive deals, depending on seasonality and upcoming events, for a limited time only.
Secret Deals / Member's Deals – Providing a direct email notification on special deals to members and subscribers.
Mobile Deals – Exclusive deals for Mobile App users can be launched, especially during the evening and night (9pm- 9am).
Display Promotions in a Better Way – Discounts must be presented as Deal of the Dayand Top Ranking Deals to create a sense of urgency.
Value-add Service – Offer additional services for free, such as free spa treatment or champagne etc. to increase visibility during filtering on OTAs.
Visibility Booster Ads – 4% to 5% increase in commission can be achieved through ads.
Geo Targeting Promotions – Region wide promotions can be launched during special holidays such as Eid or Christmas.
Good Relation with OTA Marketing Manager – Last but not the least, good and healthy relations with OTA marketing manager is necessary as they can advise on the next market trend allowing for adjustment in prices and policies.